Vacation on point!
Aloha, from the magical islands of Hawaii. Yes you saw that right, I am not dreaming. So far it's been so amazing! I have never been this relaxed my entire life. It's also my last trip in 2017 and it couldn't have gotten any better than this. It was a much needed break after the hectic October festivities and right before Christmas. Good old Christmas; non-stop baking, shopping, decorating, entertaining and all the other manic activities it comes with. I am dreading already! But, for now I am taking in all that I can of the beautiful Mornings. Waking up to the turquoise blue ocean and sandy beach views, tropical birds chirping, sipping my Kona coffee(makes me want to make some cookies to go with) and feeling the pleasant breeze on my face, priceless.
It's been 2 weeks on 2 gorgeous islands that are totally different from each other. First week was on Big Island, it is a fairly new island compared to the other islands and it was our first time there. I found it amazing that it's dry on one side and has the rainiest city on another side. There are also some active volcanoes that are magnificent; it was an absolutely awesome experience to be so close to the molten lava. Cool to look at but hot to be so close. The second week is in Kauai, which is the oldest of all islands.This is in fact our second time here, I call it Paradise or my little heaven on earth. Its the most gorgeous place I have ever been to; lush green, so tropical, postcard perfect, and absolutely spectacular. If I ever have to visit Hawaii again on just one of the islands, I would choose Kauai again and I know I would still enjoy it just as much as I did the first time.
Right now life feels too good to be true. Absolutely Surreal! Not to mention the Aloha spirit, the islands has to offer. There is so much calmness all around, even the people seem so laid back and have a culture of happy go lucky. This place is the absolute opposite of the city life. We have been hiking, sunbathing, eating fresh island fruits and seafood and just taking it easy. Well, I only have few more days left to rejuvenate myself but I will have the detailed travel post with some gorgeous imagery for you all to enjoy after the holiday season.
Getting my bake on for Christmas cookies!
Thank goodness to the fact that before traveling, I tried and tested a few cookie recipes. This means when I get back, I just need to get into the action without thinking about the recipes. Its a good idea to plan way in advance for the festival baking, so it doesn't get too stressful. Every year I bake Rugelach and Biscotti along with a new cookie recipe. Its been 4 years now and everyone loves the Rugelach. You can check out the recipe here. We have a big tea and coffee culture in family. Tea for mornings, coffee during mid noons, and tea again in the evenings. Biscotti pairs perfectly with tea/coffee so my biscotti jar is almost never empty for the whole year. Every year I make amaretto biscotti and everyone loves it. This year I am planning to try chocolate and macadamia nut biscotti. I've been eating chocolate biscotti every day in Hawaii with each cup of coffee/tea I order, it's so tasty. That's like 2-3 biscotti per day🙈. So I decided to try a new flavor this Christmas. Along with traditional cookies, I will be doing Citrus Lavender Snowflake Cookies. I had to do the snowflake cookies to represent the freezing cold Minnesota. Not that I want to think about Minnesota cold at the moment while I am enjoying the tropical climate but the cookies are so yummy.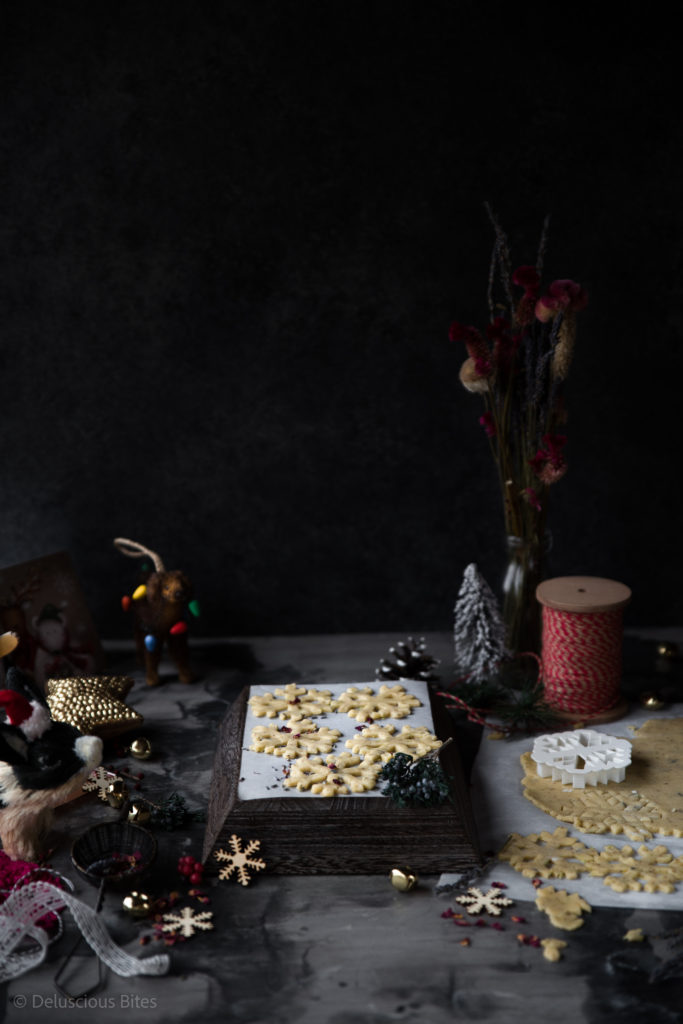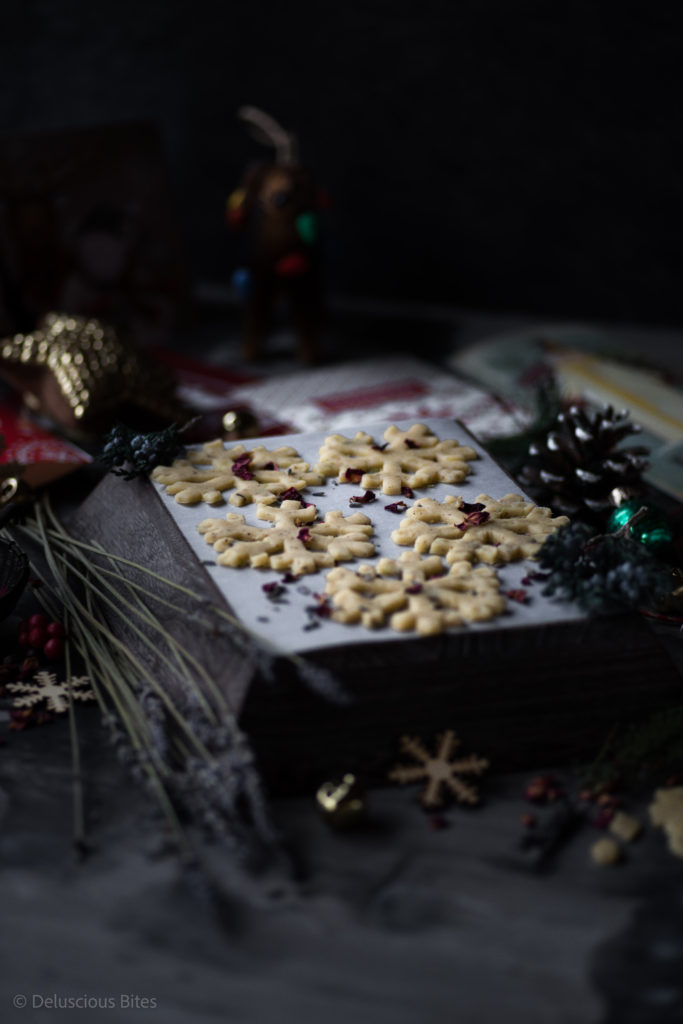 Do you guys have your traditional festive cookies that you bake every year? I would love to hear from you in the comments! I always like to go a non traditional route and do something different. I know sugar cookies are very popular among most people especially kids; however, I usually don't bake too much of sugar cookies. I wonder why🤔! Well I guess it's because they can be a little boring, so to make it fun, I used 3D personalized cookie cutters that I got from Sugary Charm. They are so fun and they have some pretty amazing cookie cutter selection. The basic sugar cookie recipe is adapted from CIA cook book but with a few changes in it.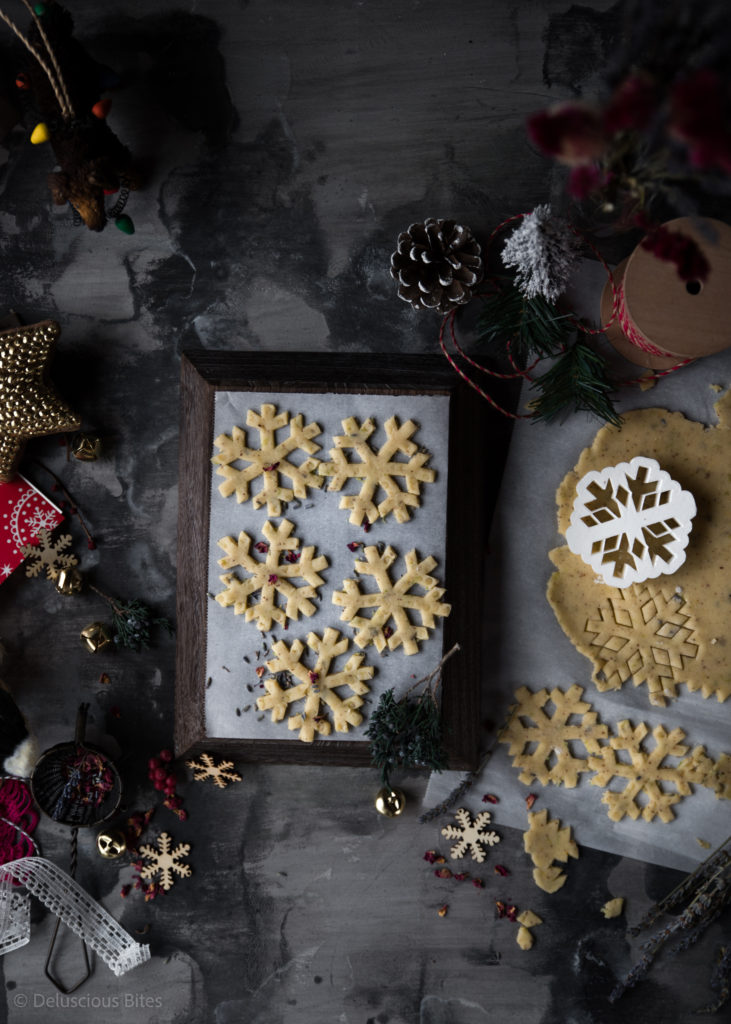 To add some tastiness, I flavored the cookies with citrus, lavender and rose petals. Ah so good! You can't get more festive than this. I added Lime, lemon and orange for the citrusy flavors, but you could choose any citrus you like. Since oranges are in season, it would be perfect to just use orange flavor. The citrus flavors makes it so refreshing and the floral notes add so much elegance to the cookies. For the icing, instead of going with the traditional royal icing, I made glaze icing. Royal icing is not the best tasting icing, neither is the glaze icing; but royal icing can be tricky as it involves meringue whereas glaze icing is just sugar and water/milk. And to add the delicate flavor, i infused chamomile tea and dried rose petals into the icing. These would definitely make your festive cookie platter or cookie gift basket look adorable, elegant, taste delicate but so delicious.
After 2 weeks of royal vacationing where I had a personal butler service, who brought me tea/coffee whenever I needed, helped pack and unpack for travel and did so much to make my stay comfy, it's going to be difficult to get back to my routine. There will be no butler to serve me tea in bed, no one to unpack for me, and no one to help me with… everything. Even so, I can't wait to get back home and put up my Christmas tree, start baking and get the house ready for family, friends and most importantly Santa. I wish he was real and would finish my shopping list for me🙈. I am sure you are all with me on this🙌🏼! Everyone has a favorite festive thing to do. Whats your favorite festive tradition that you absolutely look forward to? For me it has to be baking cookies, gift wrapping them and sending them out. And most favorite of all is spending time with family and friends and cooking for them. While I relax for a few more days on the island, I wish you all a great festive season and hope you all enjoy the baking season. Let me know what cookies you bake this year! Would love to hear from you😊💕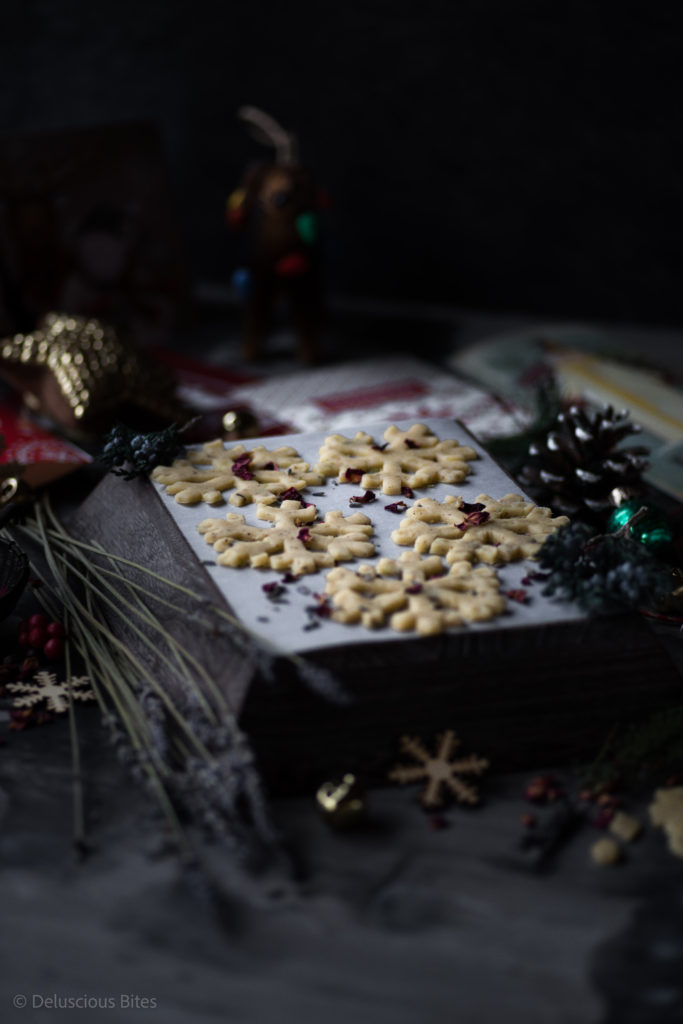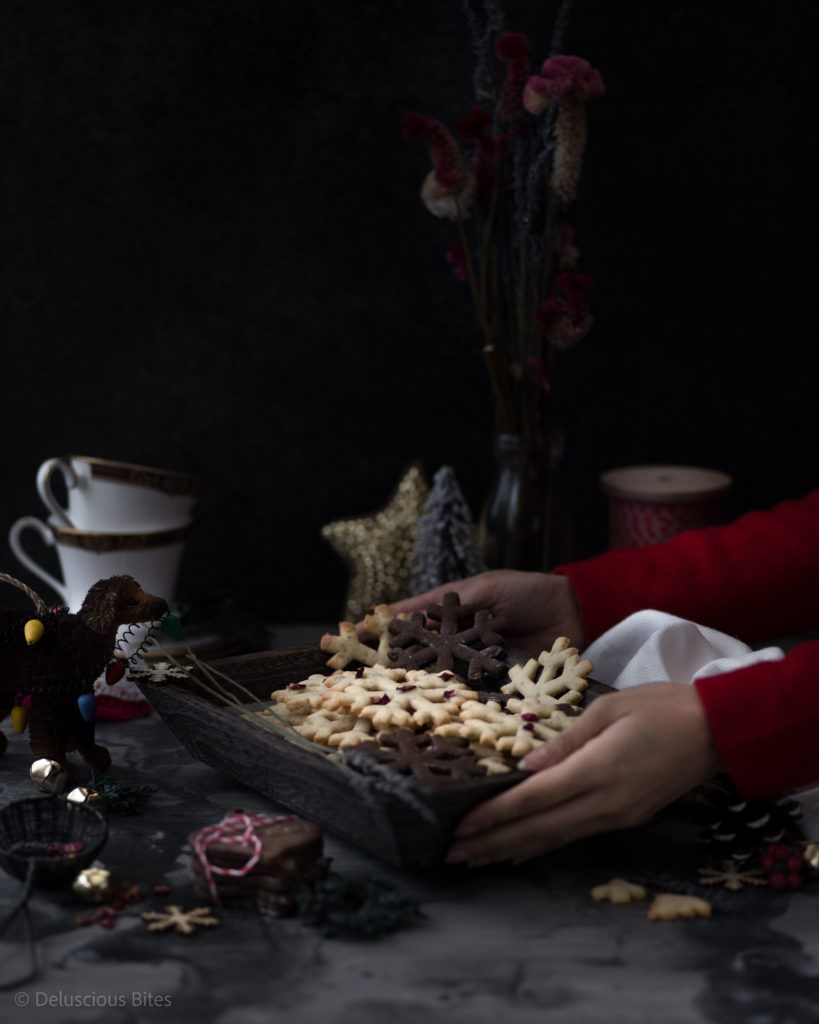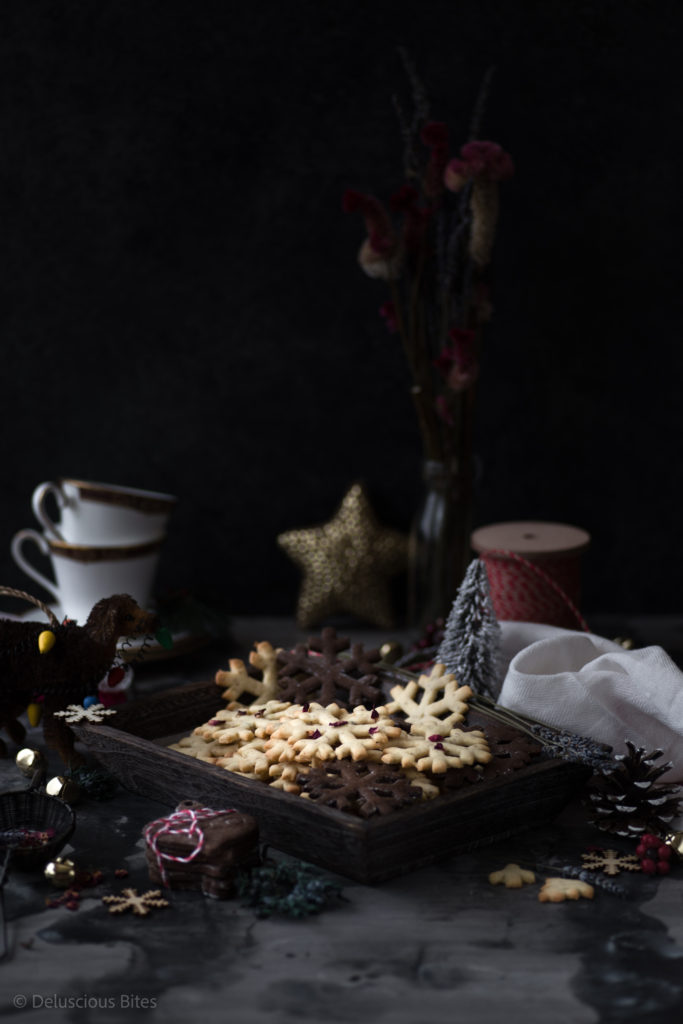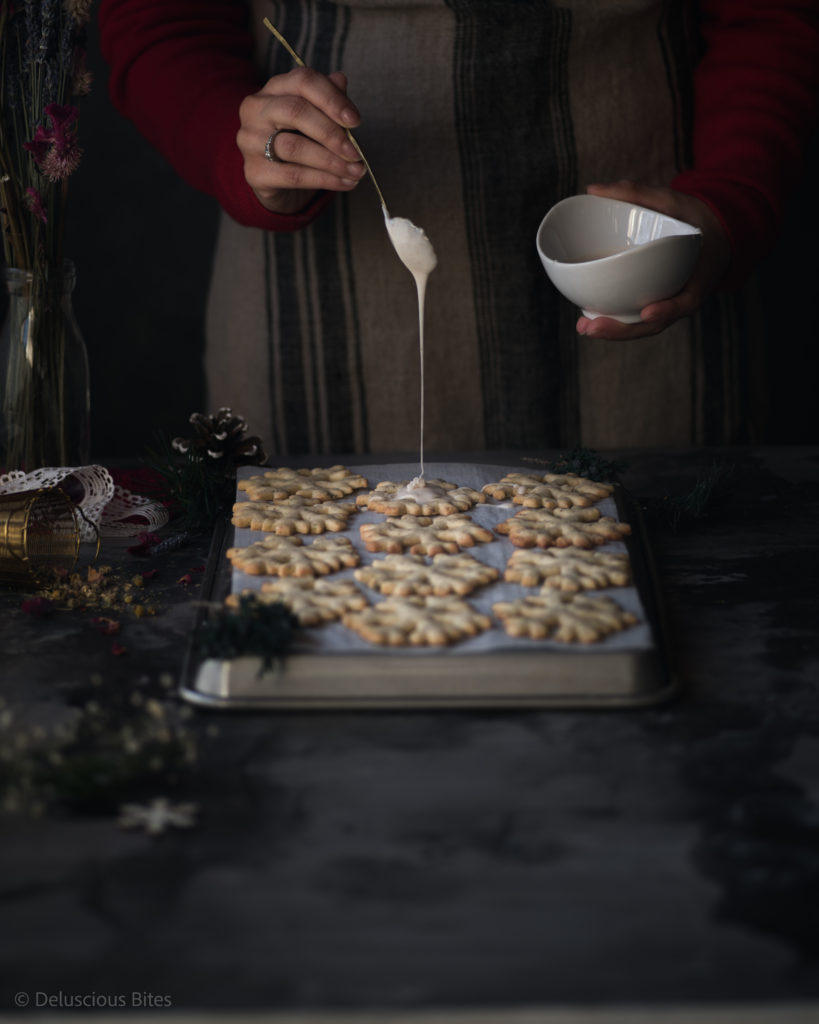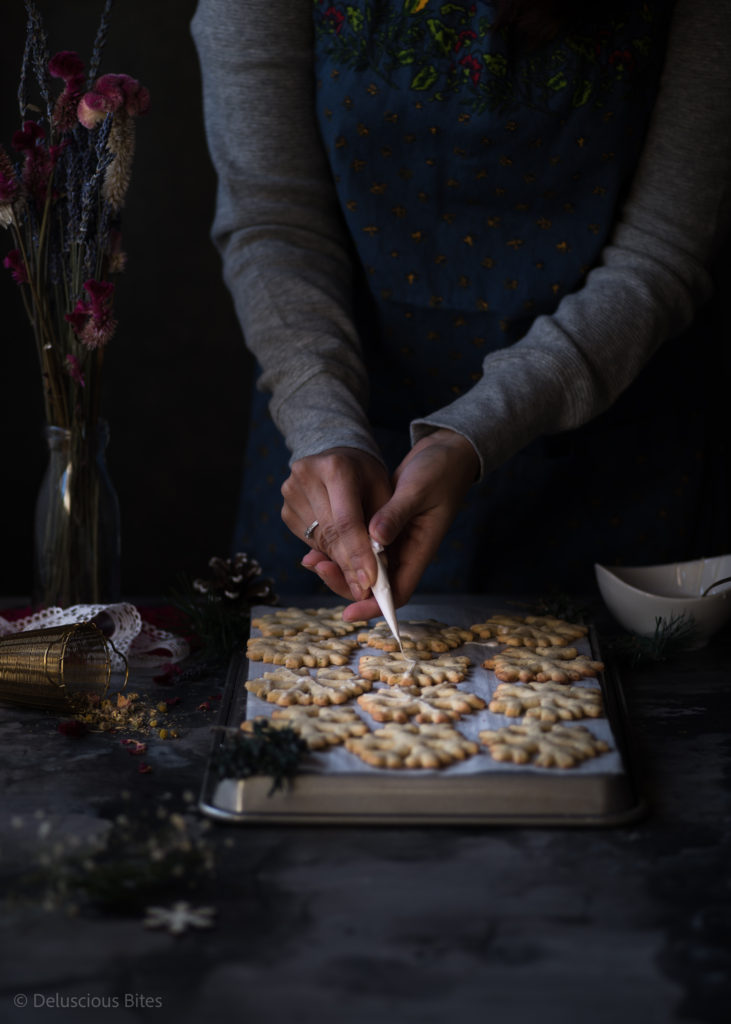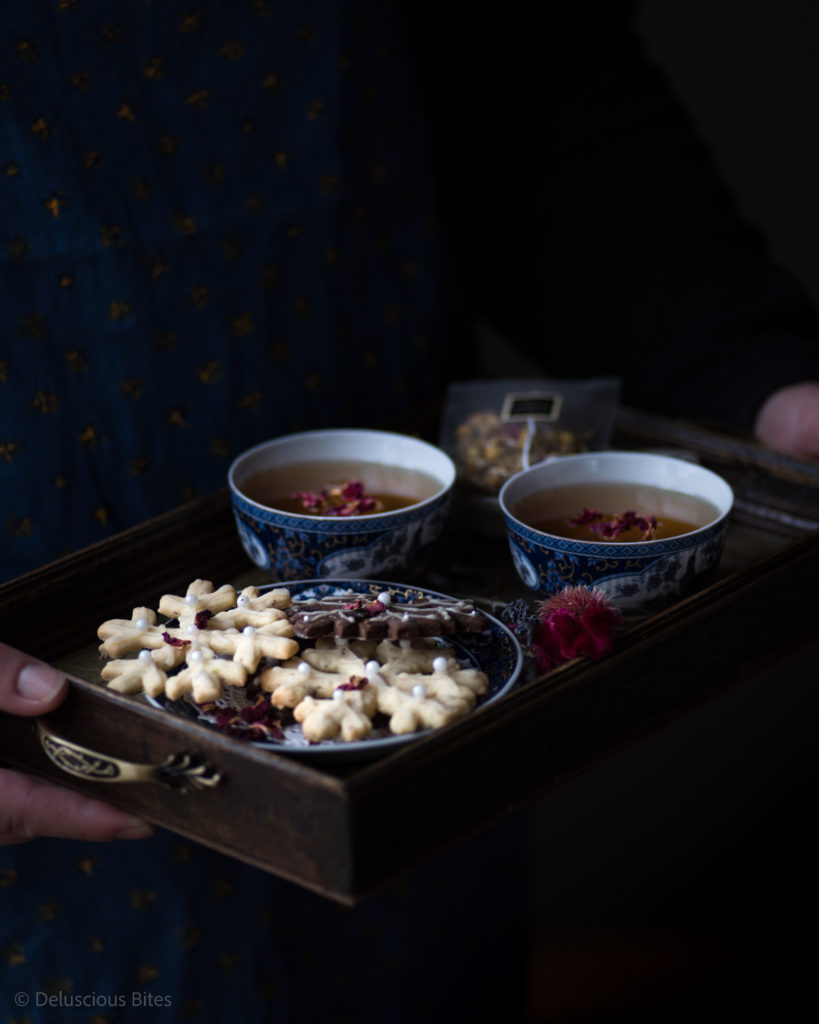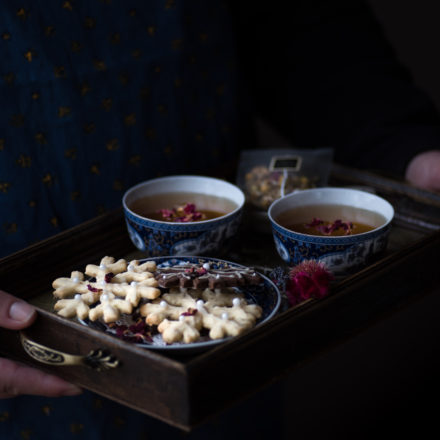 snowflake cookies
2017-12-01 00:13:41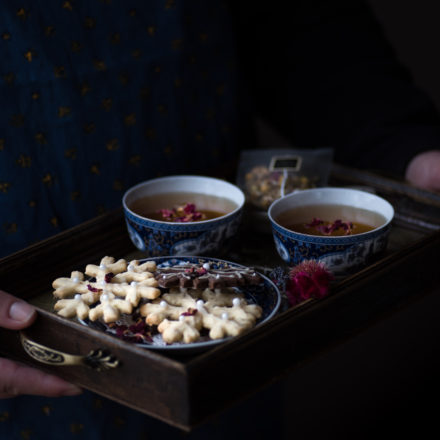 Ingredients
226g flour
3.5g baking powder
pinch of salt
113g butter, soft
1 egg
30 ml milk
85g coarse sugar
1/2 tsp citrus zest (lime, lemon, orange)
2 tsp lavender
1/2 tsp rose petals
For the Glaze Icing
4-5 tbsp confectioners sugar
1-2 tsp milk or water
Chamomile and rose petals for infusion
Instructions
Bring the milk to boil, add lavender and dried rose petals. Let it steep.
Meanwhile, sift together flour, baking powder, salt.
Using a paddle attachment, cream butter and sugar on medium speed until its fluffy.
Add the egg and whip to incorporate.
Strain the infused milk.
Crush 1 tsp lavender in mortar pestle.
Add dry ingredients, crushed lavender, zest and milk to the butter mix in batches.
Whip until well incorporated.
Wrap it tightly and refrigerate for at least 2 hours.
Preheat the oven to 375 degrees.
Line the sheet pan with parchment paper.
On the lightly floured surface, roll out the dough to about 1/8- 1.4 inch thickness.
Using your festive cookie cutter, cut out the shapes and place them on the lined sheet pan.
If not using the glaze, you could sprinkle sugar on top.
Bake for about 10-12 minutes, rotating the pan half way through.
Cool completely on wire rack before piping the glaze or wrapping them.
For Glaze Icing
Steep chamomile and dried rose petals in the milk till you get very strong flavor.
Add 1/2 tsp milk in sugar at a time till you get thick and smooth paste like consistency.
Put it in piping bag and pipe any design you like.
Notes
If the icing get thick then add few drops of milk and whisk it. it will get smooth again.
Cover with plastic wrap if you not using it so it doesn't form a sugary layer on top.
Deluscious Bites ™ http://delusciousbites.com/