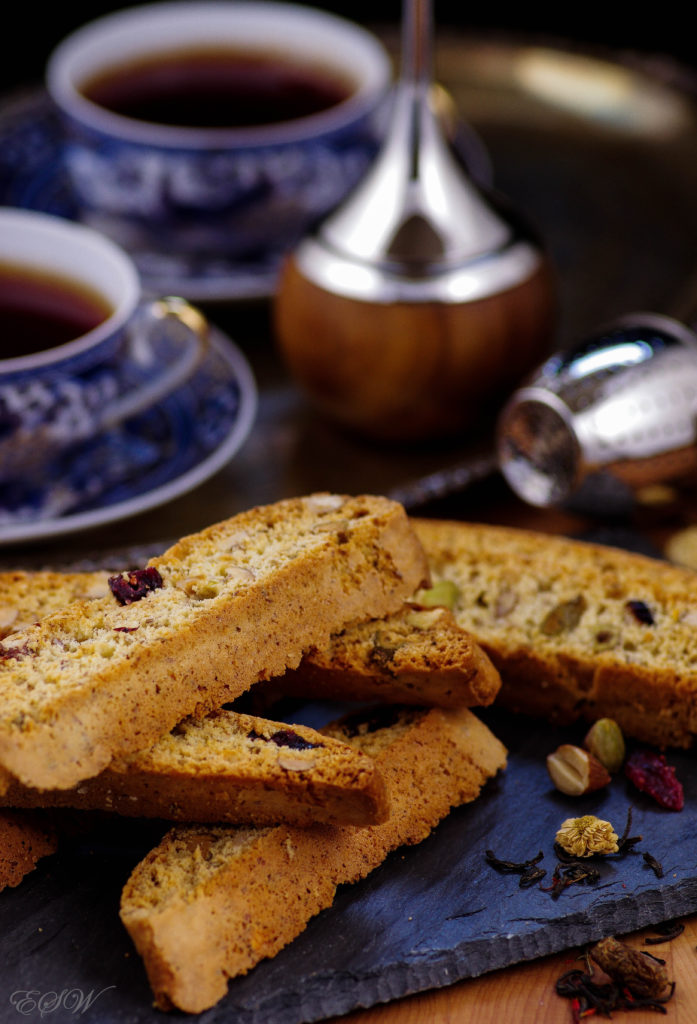 Some days, I close my eyes and recall the weekend and holiday ritual of my dad preparing morning tea while my mom prepared our warm milk, which I hated. We'd all sit together dip cookies in steaming milk and tea. My favourite way to finish my milk was to dip the tea rusk in it and let the rusk soak up all the milk. Tea rusks are an Indian version of biscotti – a word I never heard until I attended culinary school. As a child, all I knew was that crisp, dry, oblong-shaped cookies were paired with hot milk, tea or coffee and called rusks. When I first heard them referred to as biscotti, I was captivated. What an elegant name for such a delicious treat.
I learned recently that singular of biscotti is biscotto, but sometimes I still say biscottis to make it plural. Silly me! Biscotti is Italian for 'biscuit' which Americans generally refer to as cookies. The words 'bis' and 'cot' mean 'baked twice' which is exactly what happens to these guys. Traditionally, Italians call them cantucci and they are baked twice, without fat. This gives them a longer shelf life and makes them easy to store and carry. American versions often include fats that make the texture a little softer and more giving.
In the winter of 2006, I started my internship a local farm and bakery in Rhode Island and realized that biscotti was not only just a dipping snack but a sophisticated holiday gift, despite its simple ingredients. Customers would come to the bakery and buy bags and bags of biscotti to take with them for parties. I followed suit, and whenever I visited my family in India I would bake big batches of almond biscotti to give to relatives and friends. I think the gift was appreciated – I remember one of my cousins loved them so much, he would not allow me in his house without a big jar of freshly baked biscotti.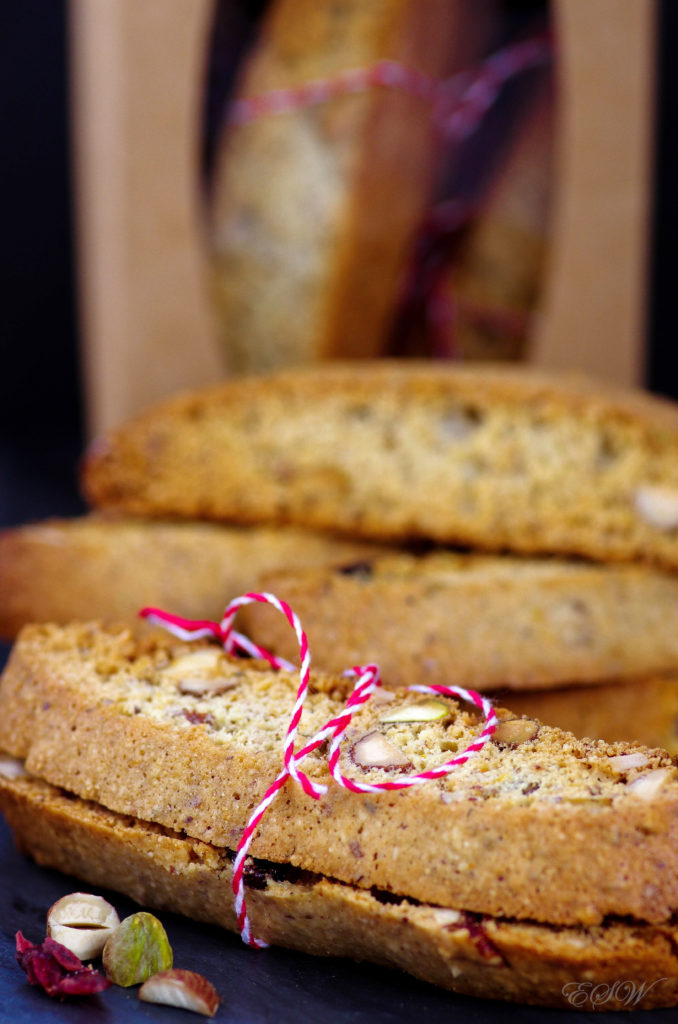 Last week, my husband and I travelled to San Francisco to visit friends and family. In keeping with tradition, I whipped up a batch of these crunchy, sweet, homemade biscotti to share with everyone there. The best thing about these cookies is how many different variations you can play with to change and adapt them. They are so forgiving. Make them with or without butter, or use different kinds of flours to manipulate texture and taste. You can add any nuts you like, and all kinds of flavorings. For this batch, I added amaretto, however you can make a non-alcoholic version by adding some almond essence to provide the strong almond flavor amaretto gives. I added dried cranberries that I had lying on the counter for a splash of color.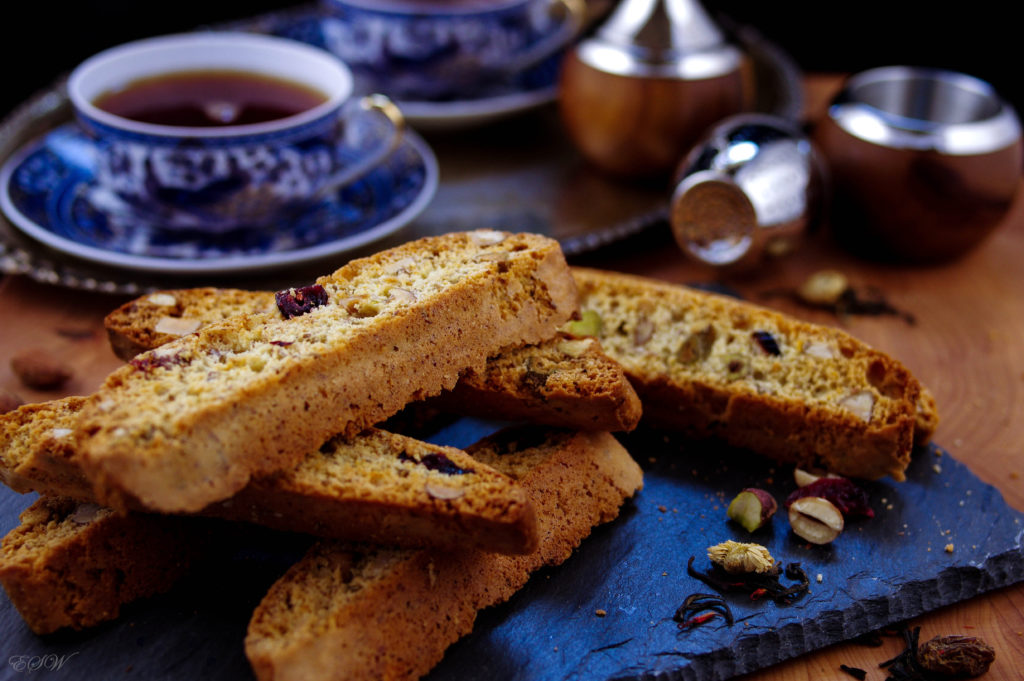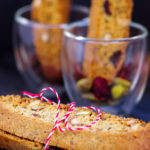 Amaretto Biscotti
2015-09-09 17:29:56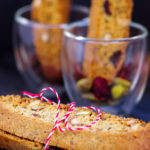 Ingredients
200 grams of flour
100 grams of almond flour
1/8 cup semolina
1/2 teaspoon baking powder
1 tablespoon anise seed
1/4 teaspoon salt
3 large eggs
50 grams of butter (at room temperature)
150 grams of granulated sugar
1 tablespoon amaretto
1 teaspoon vanilla extract
zest of 1 lemon
zest of 1 orange
3/4 cup roughly chopped roasted almonds
1/3 cup roughly chopped roasted pistachios
1/3 cup dried cranberries
Instructions
Preheat the oven to 320 degrees.
Line a baking sheet with parchment paper.
Combine and mix all the dry ingredients, and set aside.
Whisk butter and sugar together.
Add eggs to butter mixture one at a time, while whisking.
Add amaretto, vanilla extract and zest.
Sift the dry ingredients into the butter and egg mixture.
Gently fold in the nuts.
Divide the dough into two portions.
Gently form logs with moist hands.
Bake for 20-25 minutes until they reach a light golden color.
Allow cool for 5 minutes.
Using a serrated knife, cut the logs at an angle to get 1/2 inch to 3/4 inch thick slices.
Place the slices cut side down on baking sheet and bake for another 20-30 minutes till light golden, turning half way through.
Cool completely on a wire rack before storing.
Notes
The dough is quite sticky, so work the logs with moist/wet hands.
You can replace the almonds and pistachios to any other nuts you like.
To make it virgin you can remove amaretto from the recipe.
Deluscious Bites ™ http://delusciousbites.com/
~Buon Appetito~