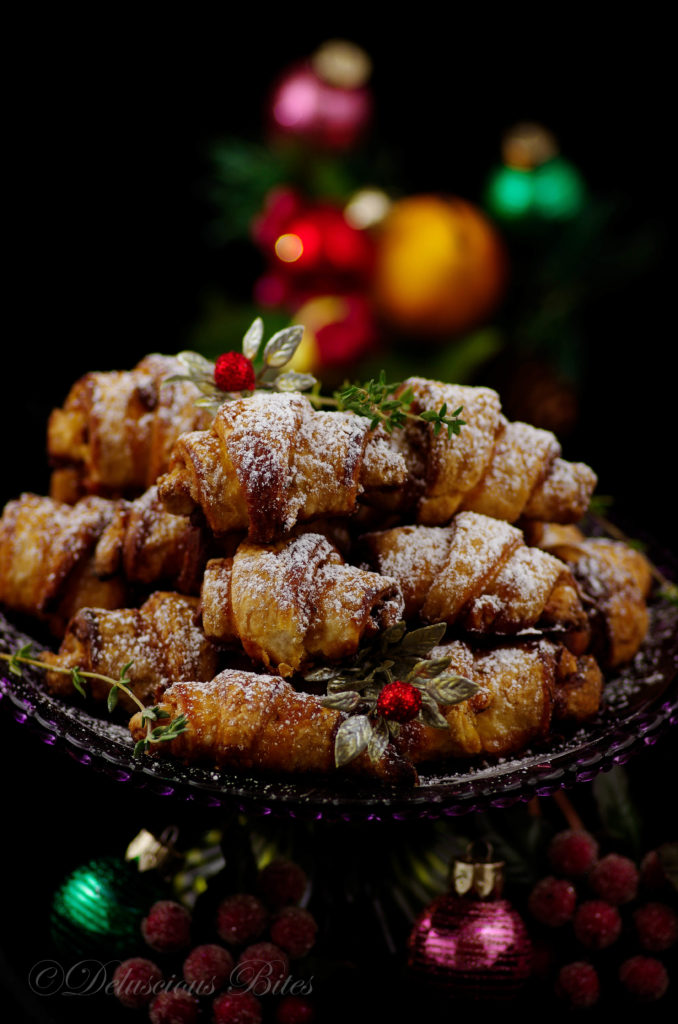 Christmas is right here – is everyone prepared? The week before Christmas can get really intense with all the shopping, baking and getting ready for holidays. It's the time of the year for endless hot cups of tea and espresso shots, wrapping up cozily in blankets and sitting by the fireplace, playing cards, late night chats, cocktails, and my favourite part: the whole house is perfumed with sweet buttery, sugar smells and the earthy scents of so many spices and herbs.
This Christmas will be bittersweet for us as it will be our last one in Arizona. My friends have already arrived and my brother will be here tonight. Cooking, baking, and cleaning is in full swing. The tree is up and lit. Gifts are purchased and waiting to be packed. The menu for our Christmas dinner has been finalized. We're all set to get crazy and remember the good days (and some bad days) and toast to 2015 as we welcome 2016 with love, peace and some sugary treats.
My husband has finally started his new job and is travelling back and forth until the New Year – no fun at all! But fortunately, he will be able to be here on Christmas Day. Every year, my brother and sister-in-law and our friends come stay with us for a week or so. It gets busy, but it's the best time of the year for me. This year, since my real Santa is gone for few days, I'm using the time to finish up my cookie baking and preparing goodie baskets as gifts. There is nothing better than a homemade gift. I love making different kinds of cookies and arranging them in a jar or on trays for gifting. This year, I've created a hot chocolate mix, cardamom walnut rugelach, biscotti, and a Cajun spice rub in a tiny recyclable basket.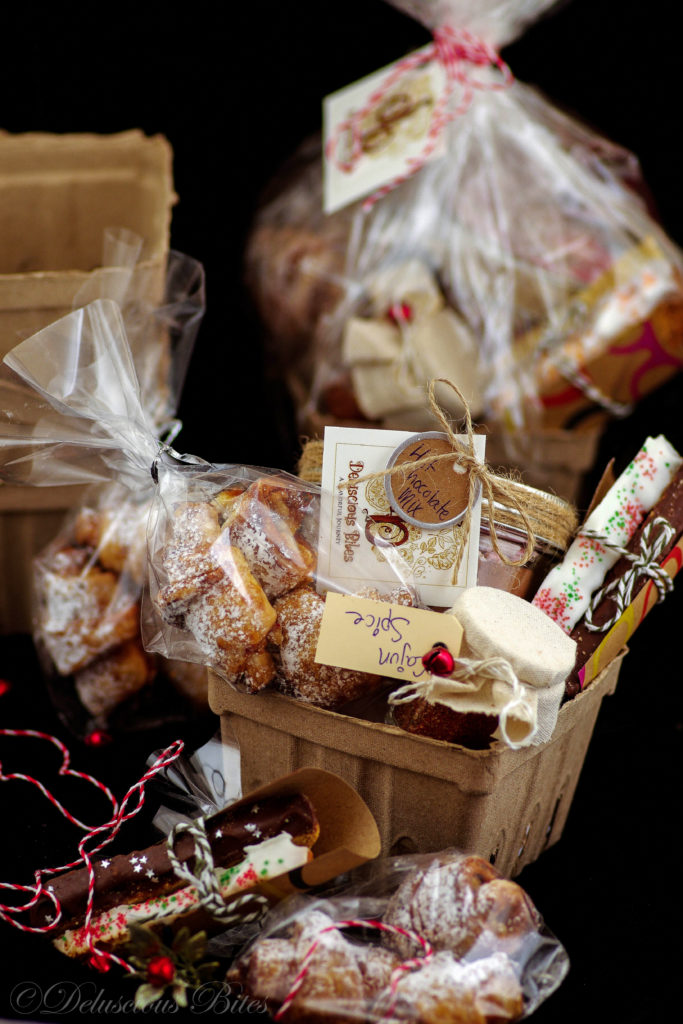 The combinations of cardamom, thyme and cinnamon in rugelach cookies make them so down-to-earth and warm. Just perfect for the season, these beautiful horn-shaped cookies sprinkled with powdered sugar are sure to be a hit for holidays.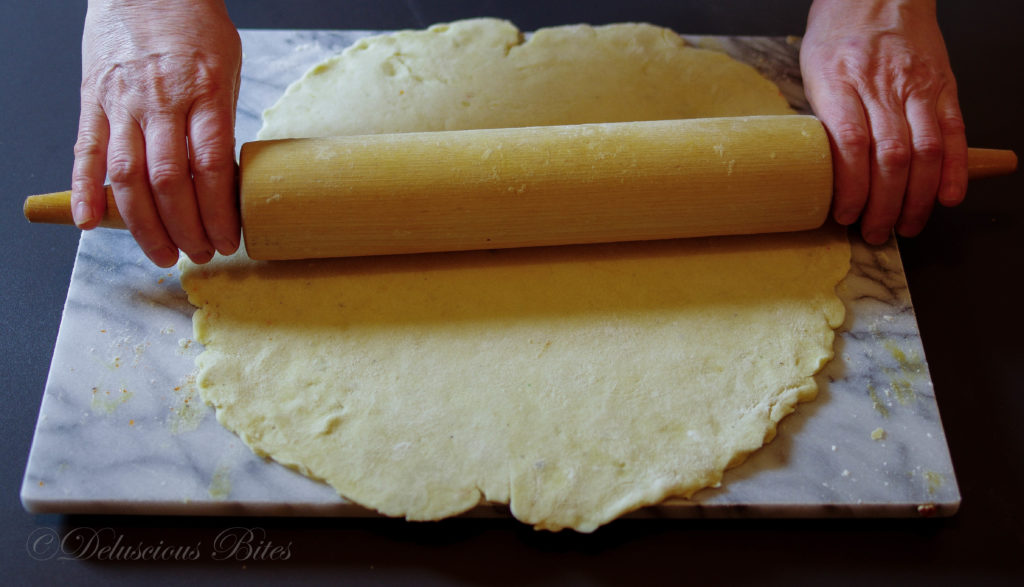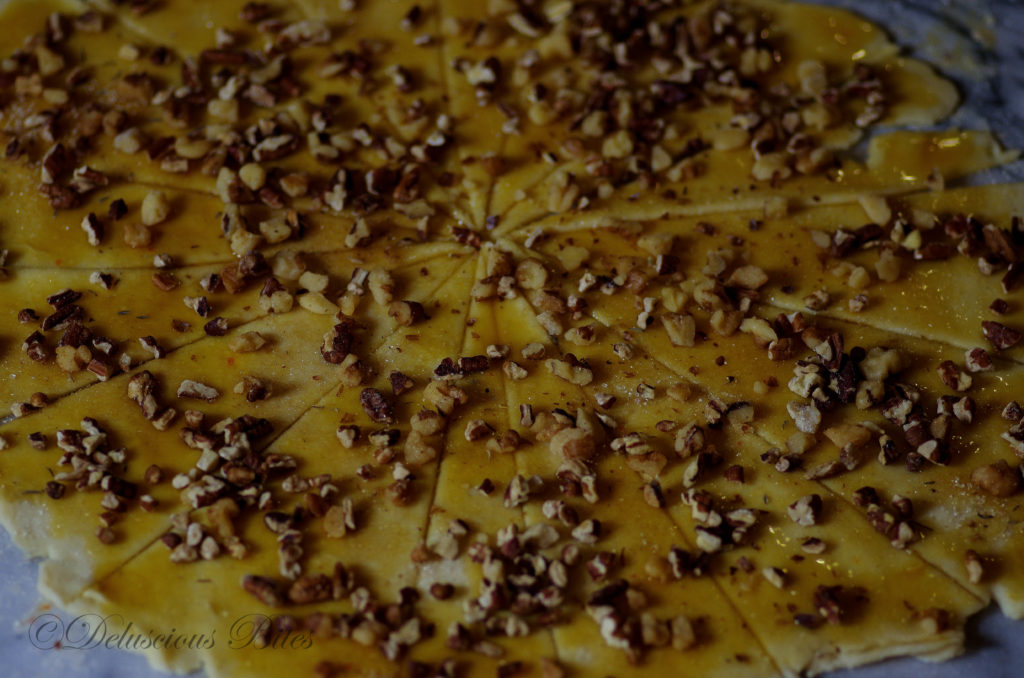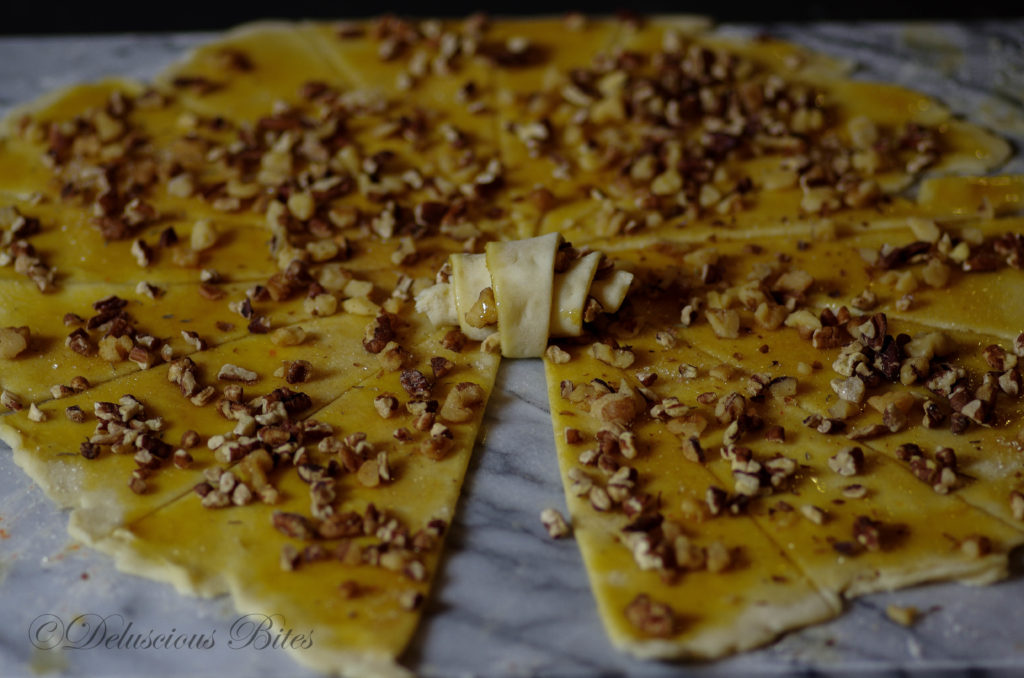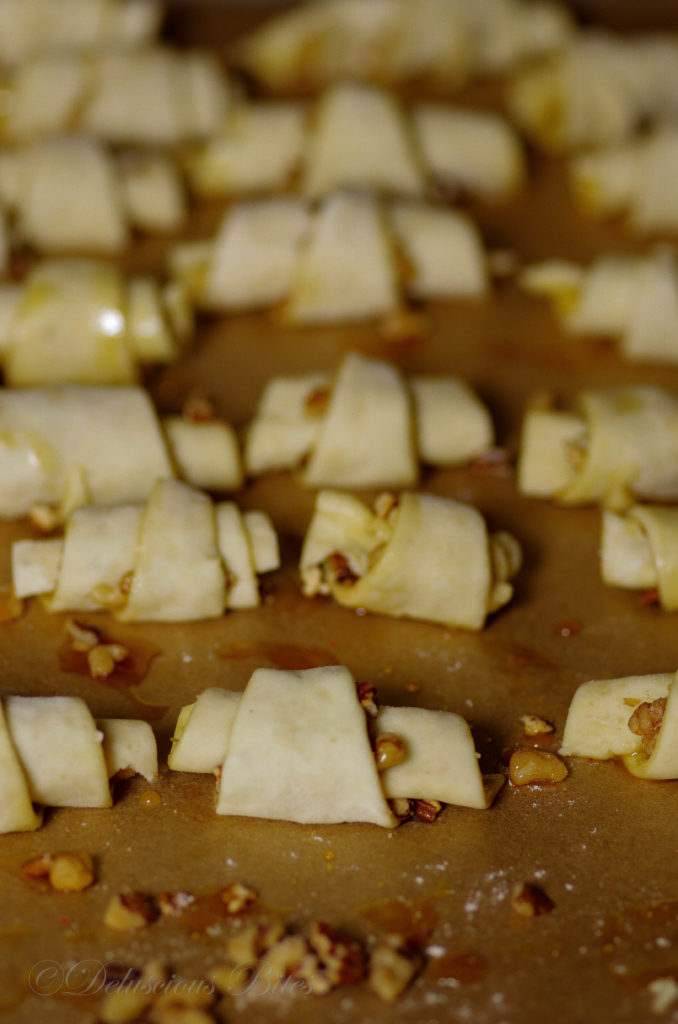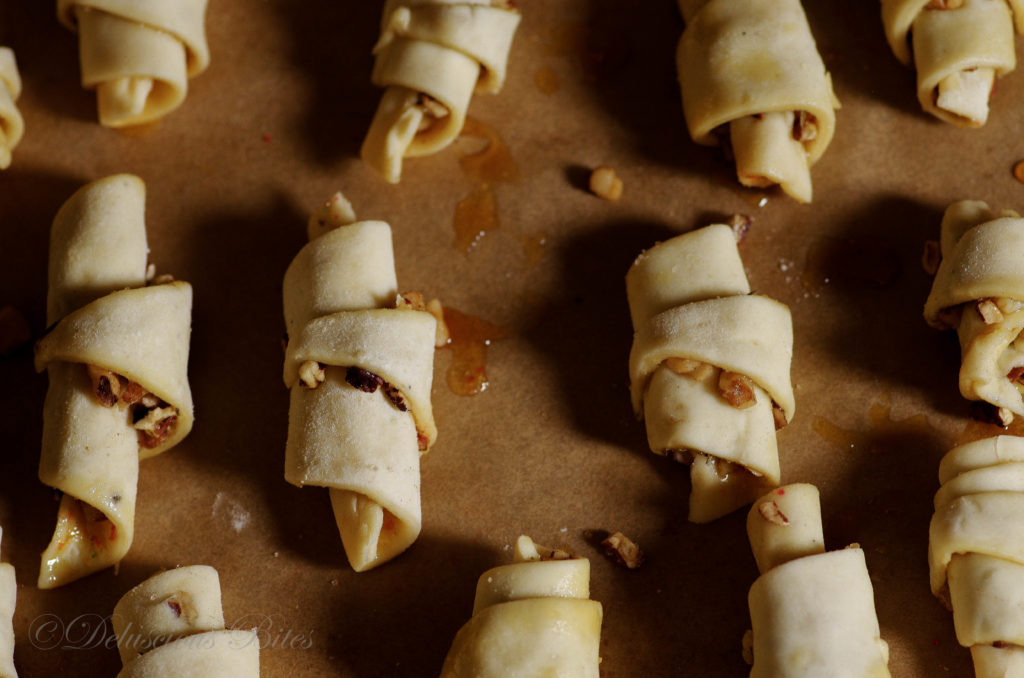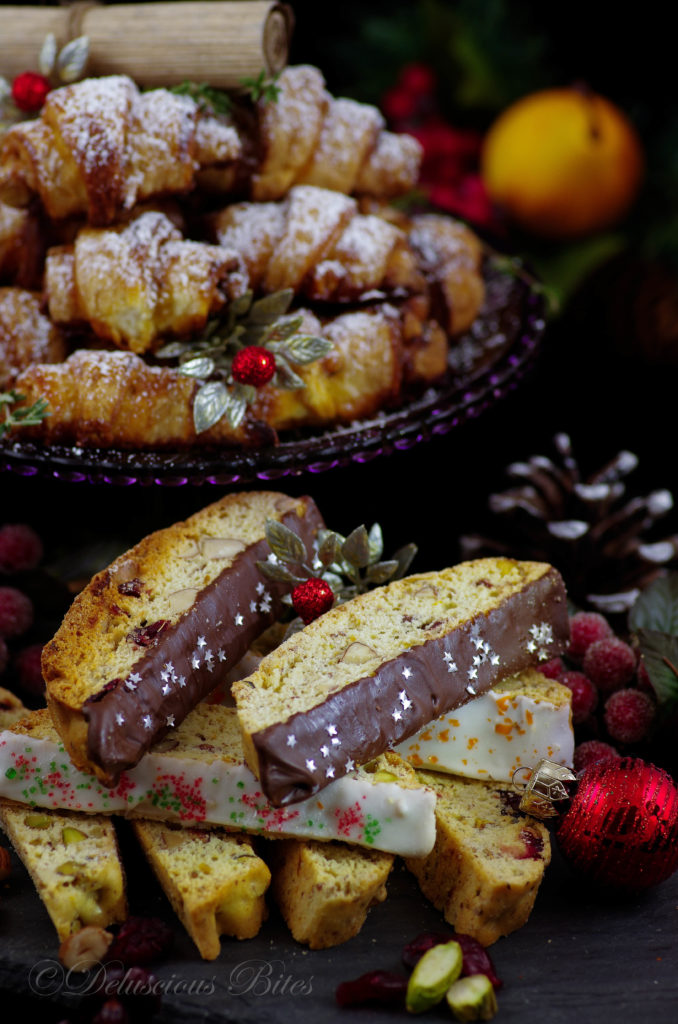 Rugelach
2015-12-22 13:48:13
Ingredients
1/2 pound cold butter
2 cups flour
2 tablespoons sugar
1 teaspoon baking powder
1/8 teaspoon salt
1/2 teaspoon ground cinnamon
1/2 tsp cardamom powder
1/4 teaspoon ground nutmeg
8 ounces cream cheese, softened
1 egg
1 teaspoon vanilla extract
For the filling
3/4 cup granulated sugar
1 teaspoon ground cinnamon
1 teaspoon cardamom powder
1 teaspoon dried thyme
1/4 cup honey
1/4 cup maple syrup
1 cup chopped walnuts
1 cup chopped pecans
Instructions
Mix all dry ingredients together.
Cut the butter into small pieces.
In food processor with a metal blade, pulse the flour mix and butter till it resembles crumbs.
Add cream cheese and pulse them again until combined.
Add egg and vanilla extract and combine.
Refrigerate the dough for 2-3 hours before rolling.
Preheat the oven to 350 degrees.
Line the baking sheet with parchment paper.
Combine sugar, cinnamon, cardamom and thyme.
Mix honey and maple syrup.
Divide the dough into 2 parts.
Lightly flour the work surface area and roll each ball of dough to approximately 9-inch diameter
Spread honey mixture onto each circle.
Cut each circle into 14-16 wedges or triangles.
Sprinkle sugar and spice mix on the wedges.
Sprinkle the nuts.
Roll the wedges from wide end to the narrow end so you get croissant/horn shaped cookie.
Place on the baking sheet.
Refrigerate for 10-15 minutes before baking.
Egg wash each cookie.
Bake for 20-25 minutes until golden brown.
Cool on wire rack.
Store them in air tight jars and sprinkle powdered sugar just before biting them.
Notes
For the filling any fruit preserve can be used instead of honey.
Just honey could be used instead of maple syrup or vice versa.
The rolled cookies can be frozen for several weeks - thawing is not required before baking.
Deluscious Bites ™ http://delusciousbites.com/
~Happy Holidays~