Christmas tension;
Christmas is fast approaching and so are the stress levels rising each day, or is it just me? Well, I am almost about to have a panic attack🙈, no kidding! I feel like I haven't prepared at all. The only thing I am done with, is baking. I still have tons to bake though but at least I know what I am doing. Christmas gifts however, I am kinda hoping Santa will help me with those this year. Depressing right? Two days until my family and friends arrive for Christmas and I have no clue what I will be putting under the tree. If my family is reading this, well you know I love you and that's what counts right? Or not? Lol, I mean totally not my fault; festivities start as early as October and end of November is usually my annual travel time, so c'mon, how on earth is it possible to prepare everything in advance? Hahaha. Good news is, I prepared the cookie recipes that I shared last time. More good news is, along with the snowflake sugar cookies, I will be doing Gingerbread Dark Chocolate Boozy Cookies with Mint and Orange. Doesn't that sound so wonderful!
Everyone loves the classic gingerbread cookies during this time of the year, and who doesn't love chocolate! So combining the spicy ginger, dark chocolate along with mint that I dried from my summer garden, oranges that are seasonal and grand mariner for that extra holiday booziness – I made a delicious and flavorful combination.The basic recipe for gingerbread chocolate cookies has been adapted from Food and Wine, and to make it extra special and festive, I did some changes and additions. Absolutely delicious and more so apt for the Christmas holidays.
Home sweet home;
From the frost-free climate to the dense fog and now to negative temperatures with snow. Welcome to Minnesota and OMG it is freezing. The moment I was dreading is finally here. I know people here are so proud of their four seasons especially the snow and I do too but I am still not able to adapt the cold and snow into my life. Hopefully, one day my body will be accustomed to this climate, else I will have to pack my bags and move to the west🙈. I remember the first time I saw snow, I found it so bizarre and could not believe it. The snowfall that I saw in fairy tale movies as a kid, felt absolutely magical in real life. It still feels the same still, but only from the window. Me driving in the snow feels no less than a survivor scene from a movie. I hate it. Sorry but its true. I can never drive in the snow, no matter how good of a 4 wheeler you get me😜.
Enough about how I feel about the weather, bottom line is the snow and the cold bring about the real feeling of Christmas. Well, I was really enjoying the wonderful summery weather in Hawaii but the real festive feeling only came about after I got back home. I can't deny the fact that the moment I arrived here in MN everything felt so merry. When I saw all the gorgeous wreaths and garlands with the red bows adorn the doorways and the pine trees outside homes covered with snow flakes, my heart melted down and instantly felt the holiday spirit take control. I knew I had to start the baking action the moment I got back home.
Oh wait, did I say that I had to start baking immediately I got back? Umm! that was not the case. I first had to deal with the 4 hours time difference which hit me hard, real hard, and the jet lag that took over my life🙄. Not to forget all the grocery shopping and the 2 week vacation laundry. I almost pulled my hair. Lolzzz! Ok may be thats not true, but I was really tired. But all is not lost, since this past weekend, I have been feeling much better and slowly getting back to my routine. Now its time to get to work; the Christmas station is up on the radio, the tree is all decorated with ornaments, oven is turned on and my house smells heavenly. It smells citrusy and earthy on one end and at the same time chocolaty and cinnamony on the other. How festive is that? I feel like I am in a cookie heaven and I am loving it! Butter and sugar have officially taken over my life now and I am literally drenched in flour, sugar and cocoa powder.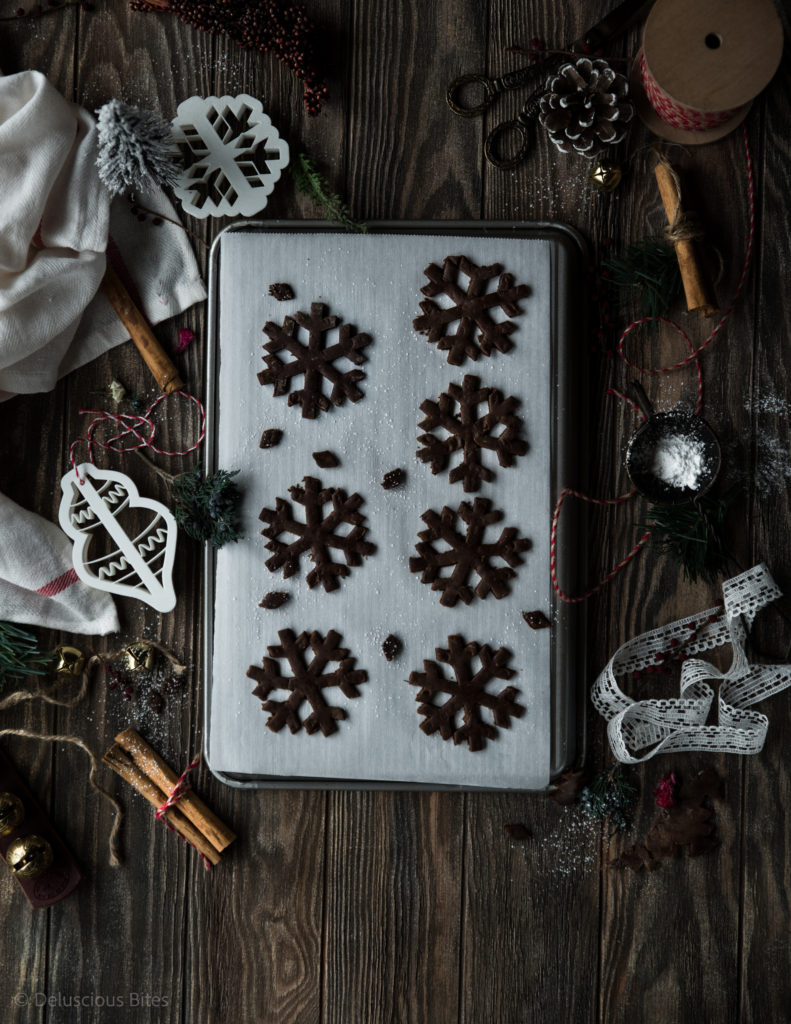 Time to turn up the heat (well the oven 😜).
I just realized, I have never baked ginger bread cookies since I graduated from culinary school. I see how people enjoy them and the sugar cookies during Christmas so this might just be the first time I'll be making them. Yap, this year I thought of taking a little traditional route and do the cookies that everyone does, but of course with a twist in it. I lost the best gingerbread recipe that was given to me by my pastry chef back in school, and since then I never trusted any other recipe for these cookies🤷🏻‍. Of course this was until I saw the chocolate addition with ginger at Food and Wine website, I knew it had to be amazing. The flavors pair so well together. If you are not a bittersweet dark chocolate person, then you can replace the dark chocolate with a sweeter one. It has a very subtle bitter chocolate taste that pairs perfect with an espresso. No kidding! The mint pair well with chocolate and gives a very refreshing mouthfeel and of course, citrus is in season and that makes everything taste wonderful. These cookies are so different from the traditional gingerbread cookies and will be so perfect for your holiday cookie platter or the home made cookie gift basket. I glazed some of these cookies with the rose and chamomile glaze icing that I did for the citrus lavender cookies. I also dusted some with powdered sugar to give them a snow effect. You can go all out crazy and wild with your decorations with them. It's holiday season after all 😊✨
Speaking of gingerbread, the first photo I posted in the beginning of this post was chosen to be among the finalist of the holiday cookie contest by Feed Feed and Bobs Red Mill. I want to thank you all awesome people for the great support you gave me by voting and even on Instagram, I really appreciate that. Even though I didn't win being in the finals among great bakers and your love and support was overwhelming. Thank you so much!🙏🏼❤️
Let me know if you bake this version of gingerbread cookies. I also would love to know what cookies you bake this season and it would be great also if you threw in some photos of your cookie platter. You could use #delusciousbites to show off your creations. Have a wonderful holiday season and an amazing time with your family and friends. Happy holidays!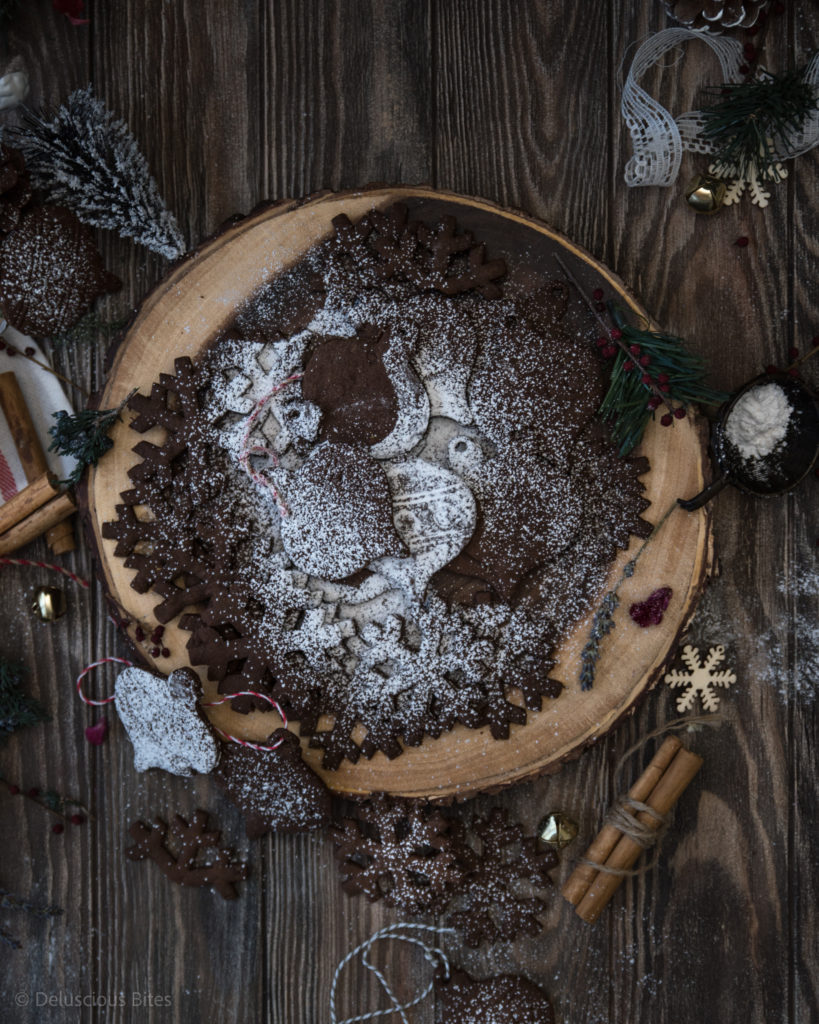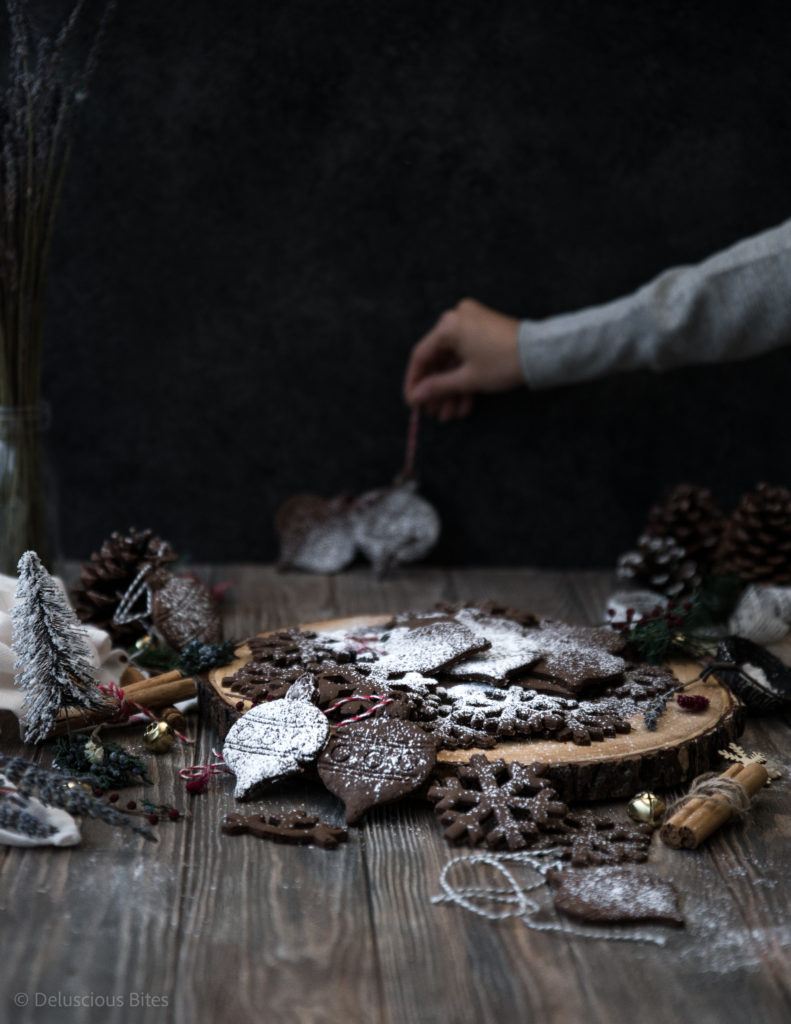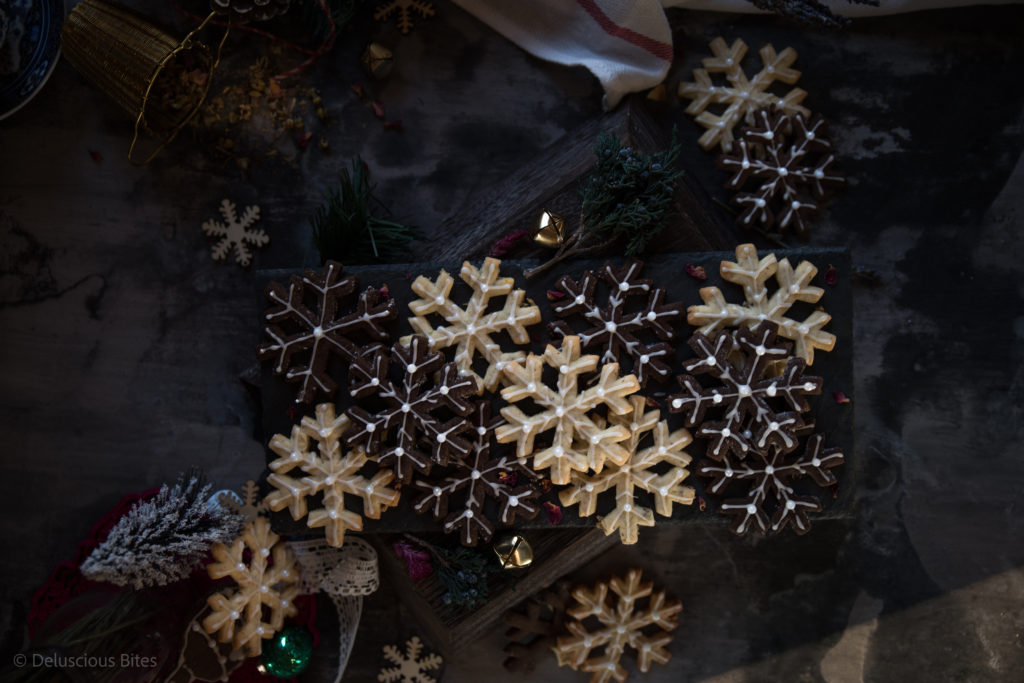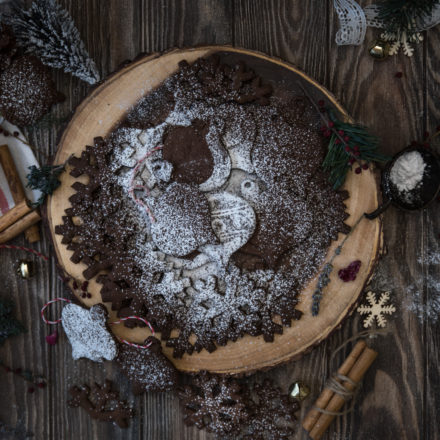 Gingerbread Chocolate Mint Cookies
2017-12-11 10:19:27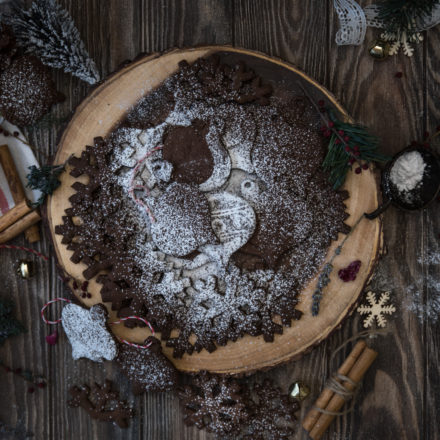 Ingredients
210g all purpose flour
2 tsp + 2 tsp coco powder
1/2 tsp ginger powder
1 tsp cinnamon
1/2 tsp clove powder
1/2 tsp baking soda
1/4 tsp baking powder
1 tsp cardamom powder
2 tsp dried lavender
1 tsp dry mint
1 tsp orange zest
1/2 tsp salt
2 1/2 tsp butter, soft
2 tsp + 2 tsp shortening
1/4 cup brown sugar
1/2 egg
1/4 cup molasses
2 tsp grand mariner
100g chocolate, melted
Instructions
Mix all dry ingredients.
Melt chocolate over double boiler.
Beat shortening and butter with paddle attachment on medium speed.
Add sugar and beat until fluffy.
Add the egg and beat to incorporate well.
Beat in molasses, then grand mariner and chocolate.
Add flour mix.
Combine with hands to form a dough.
Shape into disc and cover with plastic wrap. Refrigerate for 1-2 hours.
Preheat the oven to 350 degrees.
Lightly flour the rolling surface. Roll the dough to about 1/4 inch thickness
Cut the desired shape and bake for 6-7 minutes.
Cool completely on wire rack before decoration.
Deluscious Bites ™ http://delusciousbites.com/