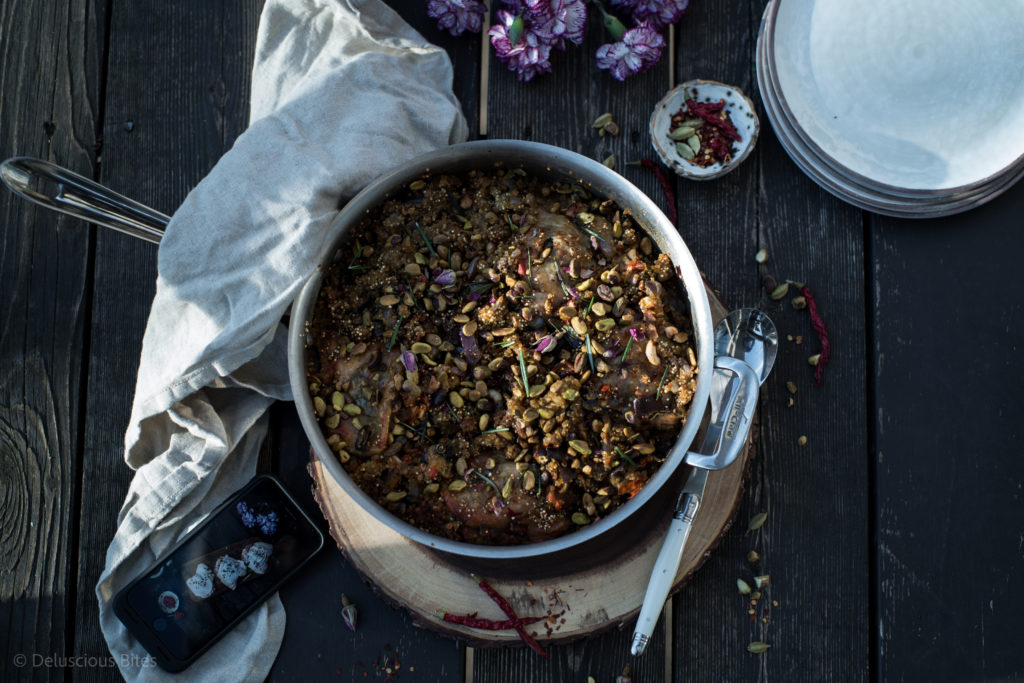 When I was a child, my whole family was vegetarian. My mother cooked vegetarian meals, and taught me to cook this way. So today's recipe was a little daunting for me… my first time cooking chicken with the skin on! ? Well, okay, maybe not my first, as I have made chicken wings before, but that's about how as far as I have cooked chicken with its skin on. I am really not a huge fan of cooking with skin, and you all know I'm not as comfortable with meats and poultry. But I love being creative and trying new things, and I continuously try to push my boundaries in the kitchen. Cooking has always been my passion and my love, and just like in romantic love, I want to keep the spark alive. 😉 Whenever I see a vegetarian recipe, I get overly excited, and I'm so comfortable experimenting with it in the kitchen. When it comes to non-vegetarian meals, especially meat and chicken, I always hesitate. But the best things happen when you leave your comfort zone… So this spring, I decided to play with some meats and try to learn few different techniques in cooking with meats/poultry.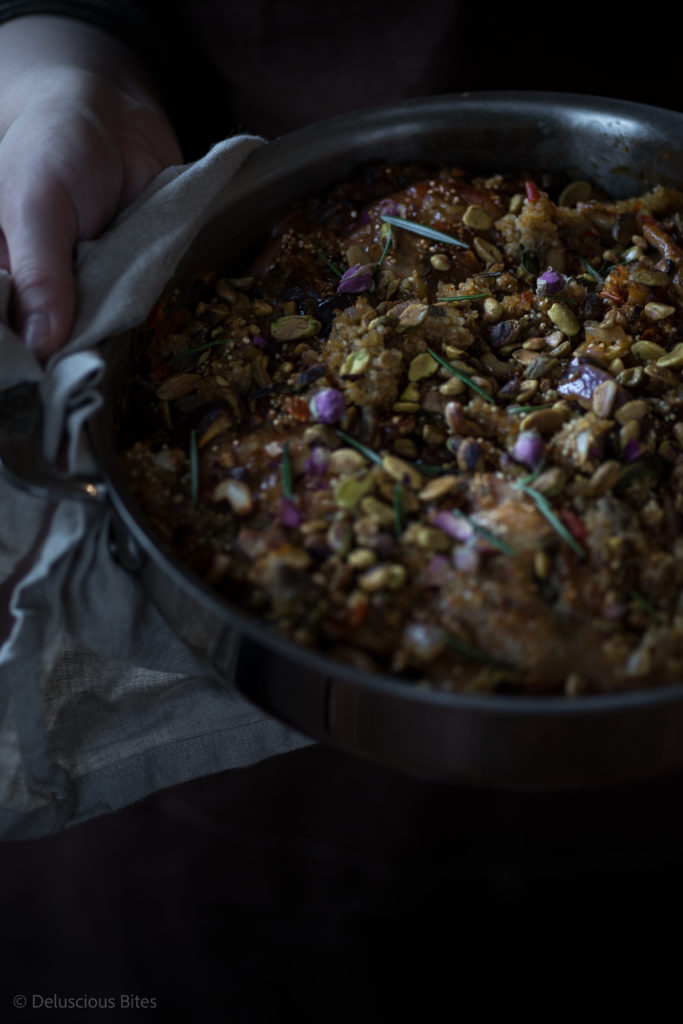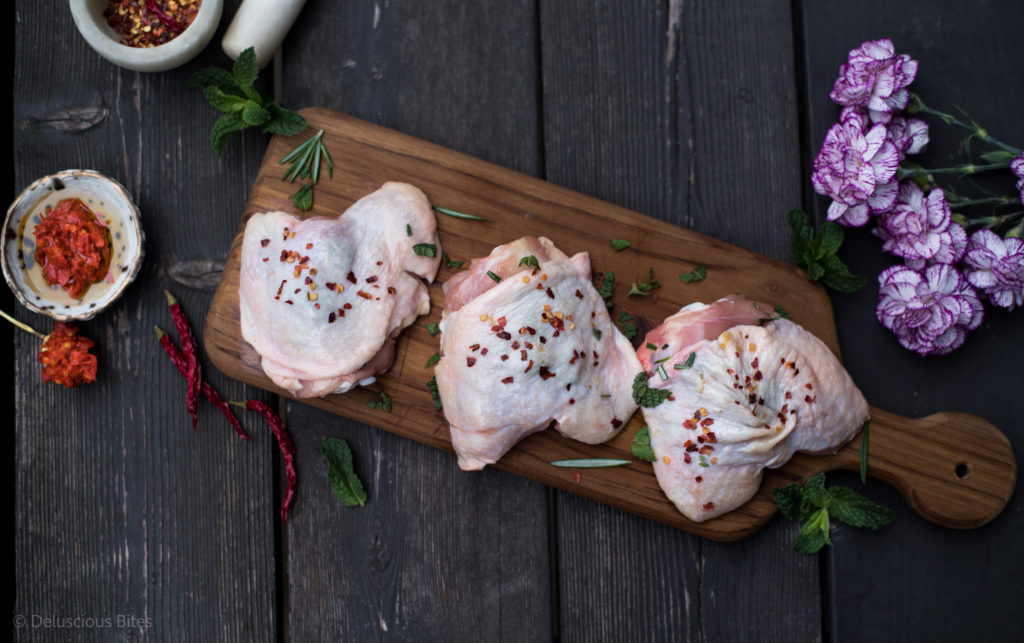 I love the Instagram community for amazing inspiration. I learn so much from that community and I am grateful to have connected with so many beautiful, talented people through photos. ?? This past February, I was so inspired by the delicious and amazing feed by Deborah (@rainydaybites) with recipes from Diana Henry's cookbook "Simple: Effortless Food, Big Flavors" that I decided to get the cookbook and try my hands on it. Fortunately, a few weeks later I won this book as a giveaway by Barbara (@spiritedcook)! ?? OMG! I just couldn't believe that I won the book that I had been thinking so much about! I even did a victory dance, haha!!! ? It's such an amazing book and just like it says: "effortless cooking with big flavors and no fuss". I made the Moroccan Style Chicken, and of course I gave it my own twist. 😉
As I mentioned above, I get so much inspiration from IG – I decided to prep the chicken with its skin on, by incorporating lots of herbs and a spicy kick underneath the skin. I learned this method from another IG story by a chef at Tasting Table. It's such a great trick to retain all flavors and keeps the chicken moist and tender. With spring in season, we started getting tons of herbs in the market, and you all know my special love for herbs! ?❤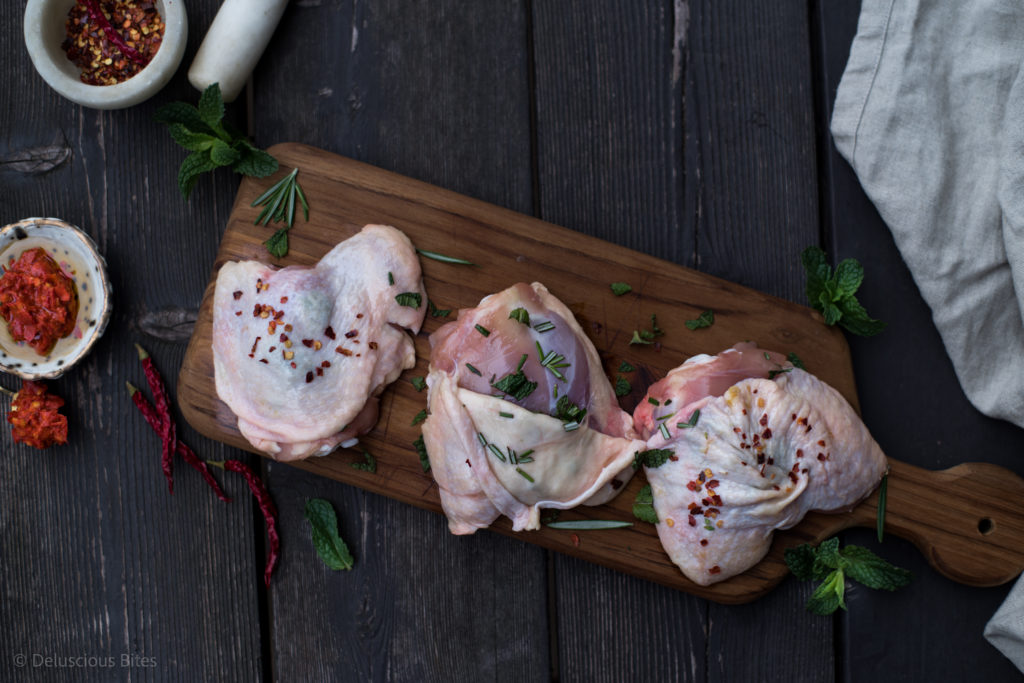 The original recipe calls for Basmati rice and dates, but I used quinoa and figs. Why quinoa and not rice? It's not that I don't like rice – I love Basmati rice! I mean, who doesn't?! I grew up eating Basmati – my mother used it to accent so many of her recipes. But since I am trying to stay away from simple/refined carbohydrates, I am trying to use complex carbohydrates wherever I can. Quinoa cooks same way as rice and works perfectly in this recipe. I also tried the same dish with wild rice, though the timing changes a bit for this substitution. The wild rice takes a long time to cook, and I just had to cook longer and add more liquid while taking the chicken out. The flavors in with wild rice were so good, and the nutty texture worked great too. But I will be sharing the quinoa version today. 😀 As for using figs instead of dates, this is because I love the chewy texture of their skin and the crunchiness of the seeds. I also always have figs in my pantry, so it's easy. 🙂 I also added lots of saffron to give a nice red color, and its subtle sweet flavor and aroma brings lively joy to the meal. Since we still have some blood oranges in season – which is really strange for me, as we never had these for this long in Arizona – I used that as my citrus, but you could use any orange.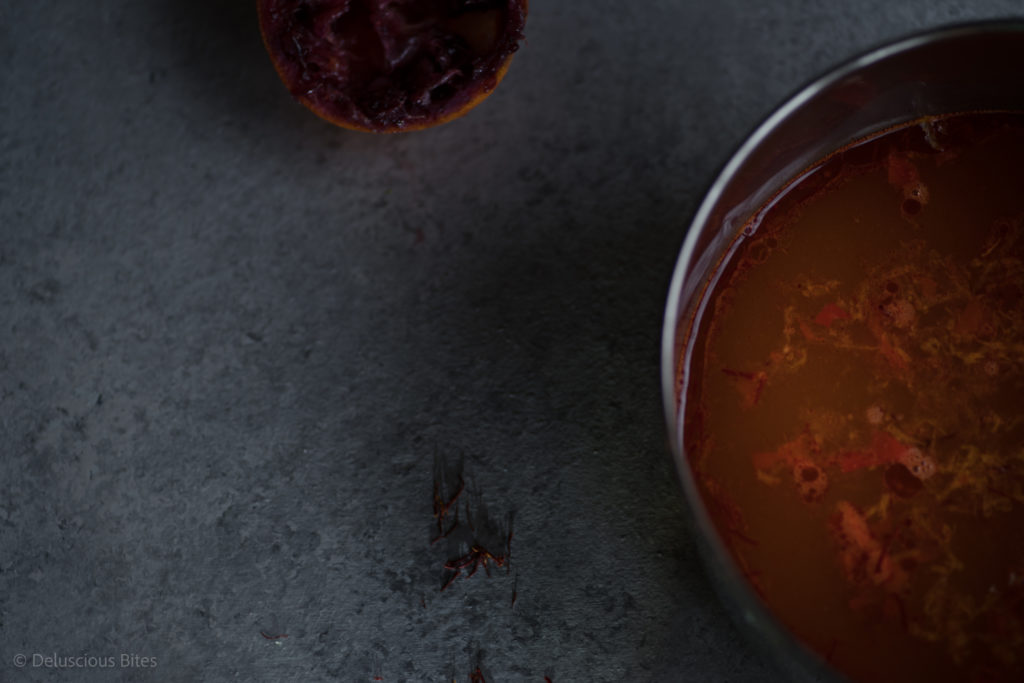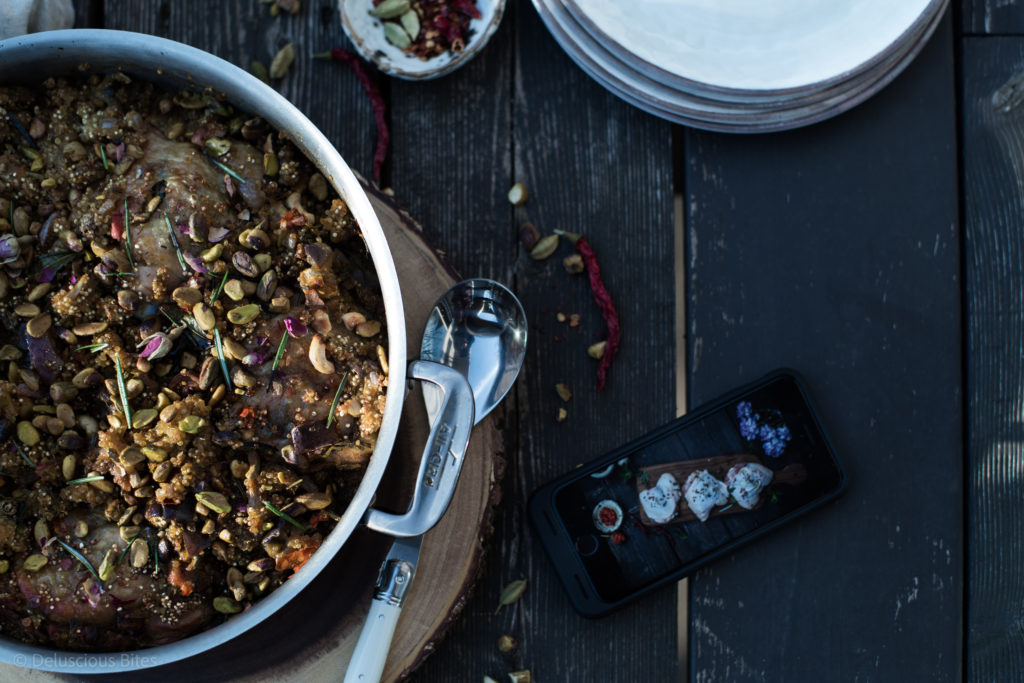 This is such a flavorful and comforting dish with a nice spicy kick from Harissa, mild sweetness from the figs, citrusy tanginess from oranges, earthy notes from cumin powder and crunchy texture from the nuts. Since its still a little chilly here, I am craving comforting, spicy dishes and this Moroccan spiced chicken with figs and eggplant is definitely a hit in my family. This would be perfect to make for a Mother's Day meal, and treat your loving mom with some flavorful spicy dish. ? Hope you all enjoy my version of Diana Henry's Moroccan Spiced Chicken!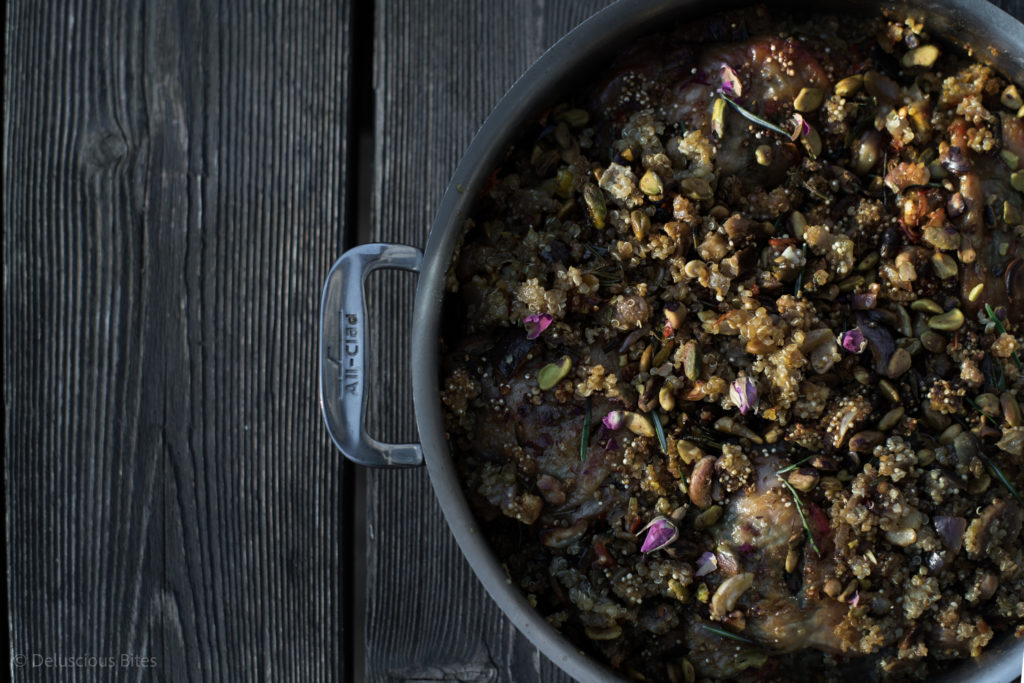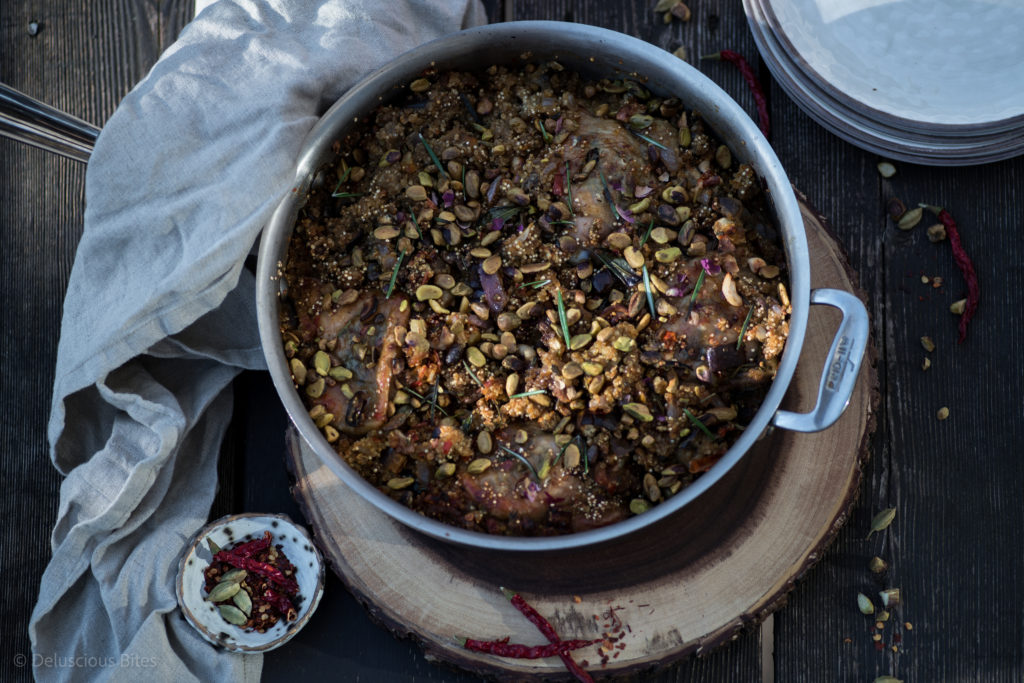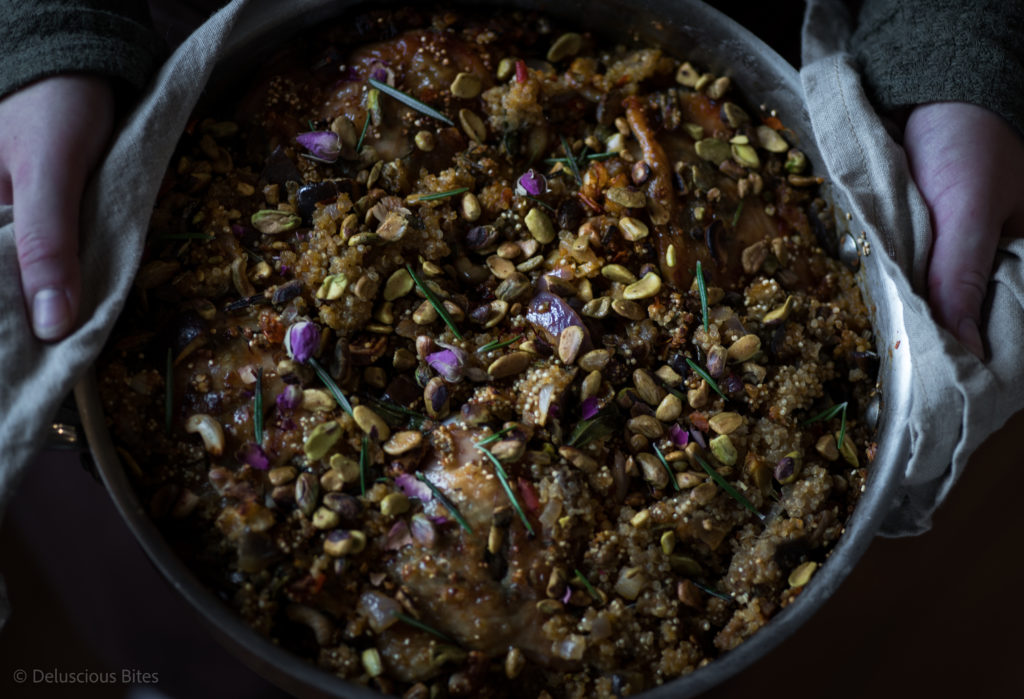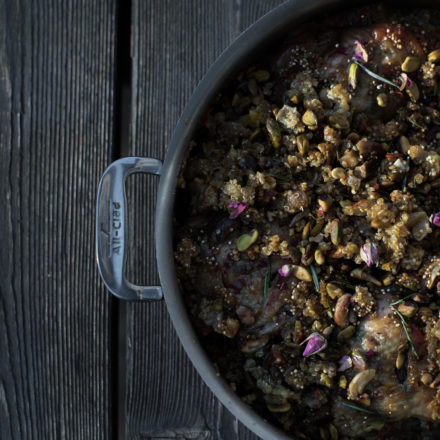 Moroccan Spiced Chicken with Figs and Eggplant
2017-05-03 16:09:47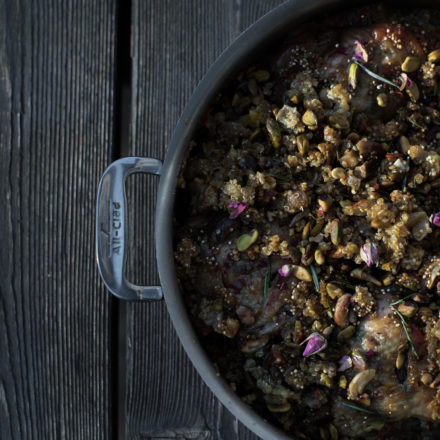 Ingredients
1/2 cup quinoa
1/2 large onion, chopped
1/2 eggplant, diced
2-3 garlic cloves, minced
1 tsp ginger powder
3/4 tbsp cumin powder
1 tbsp harissa
1 tsp saffron
zest and juice of 1 orange
6-8 dried figs, diced
1 1/4 cups chicken stock
1/2 tsp black pepper powder
salt to taste
red chili flakes to taste
1 1/2 tbsp oil + extra to massage the chicken
1/2 tbsp fresh rosemary, chopped (optional)
1/2 tbsp fresh mint, chopped (optional)
2 tbsp walnuts, coarsely chopped
2 tbsp roasted pistachios
Instructions
Preheat the oven to 400 degrees.
Wash the quinoa nicely under cold water in a sieve.
Prep the chicken by massaging some oil and little salt on it.
Carefully slide your fingers between the chicken and the skin and loosen the skin from one end without removing it fully. Put salt, chili, and half of the the herbs on the chicken and tuck back the skin over it.
In a pot, boil the chicken stock and add orange zest, juice, saffron, and harissa, and give it a stir to mix all.
In a separate large, shallow oven-proof dish - mix quinoa, onions, garlic, eggplant, figs, walnuts, salt, pepper, cumin powder and rest of the herbs. (I used 10 inches all clad stainless steel).
Put the chicken pieces in, skin-side up. Drizzle the oil and just mix very lightly, making sure the chicken is still skin-side is up.
Pour the hot liquid mixture into the pan and cook in the oven uncovered for about 40-45 minutes until the chicken is thoroughly cooked and skin turns brown.
Scatter the roasted pistachios and serve with yogurt or salad or as is.
Deluscious Bites ™ http://delusciousbites.com/