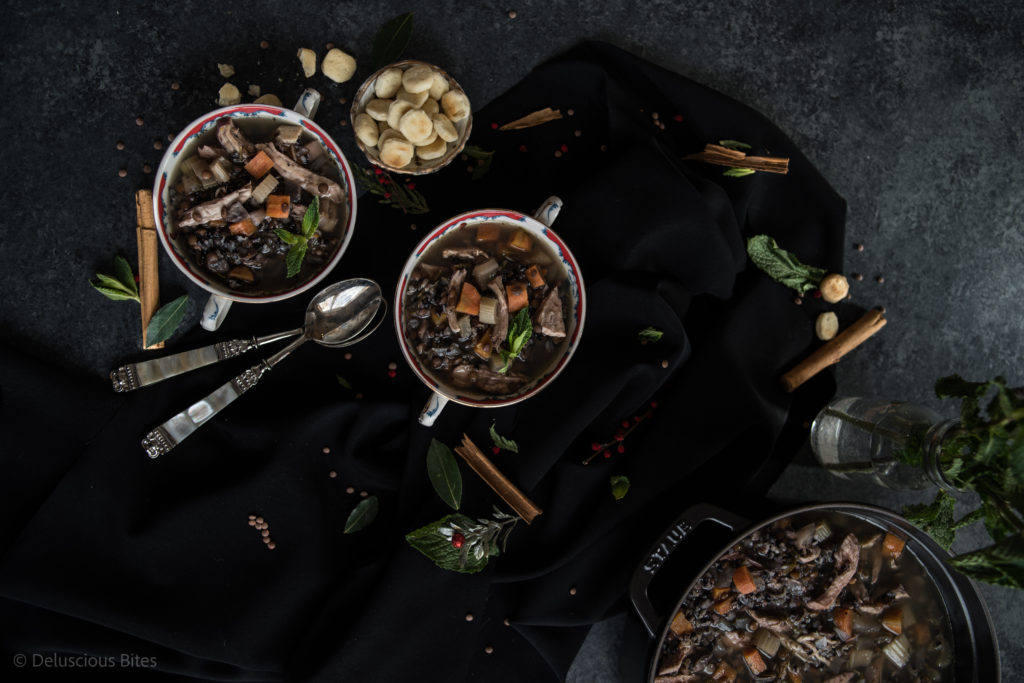 Hello, friends!! I hope you are having a wonderful 2017 so far. I can't believe we are almost at the end of January! I have been unplugged from the world since the holidays – I needed some time to unwind myself from all the holiday preparations and the whole end-of-the-year chaos. Even though I love the holidays – I eagerly await December all year long, and love spending quality time with family and friends – 2016 was heck of a year! So much happened last year – maybe too much! Lots of ups and downs and lots of changes. Some great things, and some things I am still trying to get used to. As we settle in to ride out the rest of winter, this lovely soup recipe will keep you cozy and warm until spring arrives… which will be any day now, right??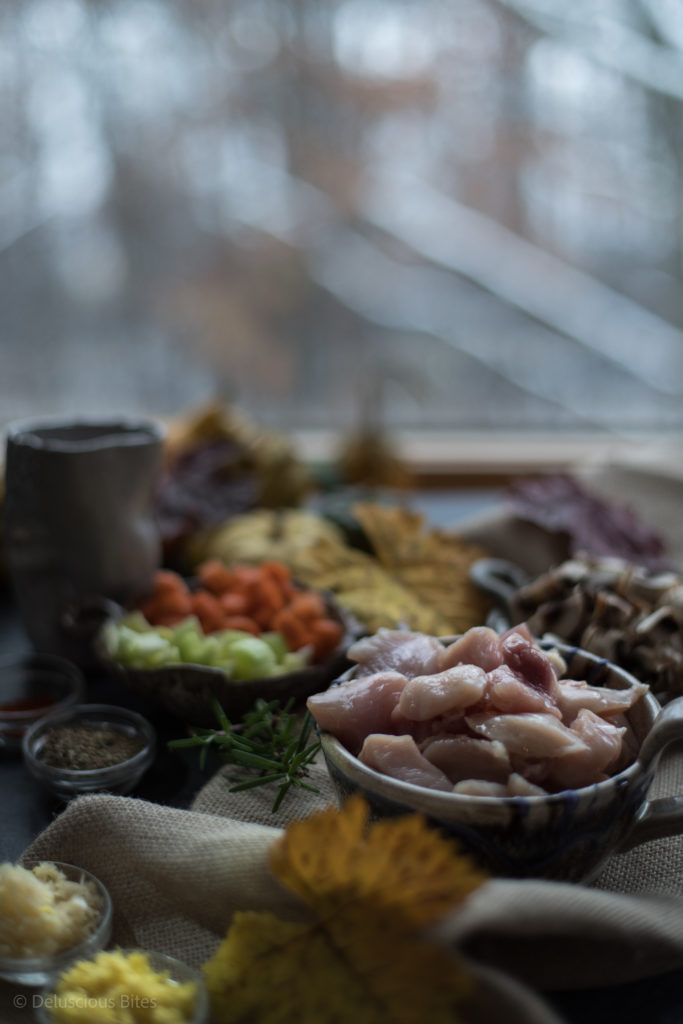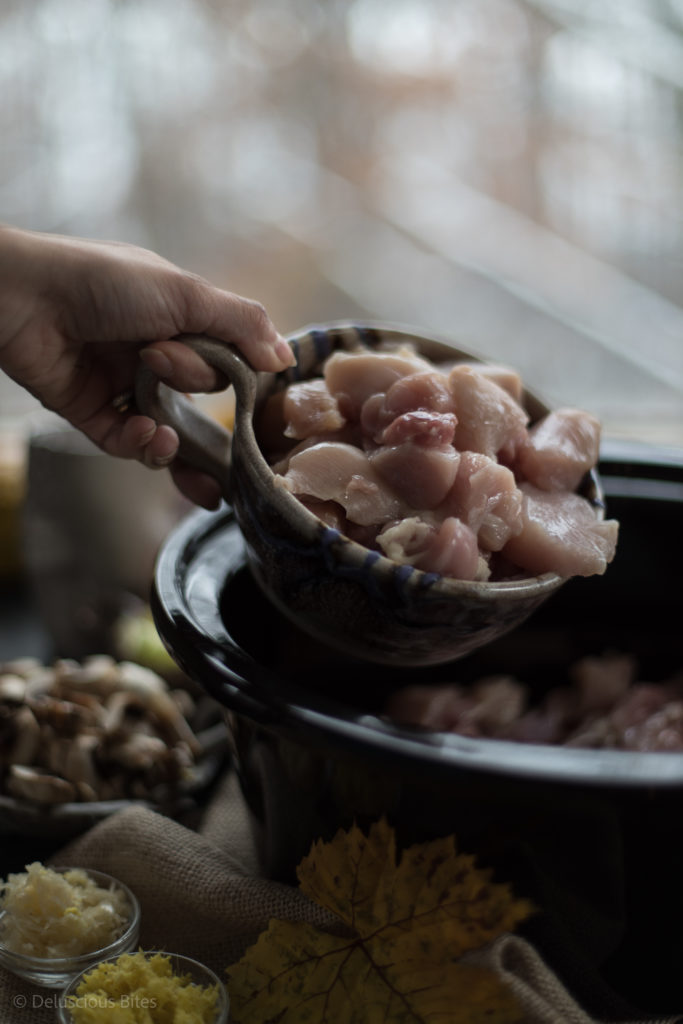 The beginning of 2016 started out with moving to a new state, which can be so emotionally – and physically – exhausting. Then came summer, when I got the opportunity to go to Martha's Vineyard for a food photography workshop, where I met some really amazing people. All the while living in the chaos of house remodeling! With all that happening, I had some issues with my joints and injuries happened. And yes, it did get frustrating at times not been able to do lot of things. I've since had a few procedures done and started physiotherapy, which seems like it will be a lifelong thing. I try not to get bogged down in the efforts of everyday life – things will always keep happening, but you can't keep thinking about it, and you have to learn to adapt to the changes.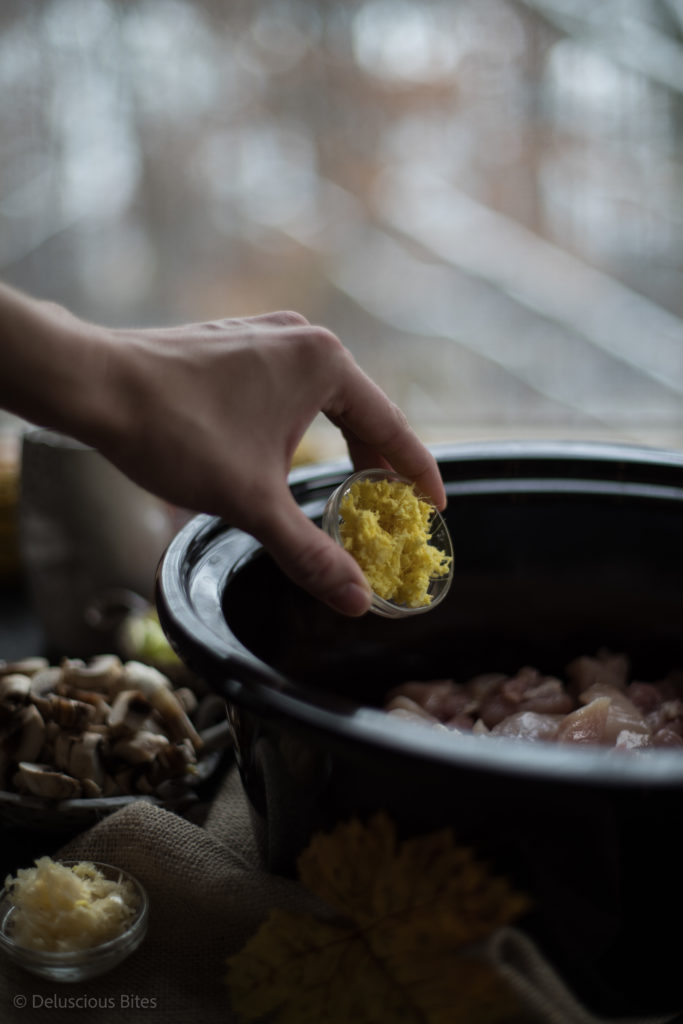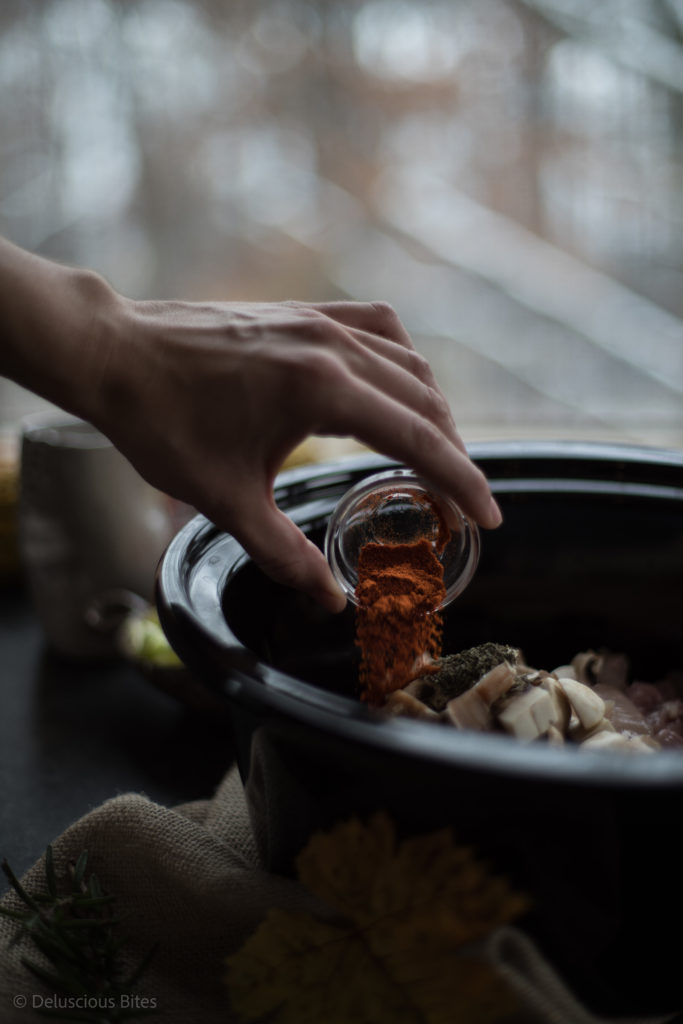 Last year I also joined the Twin Cities Bloggers community and Rising Tide Society of Minneapolis, which I didn't even know existed until my amazing blogger friend, Jenn Bakos, mentioned it. This has been an amazing platform to meet such great entrepreneurs and creative people. Autumn gave me another fabulous opportunity to meet new people at Food Photography Autumn Retreat in New York – it was an amazing trip! I also can't forget that this past year I had numerous blog post features in various food communities, and twice have been a finalist for Food Feeds. Writing it all down like this, I would say it has been a pretty great year! Yet there have still been times where I feel lost, confused, and not all that great. Once winter settled in, and all the trees shed leaves, and the outside world seemed completely lifeless, I lost it. I mean, seriously lost it. Even amidst such a wonderful year, there have been times where I wanted to just go into my crabby little shell and hide for days and weeks. And sometimes, I really needed that. 🙂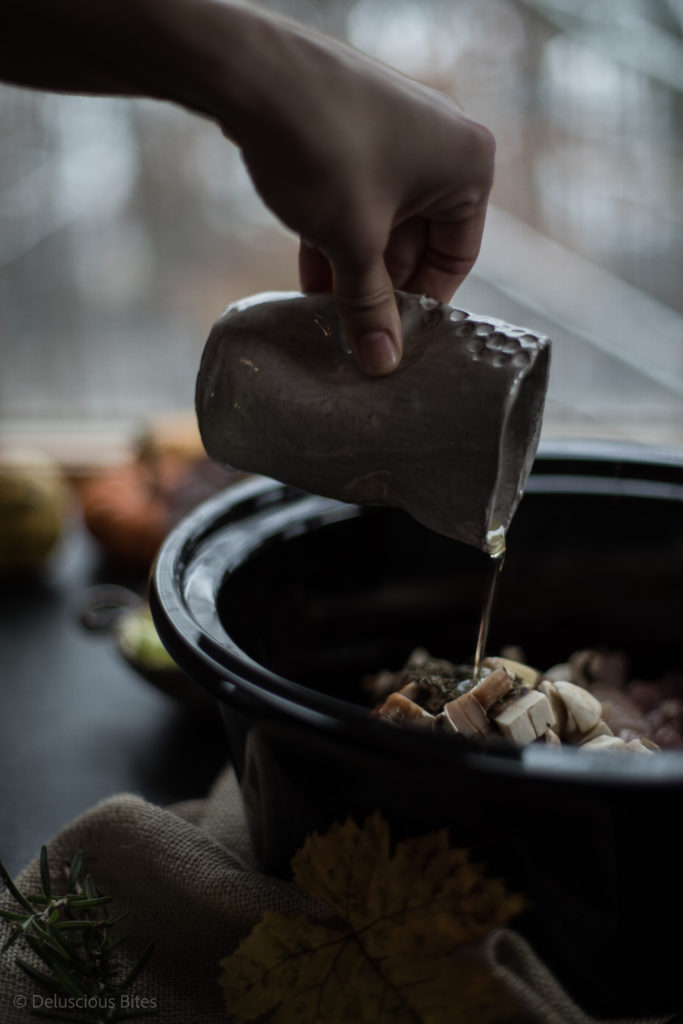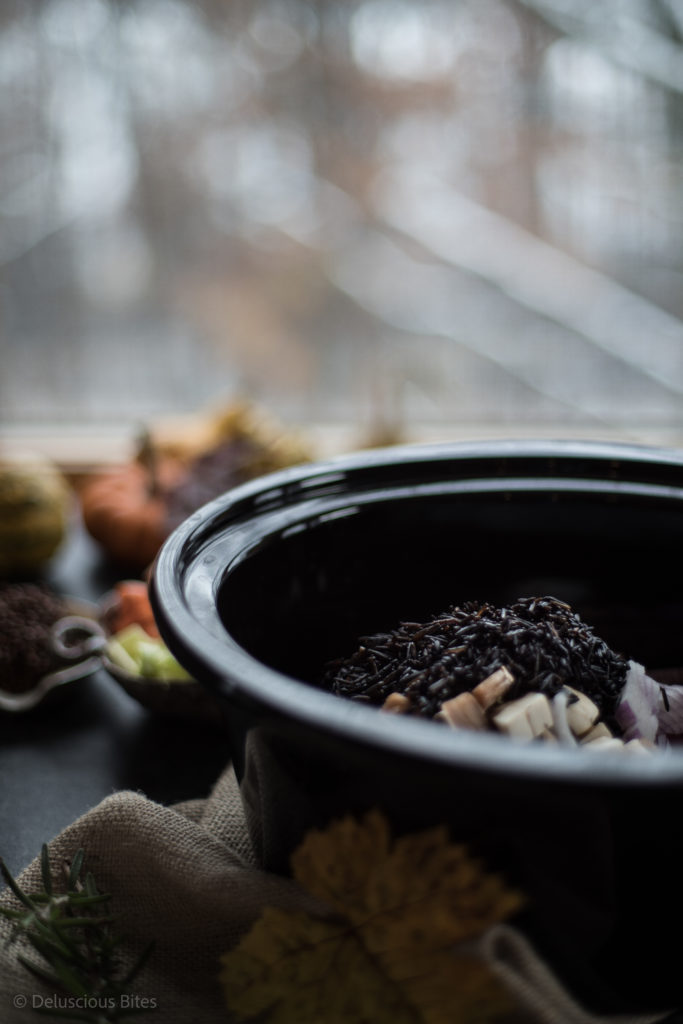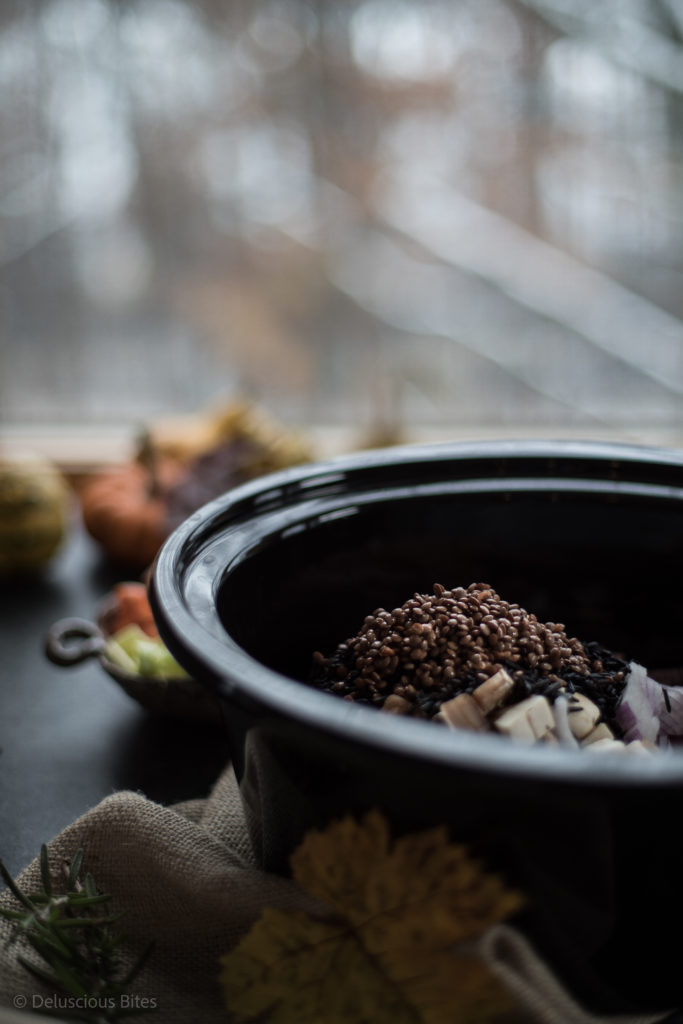 Sometimes things affect you indirectly because your loved ones or friends are affected. Some situations become uncontrollable, but rather than cursing and crying over things, it's best to learn from it and support each other. After the holidays ended and all my houseguests left, I realized that there is nothing more important in life than having your loved ones close by. Life gets very busy, chaotic, and confusing at times, but finding the positives, celebrating small achievements, and having your loved ones by your side makes everything worth it. Everyday is a new learning experience. So, from all the wonderful and not-so-wonderful things that happened in the past year, my mantra for 2017 is to enjoy the small things in life, live life as it comes, and enjoy all the challenges that life has to offer. Life is too beautiful, so I want to be sure to cherish all the life's surprises before it's too late. Most of all, I think it is so important to love yourself, always be there for your loved ones (without expecting anything in return), and accept challenges and changes with a big open heart. I say, "Welcome, 2017!" and hope it's filled with joy and happiness for you all!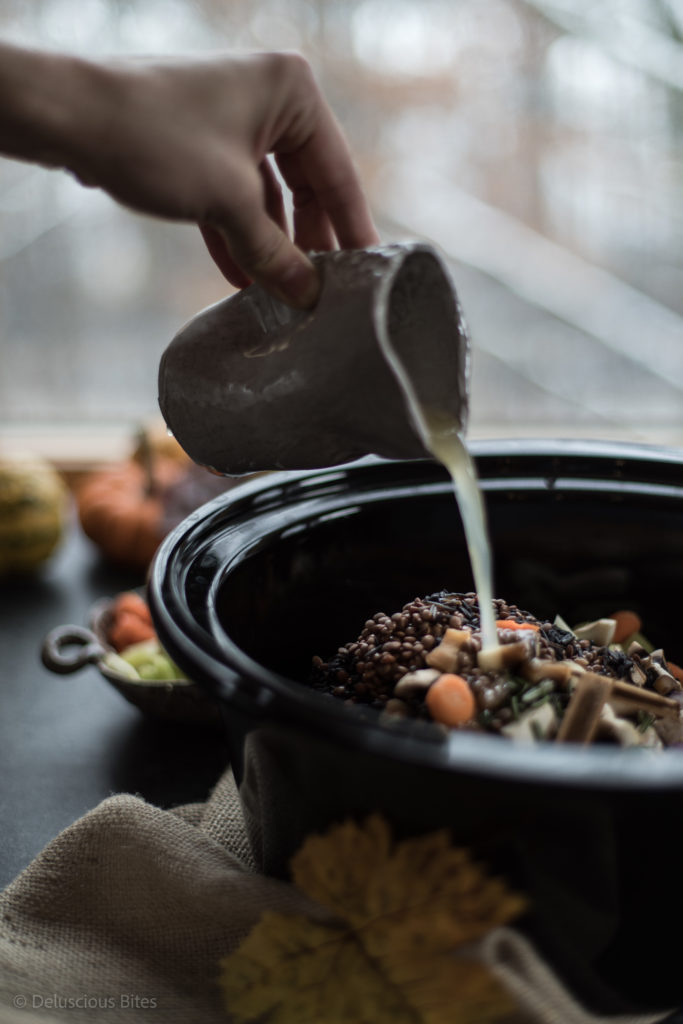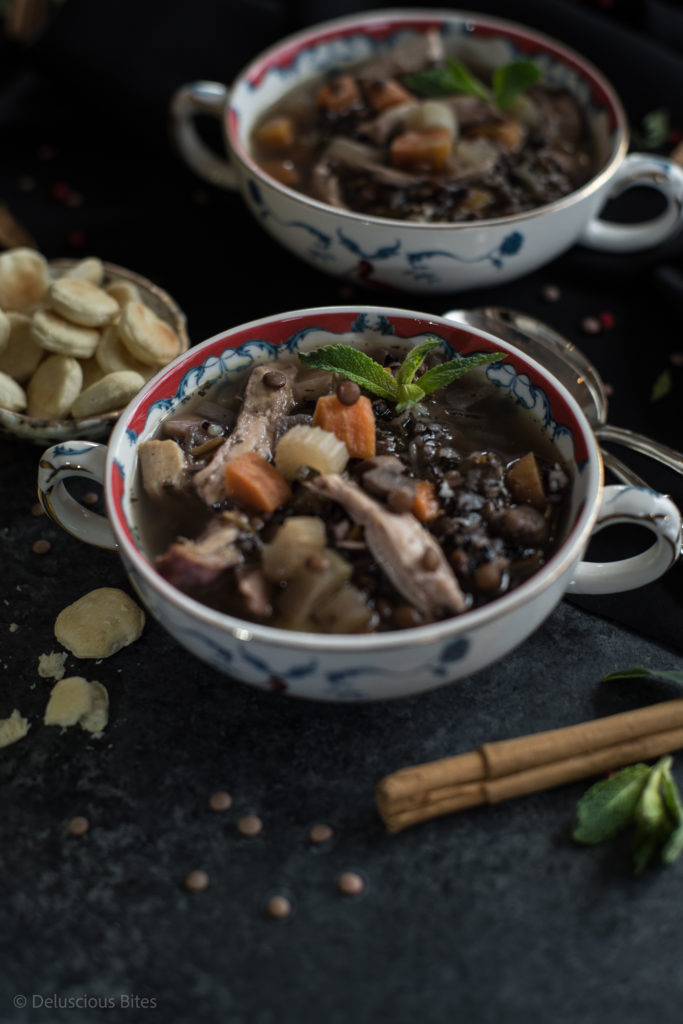 Now after I have come out of my so-called 'crabby little shell', I feel so refreshed… but I'm still freezing! Haha! 😀 I can't believe I have survived winter so far, and it's not over yet. I am so done with it!!! I am addicted to hot beverages and warm soups. Isn't this the case with y'all this time of the year?? I mean, soup provides warmth, comfort, and just feels so apt for the winter season. Soup is one of those foods that can warm you from the inside out. Plus, soup is great to pack in a thermos to enjoy after outdoor activities, or for a nice warm meal in the middle of a cold day. Since I am starting slowly this year, this no-brainer Chicken, lentil, and rice soup is perfect. I call it a no-brainer is because it actually is a no-brainer! Just throw anything and everything in a crockpot and watch the magic happen after few hours. It's a perfect one-pot complete meal. Its gingery, minty, and the orange zest makes it so apt for the season. So enjoy the rest of winter, drink soup, and stay warm!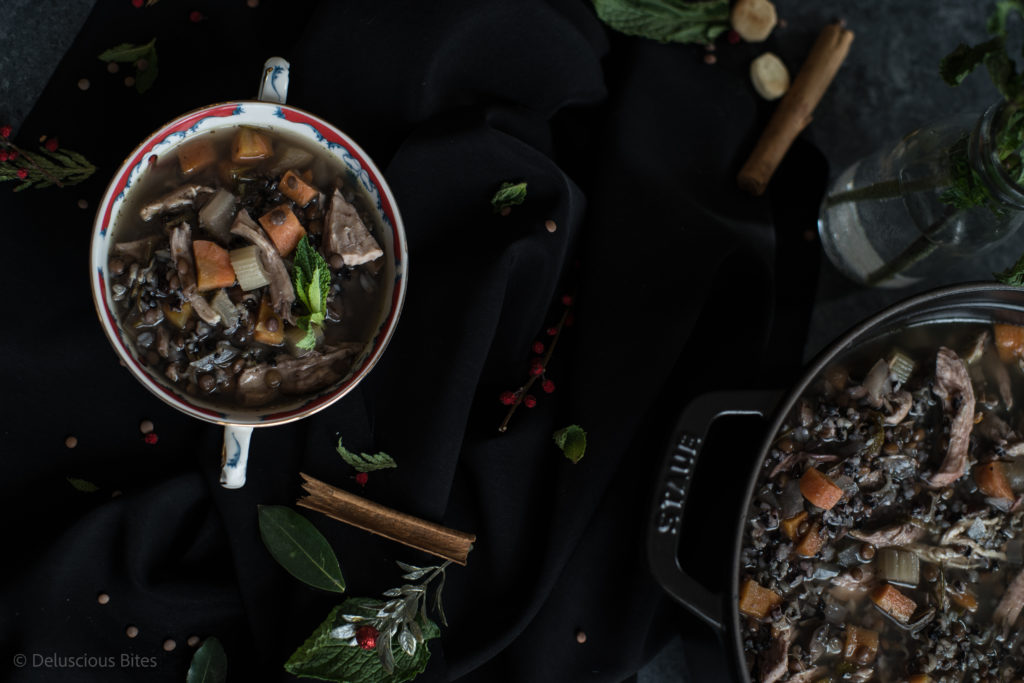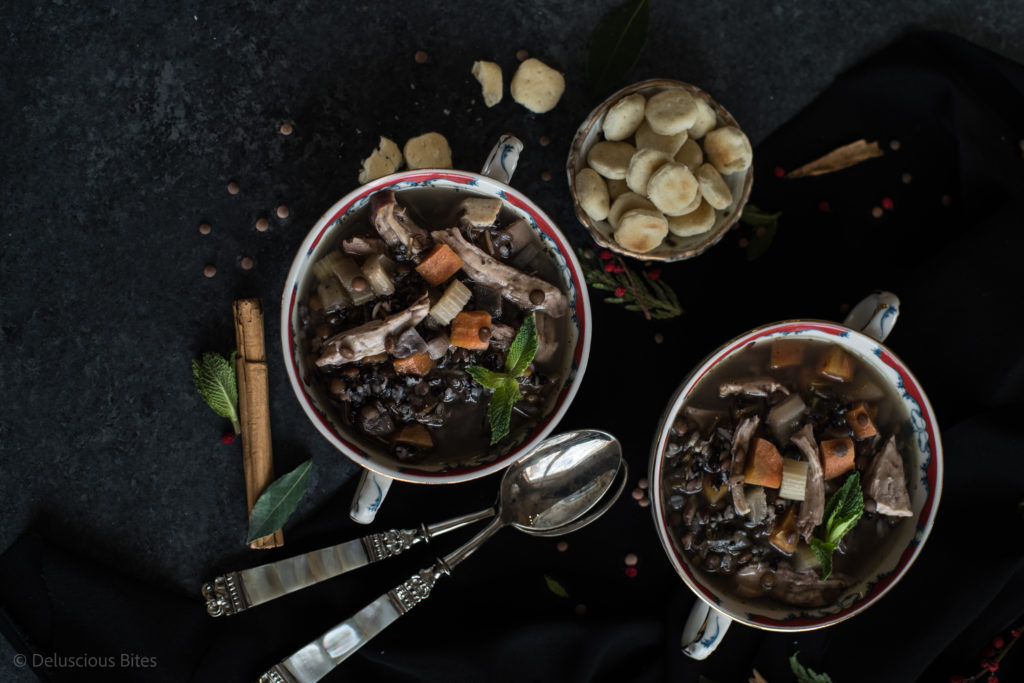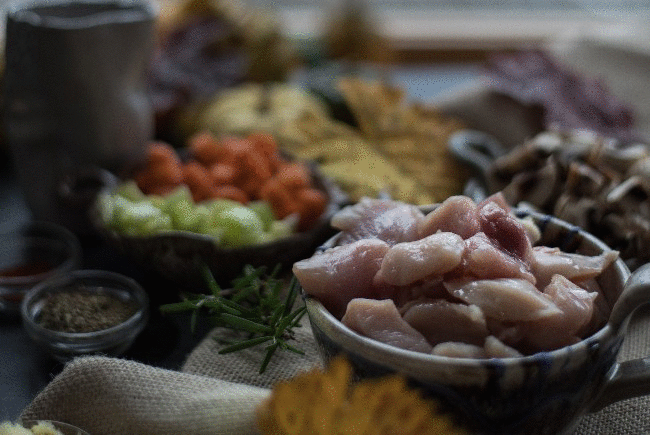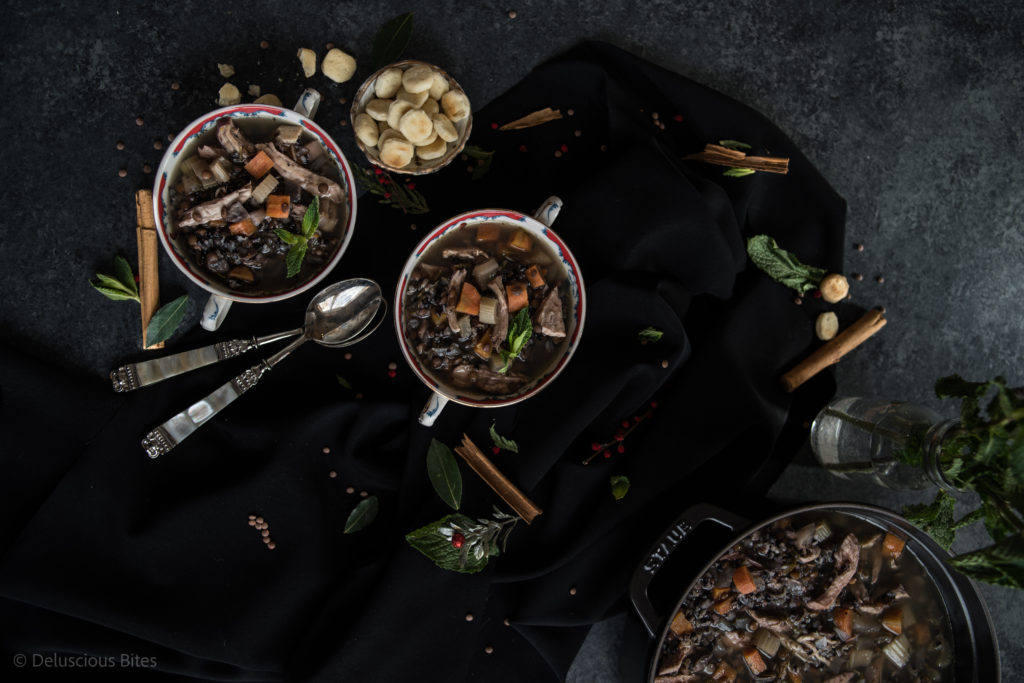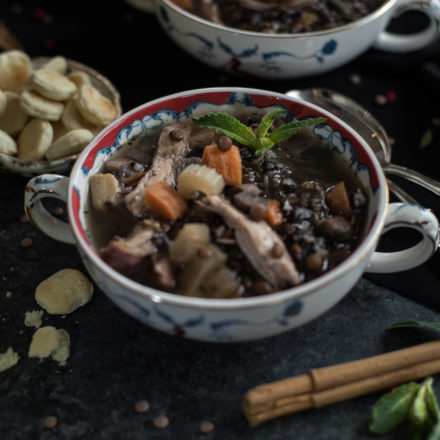 Chicken, Lentil & Wild Rice Soup
2017-01-24 13:49:09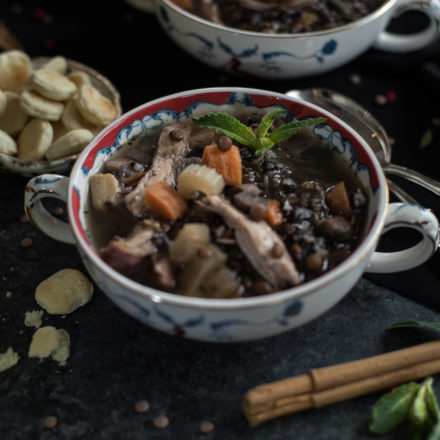 Ingredients
3 chicken breasts
2/3 cup chopped onions
2/3 cup chopped mushrooms
2/3 cup chopped carrots
2/3 cup chopped celery
1 tbsp grated ginger
1 tbsp crushed garlic
Zest from 1 orange
1/2 cup French lentils
1/4 cup wild rice
1/4 cup forbidden rice
1 tbsp oil
1-2 tsp black pepper powder
2 tsp ginger powder
2 tsp dried thyme
2 tsp rosemary
1/8 cup chopped mint
3-4 bay leaves
1/8 cup basil
salt to taste
1 - 1.5 litre chicken stock
Instructions
Place chicken at the bottom of the crock pot.
Add all the above ingredients except carrots, celery and basil.
Cook on high for 2 hours or on low for 4 hours.
Add carrots and celery at this time.
Cook again on high for 2 hours or on low for 3-4 hours until the chicken is done.
Take out chicken and use forks to pull the meat to shred it. If the chicken pieces are cut small then you can leave the shredding part.
Add the shredded chicken back into the crock pot along with basil, and add salt to taste. Cook for 30-40 more minutes and let sit for 30-40 minutes before serving.
Notes
You can also use forbidden rice instead of wild rice and vice versa.
Cooking time may vary depending on the size of the chicken. If you use large pieces, adjust the time accordingly.
You can add any herb that is available to you. I love mint and I always have it, so I used it. In winter it can be difficult to get, so you don't have to use it.
Deluscious Bites ™ http://delusciousbites.com/