Hope you all had a wonderful Thanksgiving and ate lots of deliciousness!
As the weather gets dull and cloudy, the nights get longer, and we get ready to pack (my least favorite thing) to relocate, my nervousness increases and I'm loaded up with emotions. The whole idea of moving makes me anxious, especially when I hear news stories of snowstorms and sub-zero temperatures. My way of dealing with anxiety and stress is to go on a chocolate and sugar diet. People who know me can attest to the fact that I literally wake up in the middle of the night with chocolate cravings. (Doesn't everyone?) Those cravings were the inspiration for this post, as I faced my fears with a plate of mouth-watering chocolate brownies.
The way the chocolate melts on your tongue, it takes away your stress and replaces it with joy and bliss. Did you know that cocoa in chocolate actually increases your serotonin levels? That's what gives you all that pleasure and happiness.
Last week I got my braces removed; a day I have been waiting for over three years. (Yes, you read that right – I had them for that long!) In a way, they've become a part of me. I never thought I would feel awkward without them, but I kind of do. My teeth feel so slimy and I feel self-conscious without them. I've been waiting and planning to eat so many things that I hadn't been able enjoy with those wires on my teeth. I craved the crunch of apples (which are not my favorite fruit), dreamed of eating chicken from the bone (even though I don't usually enjoy it that way) and my mouth watered for candies (even candies I don't really enjoy). But when I realized I could replace all those things with chocolate – that sounded like that best plan of all. And the best version of chocolate is chocolate brownies.
When searching for things to bake (and eat!) I tend to overlook chocolate brownies for some reason. It's silly, because they just so good and gooey and chocolaty and probably the easiest treat to make. Maybe it's the waiting period between when I take them out of the oven and when I can cut them. I hate to sit and stare at the pan full of deliciousness.
If you can stand the wait, or don't care about the shape, you're rewarded when you dig into the warm baked pan with a spoon and savor the melted chocolate in your mouth. So heavenly! This recipe comes from my friend Jenn, a culinary teacher who I rely on to help me deal with these sudden cravings, or when I need great party ideas. It's simple, and tastes divine. Whether you're facing the stress of a move, or preparing for a holiday party, you won't find a better recipe for chocolate brownies.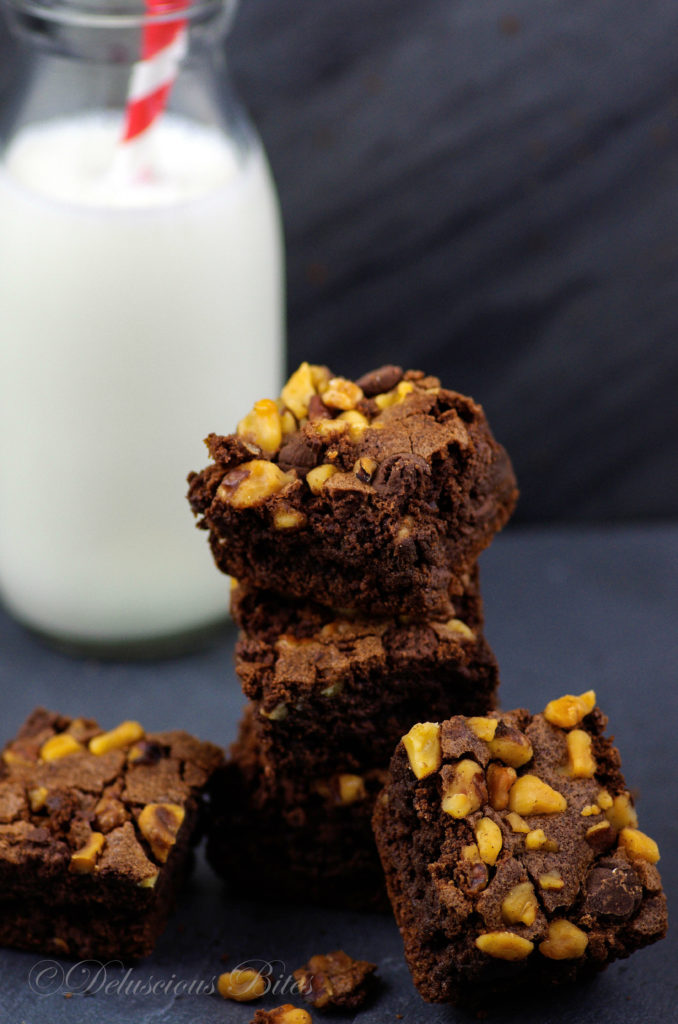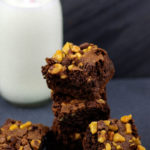 Chocolate Brownies
2015-12-03 14:49:59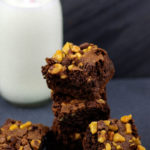 Ingredients
3 sticks (340 grams) butter
680 grams sugar
1 tablespoon vanilla extract
6 large eggs
200 grams all-purpose flour
150 grams cocoa powder
1 ½ teaspoons baking soda
3/4 teaspoons baking powder
2/3 cup chocolate chips
2/3 cup chopped walnuts
Instructions
Preheat the oven to 350°F and grease a half sheet pan and line with parchment paper
Sift all the dry ingredients except sugar
Cream butter, sugar and vanilla extract
Add eggs one at a time whisking until combined
Incorporate dry ingredients into wet ingredients and whisk until smooth batter is formed
Fold in chocolate chips and walnuts
Pour the batter into the prepared pan and level the batter with offset spatula
Sprinkle the nuts or any other desired topping
Bake for about 30-35 minutes, until when you insert a skewer it comes out crumbs on it
Allow to cool and refrigerate. Cut brownies the following day for cleaner and more even cut
Deluscious Bites ™ http://delusciousbites.com/