Oopsy daisy!
The phone is ringing and I am praying to God that my husband picks because he's at work, and guess what? He did pick up on the first attempt😊. "Hey! I think I have injured myself", I told him. With such subtlety and calmness, he replied "what happened? Are you okay?" "I am not sure, but I am bleeding in my mouth and its bleeding from the left side", I answered. "Wait, what did you say", he asked me in shock. Of course at that time, I knew I had to tell him what had really happened 🙈. Oh! You all must be thinking why I wanted to hide it in the first place. Well I made a very silly mistake. "Yes you heard it right, I am bleeding because I have glass piece stuck in between my cheek and gums", I replied while sobbing like a baby. "I wanted to do a photo shoot of the chicken wings with beer and I could not find the opener which was right here on the shelf, since I was in a rush and did not want to loose the day light, I tried opening the bottle with my teeth. Oh well! The bottle broke inside my mouth, and please don't ask me why I did that because I know it's stupid", I explained. How silly 🤦🏻 I know right? I have seen people opening the bottle with thumbs and mouth but I don't drink, so I didn't know it needs some kind of trick. Oh well! Lesson learnt. Never try that again,ever. "The curry citrus chicken wings better be good after all this drama", I thought to myself.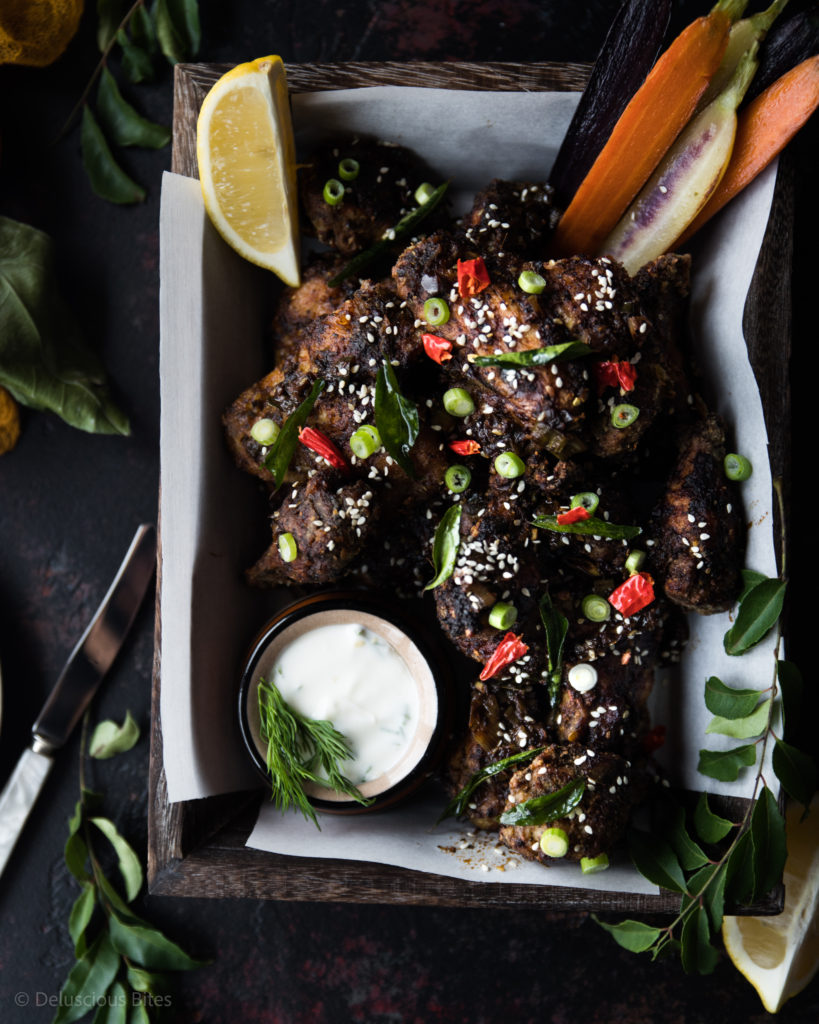 The Super Bowl!
I am not a chicken wings type of a girl, but I married a man who absolutely loves wings. And to impress him with good chicken wings, can be daunting. Even more so when it's the season of sports and you cannot mess up with any guy when it comes to sports and chicken wings. Super Bowl is finally here and this year MN is hosting. How awesome is that? Okay, I am totally not into sports and totally don't follow football😬, but I do have a favorite team since forever and that's New England Patriots. Why? I guess it's only because of the love I have for New England. If MN Vikings had made it to the finals, my husband and I would have been in opposite teams. It would have been nice though to watch my favorite team playing against the home team. That's not the case now, so I really hope Patriots win again this year. I will not be able to watch the game as I will be traveling back home that weekend for my first 2018 travel. If you follow me on Instagram, you'll know that this travel is a special one, as its going to be a culinary bootcamp. The updates for all that will soon be on the next blog.
There are certain kinds of food that I relate to sports events or casual parties. And Chicken wings is one of those dishes. Do you feel the same way or have certain kinds of food that you only enjoy or make on certain occasions? Would love to know! For me pizza, wings and fries are the casual kinds of food that I relate so much with the kinds of parties, where you can just hang out with friends, with your legs up on the couch while enjoying a movie or some game. Movies in my case🤣
Game Night Chicken Wings, Check!
I have been using Sous Vide a lot lately to cook all my meats and fish. And if you haven't used it, OMG you will absolutely love it. Ever wondered, why the fish or chicken or any kind of meat is so juicy and flavorful, yet perfectly crisp and seared when you eat out at big restaurants? The sous vide is the answer to all that. Its one of the best kitchen equipment that I got as a gift and I love it. Usually I steam the wings and then bake it in oven till crisp as opposed to deep frying. The oven baked wings are as crisp and delicious, but I totally agree that most people who love their wings, love them fried. This time I decided to fry them, however in the air fryer and you can't really tell the difference weather its fried in oil or air. No kidding! You can really impress your guests and keep this frying method a secret. No one will know the difference.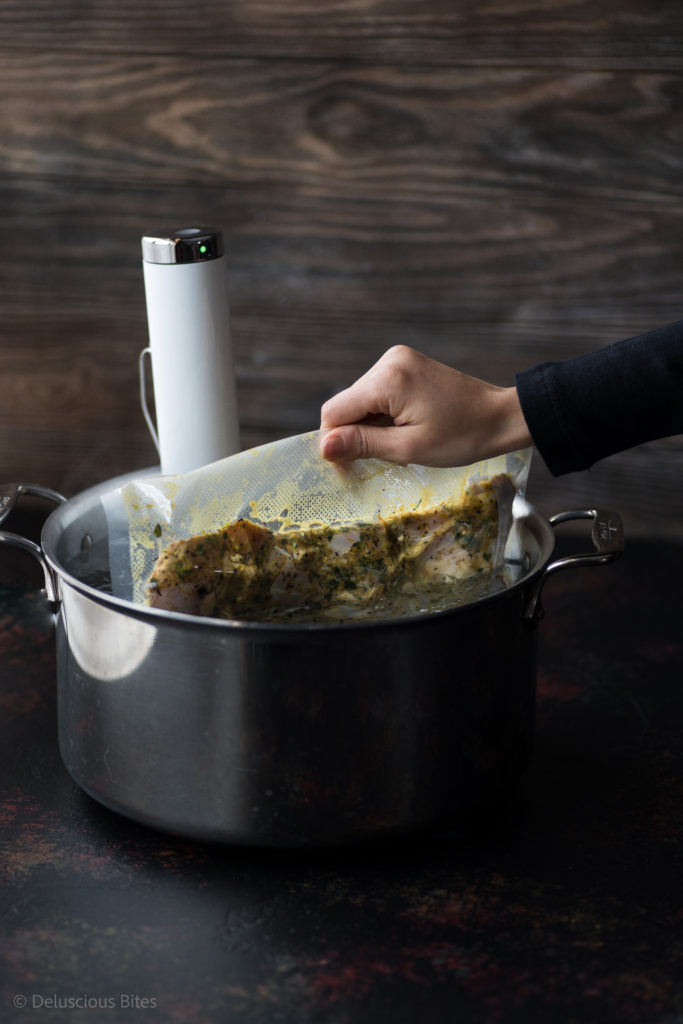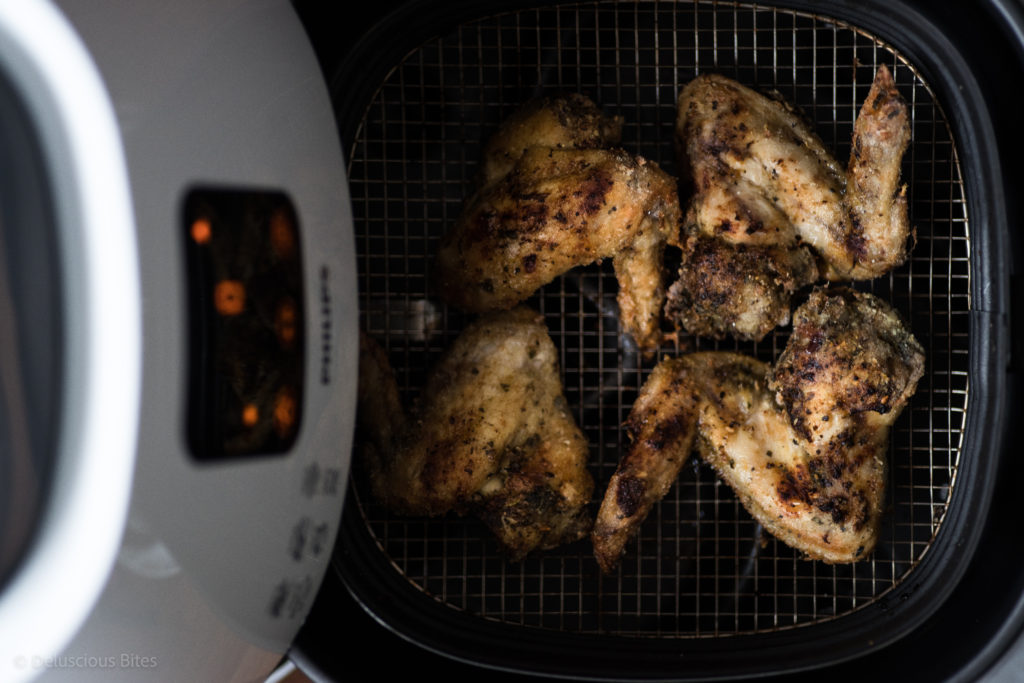 I decided to give chicken wings a nice Asian Indian twist. This is a citrus season which is like a sunshine during the grey freezing months. Don't you agree with me? So I like to include citrus in most of my dishes. This gives such a bright refreshing flavor and the curry flavor adds such a deep earthy flavor to the wings. The combination of citrus and curry blends together so well. For the marination I used the fresh curry leaves and dried mint leaves. If you can't find the fresh curry leaves, dried ones will be just as good. The sauce needs to be thickened for it to coat well on the wings and not make them soggy. If the sauce its too runny then your wings can be soggy. And instead of serving the wings traditionally with ranch or blue cheese, I decided to make the dip with yogurt. So there is no guilt after eating. A perfectly delicious non fried game day food. It cant get better than that. And I know lot of you might not have a sous vide or air fryer, so I will include the sous vide with air frying method as well as steaming with oven baked method for you all. Hope you enjoy the recipe.
For the game, may the best team win. Just kidding, may the Patriots win! 🙏🏼😊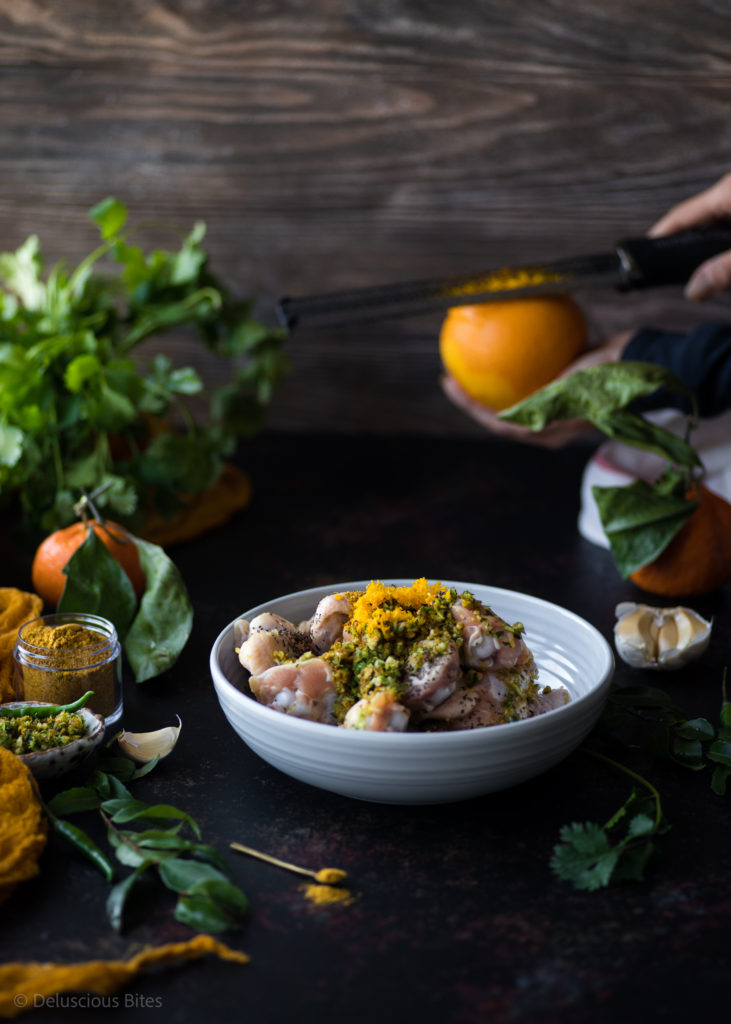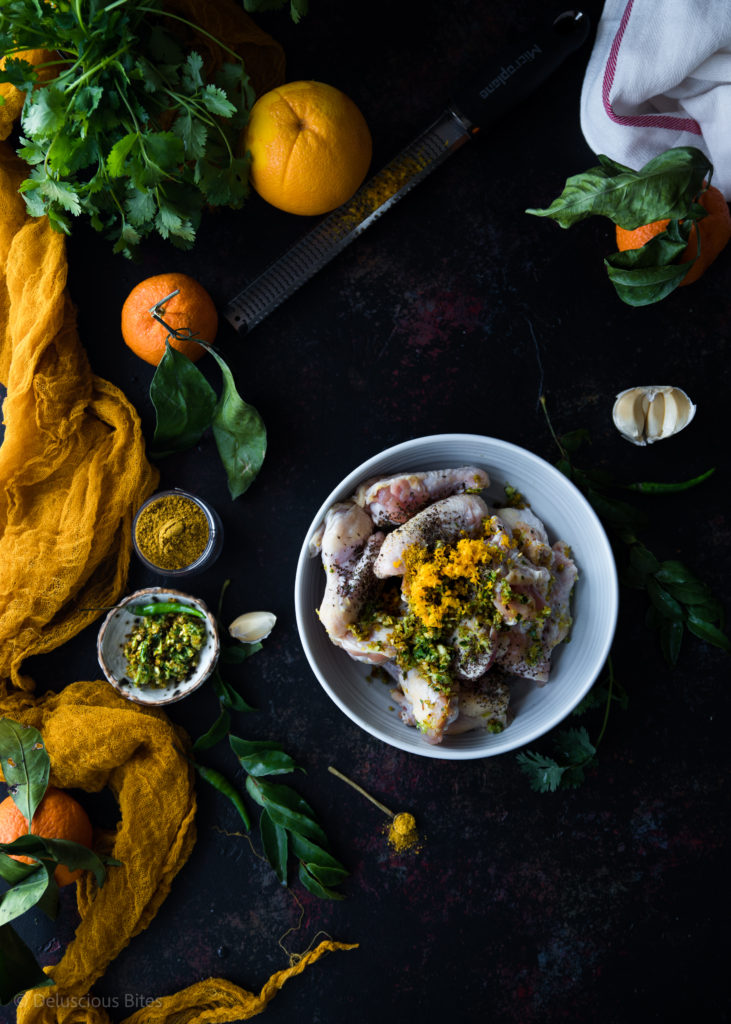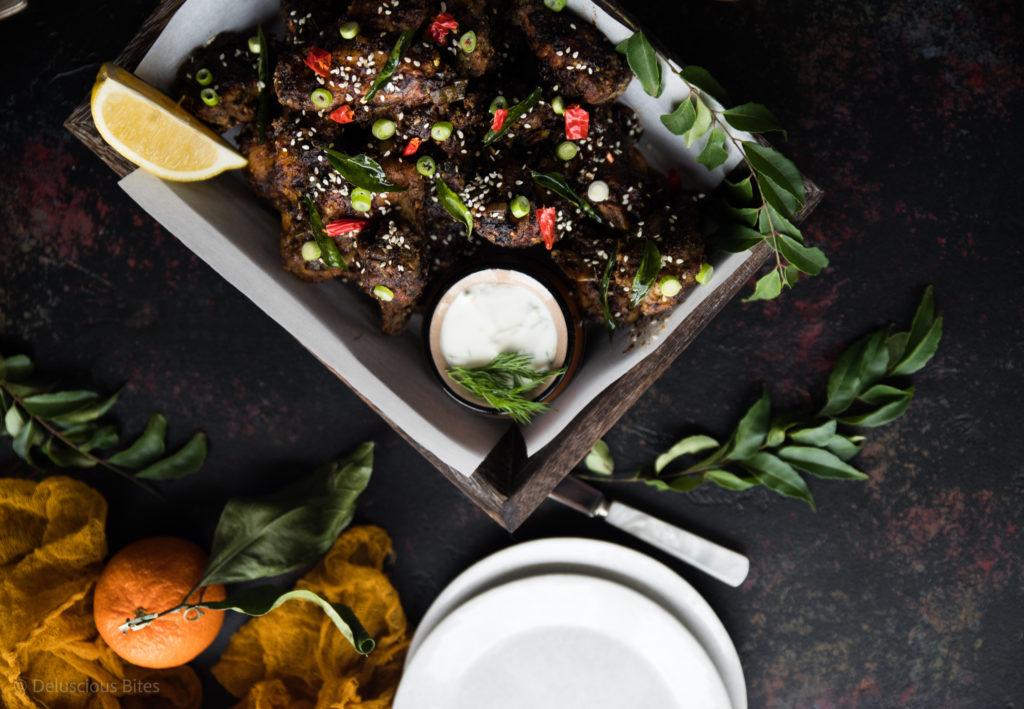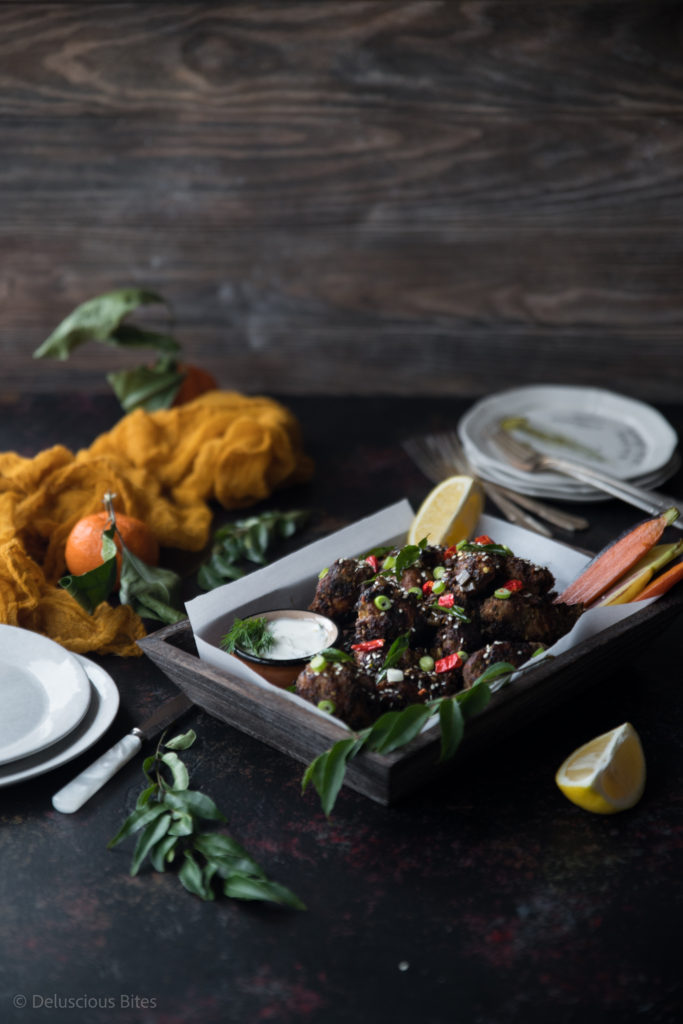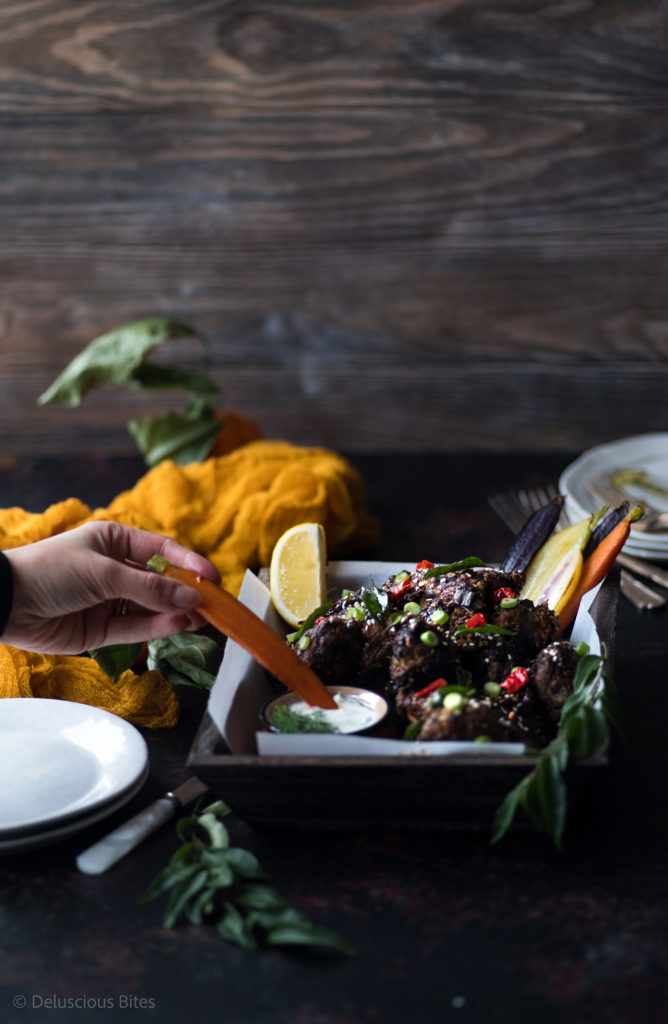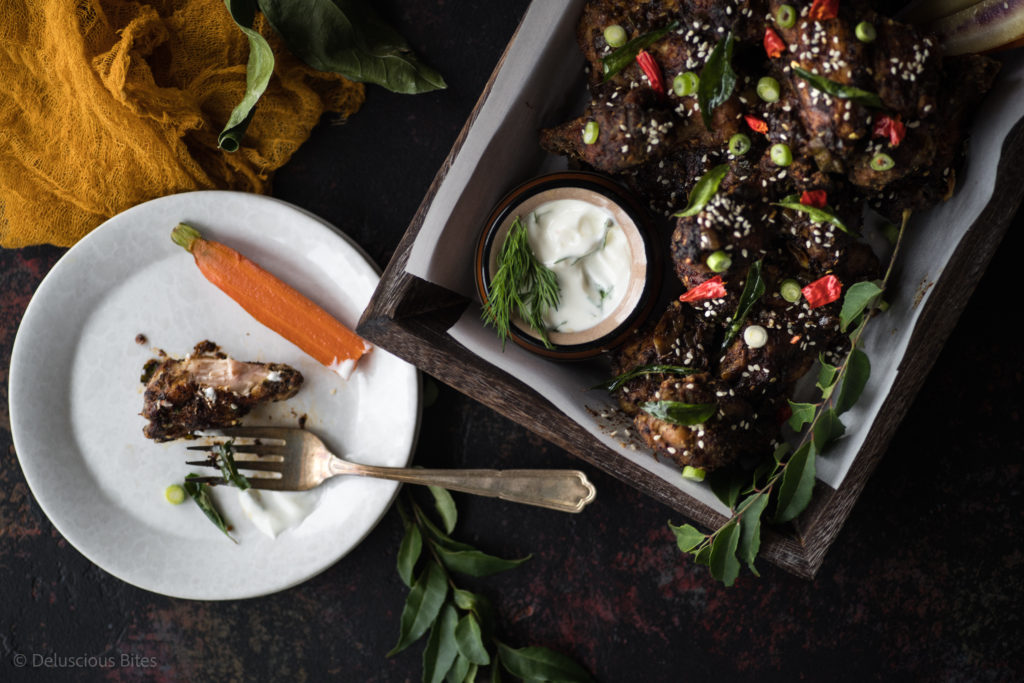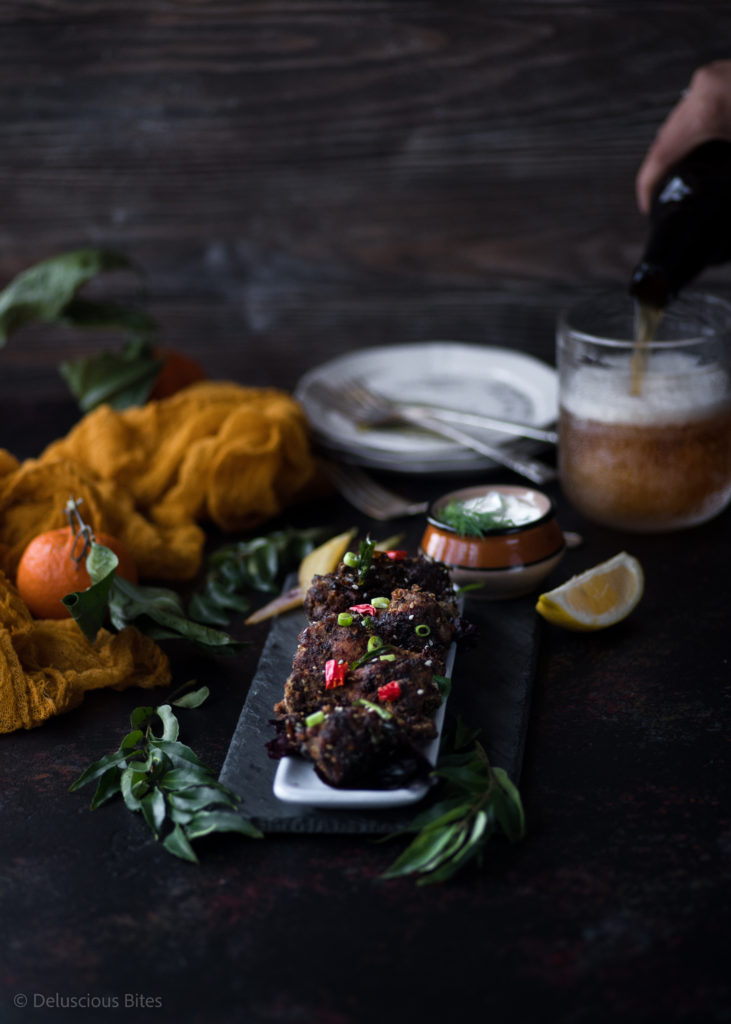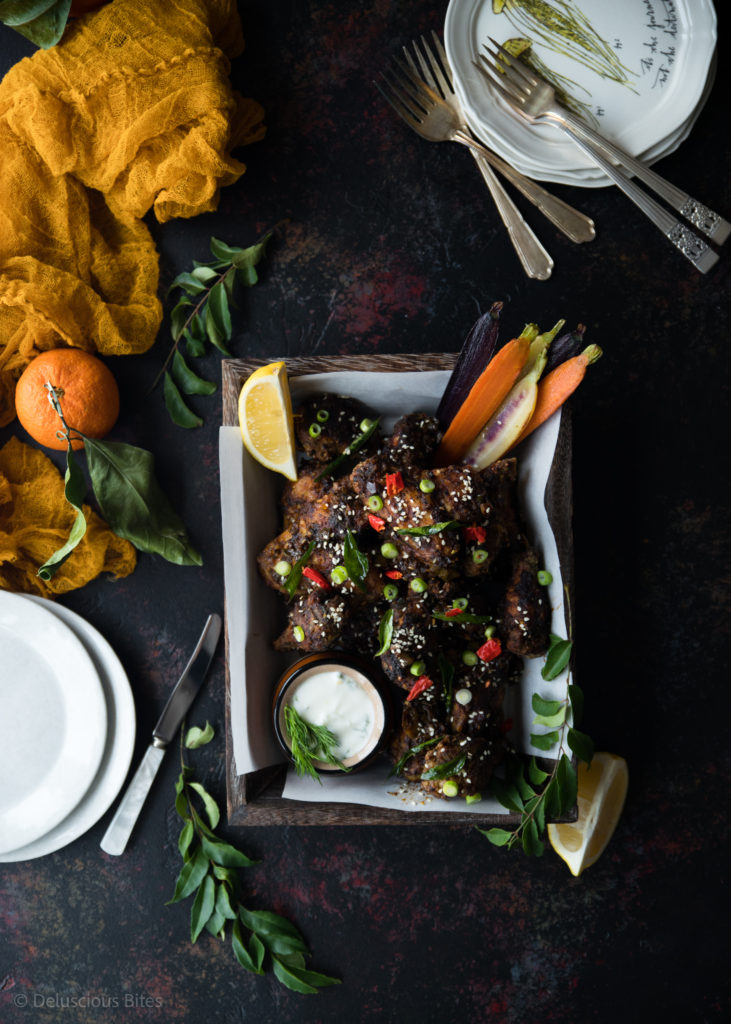 Citrus and Curry Flavored Chicken Wings
2018-01-25 13:12:02
For the Marination
2 kg chicken wings (4.5 pounds)
10 grams fresh curry leaves
50 grams garlic
20 grams ginger root
2-3 green Thai chili
15 grams cilantro stems
1 tsp orange zest
1 tsp dried mint
For Dusting
2 tsp rice flour
1 tsp salt
1 tsp black pepper powder
For the Sauce
1 tsp sesame seeds
1/2 tsp mustard seeds
1 tsp minced garlic
1 tsp grated ginger
2-3 green onion springs, chopped
7-8 curry leaves
2-3 green chili
1/3 cup fresh orange juice
1/4 cup siracha sauce
1/4 cup dark soya sauce
zest of a lemon
zest of an orange
1 tsp black pepper powder
1 tsp ginger powder
1 tsp lemon juice
1 tsp dried mint
For Dip
Greek yogurt or Hung yogurt
Lemon zest and its juice
Salt & pepper
Herbs of your choice (I added dried mint and fresh dil)
For Sous Vide and Air Frying
Blend all the ingredients besides chicken for the marinade in the blender.
You could also use stone mortar and pestle to grind them
Massage this marinade on the chicken to nicely coat them.
Put the wings in vacuum sealed bag for at-least an hour to overnight. you could freeze them at this point.
Preheat the water bath with sous vide at 150° F.
Place the bag containing wings into the water bath and cook for 1.5 hours to 2 hours. If the wings are small then lesser time required.
Meanwhile prepare the sauce.
You could refrigerate the bag or freeze at this point.
It is best to air fry them right before serving.
Preheat the air fryer at 390° F for 3 minutes.
Take the wings out of the bag and put all the juices from the bag in a separate container to use this in the sauce.
Dust the wings with rice flour, salt and black pepper.
Place the wings in the fryer in batches and fry for 8-10 minutes turning them half way through.
Immediately coat them them in the sauce and sprinkle sesame seeds.
Serve hot with the dip.
For Steaming and Oven Baked Method
Place a saucepan with little water and steamer basket. Bring the water to boil and steam chicken wings for 10 min.
Pat dry and line up on cooling rack. Refrigerate for at-least an hour.
Preheat oven at 420° F.
Sprinkle salt and pepper on the cooled wings. Set them on the wired rack and place the rack on a sheet pan lined with parchment paper.
Roast the wings in oven for 45 minutes to an hour, turning the wings over half way through.
Coat them in the sauce and sprinkle sesame.
Serve hot with the dip.
For the Sauce
Leave the 1st 7 ingredients and mix rest of the ingredients for the sauce in a bowl.
Heat oil in a pan, add mustard seeds and let it splutter.
Add sesame seeds, green chili, ginger, garlic, curry leaves and chopped green onions.
Saute for 1-2 minutes.
Pour in the sauce mix and cook on medium high heat until it boils.
Let it simmer for 12-15 minutes till it gets thickened.
Remove from heat and let cool till it gets to room temperature.
Toss it with the wings to coat them with the sauce.
For Dip
Whip up the yogurt.
Add salt, pepper, herbs, lemon zest and lemon juice.
Mix all together and serve it cold.
Notes
You could use the grill instead of air frying or oven to make the wings crisp.
Deluscious Bites ™ http://delusciousbites.com/