Happy New Year,Wow! This is officially my first post for 2018. And since it started on an extremely freezing note, I am all about warm and cozy food. This Black Eyed Peas curry is absolutely soulful and totally comforting for the weather. But firstly, here's to a very Happy and Prosperous New Year. Hope you all had a fabulous start of 2018. And hope this year brings you all- scrumptious food, good health, success, happiness and prosperity.
Reflecting on 2017:
Looking back at 2017 and reflecting on every event, it feels nothing less than a roller coaster ride for me. That was one year, I seriously wanted to get over faster than I could ever think of. It was the first time in my life, I was eagerly waiting for the new year and new beginnings. I had tons of ups and downs, or rather I should say more downs than ups. It was a rough and tough year for me, physically and emotionally. And yes everyone has lots of memories that they take along with them into the new year; but since I don't want to take all the memories with me into the new year, I will simply take all the things I learnt from each memory. Every day teaches you something, some in a happy way and some in a tough way. Take all the lessons and leave the unhappy moments behind. It is very important to sit down and reflect into your previous year, to plan the year ahead in a positive way. Few things that I learnt and want to share with you all are:
Hope – Always be hopeful. Remember the sun always rise after the darkest of the nights.
Chase your dreams – Its very important to run after your dreams because only then you can make them come true.
Failure – I hate to fail, and I know most of you do hate as well. But the taste of success only tastes good if you have tasted the bitterness of failure.
Trust your gut – Trusting your instinct is the key to a better and successful life. Never trust random people, but listen to your gut when making important decisions. You could start with this new year.
Know your food – When it comes to food, it is very important to know where the food came from. Your whole health is so dependent on what you eat; hence it is very important to know your food and eat healthy.
Be unique – You don't have to run with the crowd. Every one has a unique style. Be creative in your own way and listen to your heart.
Never let go of opportunities – Grab any opportunity that comes your way. No job is big or small. Sometimes the smallest of the work gives you the most happiness and success.
Live your present – Enjoy the present moment you are in to make your future more memorable.
Lastly, eat well, enjoy life and work hard.
When the dust settles:
Suddenly the house feels so quiet after the holidays. I don't know weather to like it or not. Few weeks ago I was excited for family to come over, busy baking cookies, mailing out packages and getting the house ready for Christmas. It came by so fast and ended even faster. I cant believe we are in 2018 now, and more-so in mid January. Wow! Time really does fly, doesn't it? The season that we all wait for and stress over, come and goes with a blink of an eye. All you are left with, is to cherish the beautiful time spent with family, laugh over the jokes and enjoy the amazing gifts that 'Santa' got you. My brother and sister-in-law come over every year for Christmas and I literally wait for them to arrive. I don't know about you all, but I forget all the stress when I am around my family. Hope you had an amazing family holiday and a joyful Christmas and Hanukkah season. It was another memorable season for me. And yes it goes into my favorite time spent list.
It has been over 3 weeks now that I haven't seen the temperatures go above freezing. I feel we are living in Ice Age where anything you keep outside literally freezes. Oh, that has a positive side to it too. When you are running out of space in your refrigerator, keep your food on your deck or outside your home. Not Kidding. Hahaha! With all the negative freezing weather, comes the wintry sickness. My new years started with real bad chest congestion and sinusitis and its not just me, who ever I meet or talk to, has been sick or a has a family member that is sick. This season has been really unusual but such is life and we will pull through 🤒 🤧.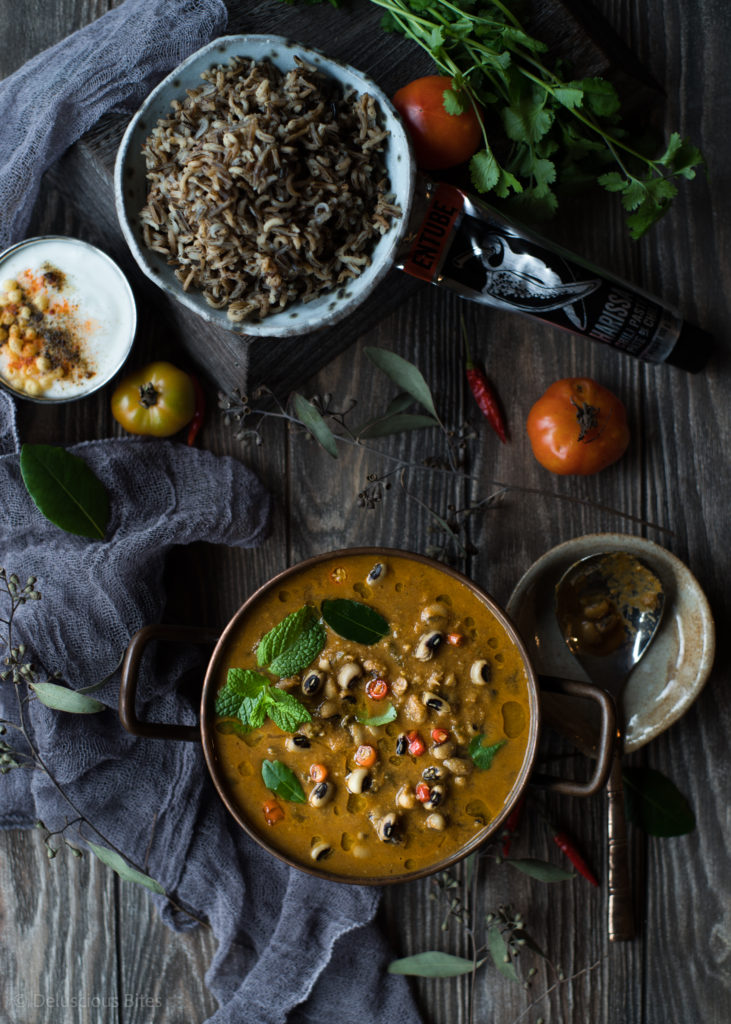 The New Year's Cold Rescue Solution:
After all the cookie and dessert coma from the holidays, all I am craving for is simple comfort food. I think the body needs a detox from all the sugar and butter and energize for the new year. But nope I am not a diet resolution kinda girl, so you'll not find me doing any special diets. However, simple homemade meals is all I will be having for the next few weeks, unless I get to itch for baking real bad, which can happen soon. Lol!😆
When it comes to soulful, comfort meals, I consider beans or lentils to be at the top. They are so satisfying, nutritious and a complete meal in itself. Growing up I always preferred red kidney beans over black eyed peas. And to some extent I still prefer them; but knowing how quick and simple, yet so delicious these black eyed peas are, I have developed a fondness for these beans. Before moving to US, I had no idea that these beans bring luck on New Years Day. To tell you the truth, I still don't get this fact right; But yes I am that kind of a girl, who will do anything, if you say its good or brings good luck🙈. Hahaha! Since then no matter what, I make sure we eat black eyed peas on New Years Day. Its a symbol of prosperity in the Southern culture. Does that mean I will prosper? Ah!🤷🏻‍♀️ I don't know, but tastes good, super quick to make and so filling after all the new years eve hangover. Does anyone here believe in such things? Or is there any other kind of food that you definitely cook on the 1st day of the year? Along with beans, I do cook something sweet every 1st day of the year. That's just to start my new year sweet. Not that my year end is savory; but traditional Indian sweet is something that just makes me feel closer to home 😊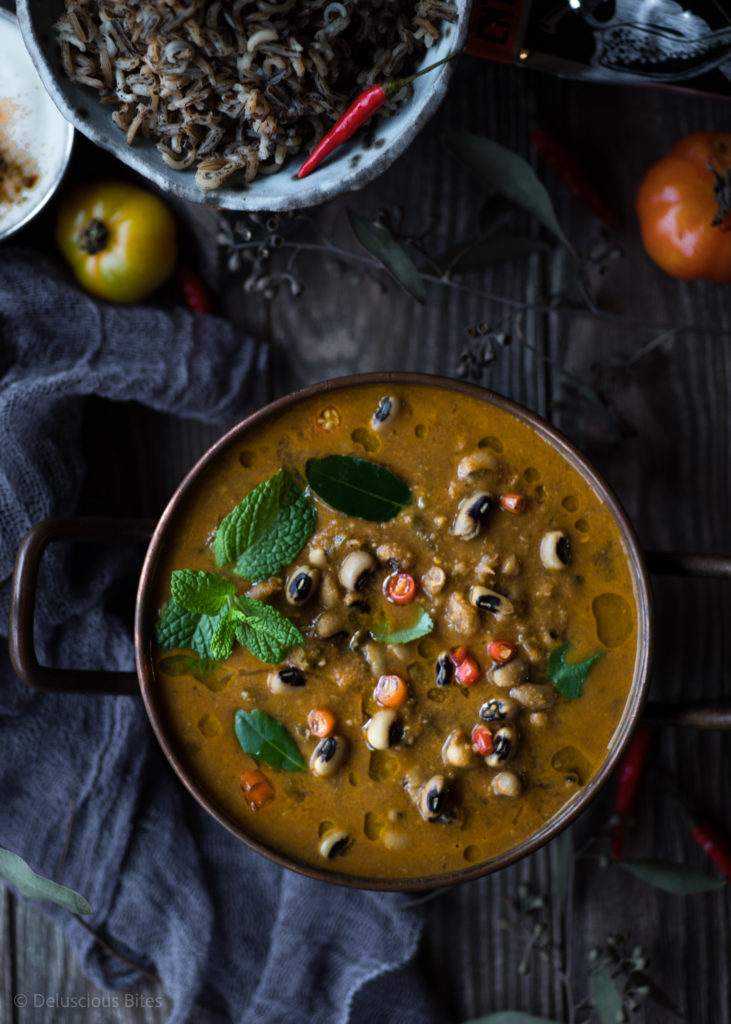 You could make the black eyed peas (Lobhia) in your slow cooker and not worry about stirring or anything. Or you could use pressure cooker, if you in deep rush like me. The canned ones can also be used if you don't have the raw beans. I have cooked in pressure cooker and slow cooker both and I do not have a preference. They both work great for me. So I will include the timings for both and you could cook your way. This Indian version of beans cooked with exotic spices brings such a comfort in this freezing weather. A bowl of rice and beans is all I need for the entire winter season now. My personal favorite to accompany any sort of beans with, is rice. Basmati rice is a winner in my house, however I am loving the local MN Lake rice that grows wild like grass on the Great Lakes of Northern Minnesota.
Hope you enjoy this 'Indianized' version of black eyed peas! Let me know if you do make them and don't forget to use hashtag (#) delusciousbites. Have a wonderful winter season and hope you all stay warm and cozy.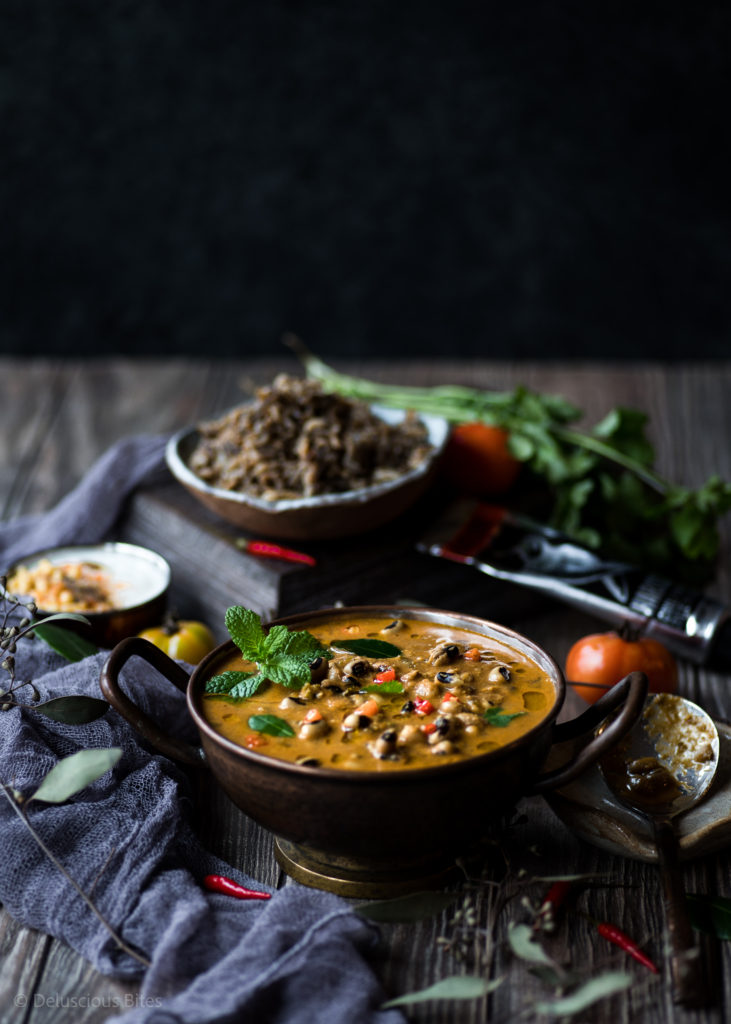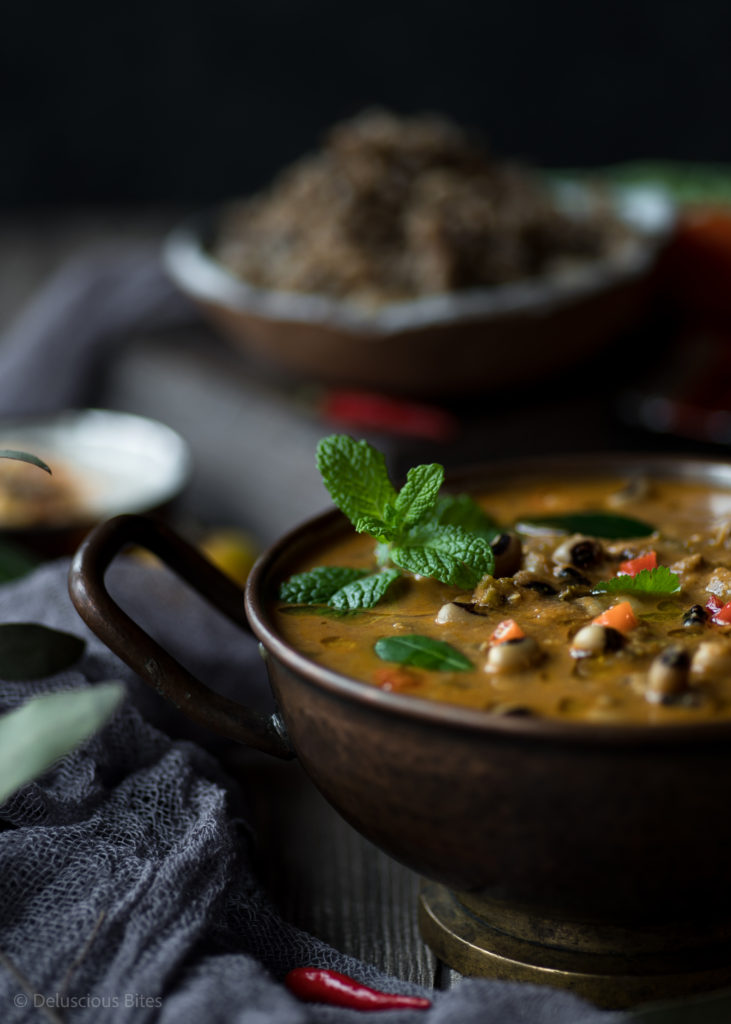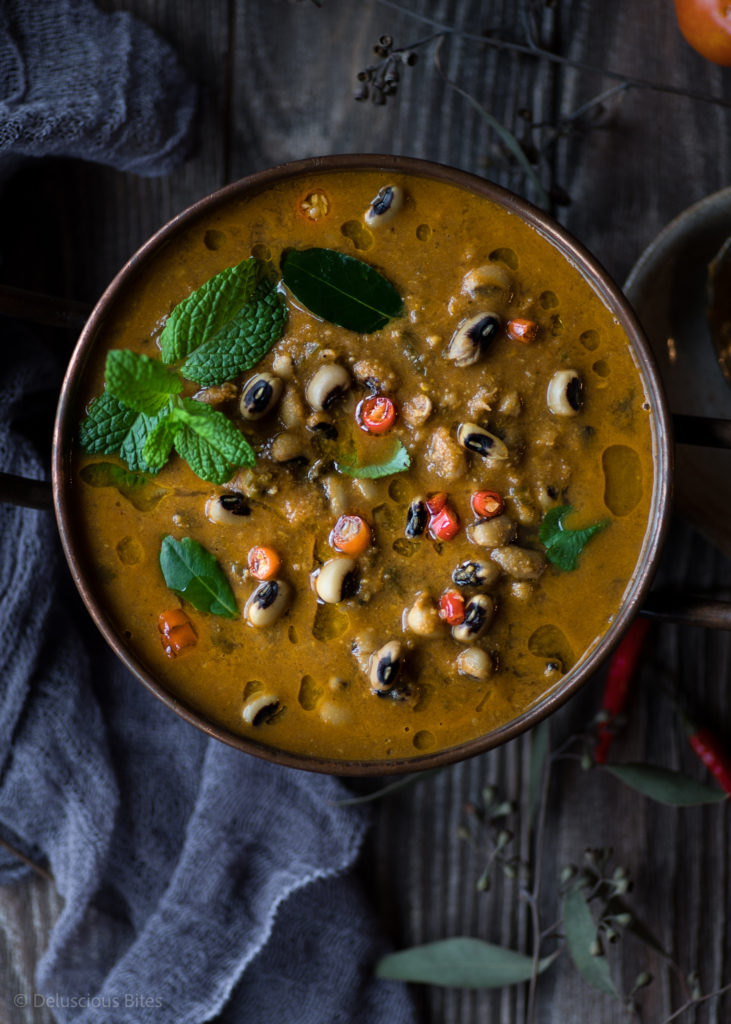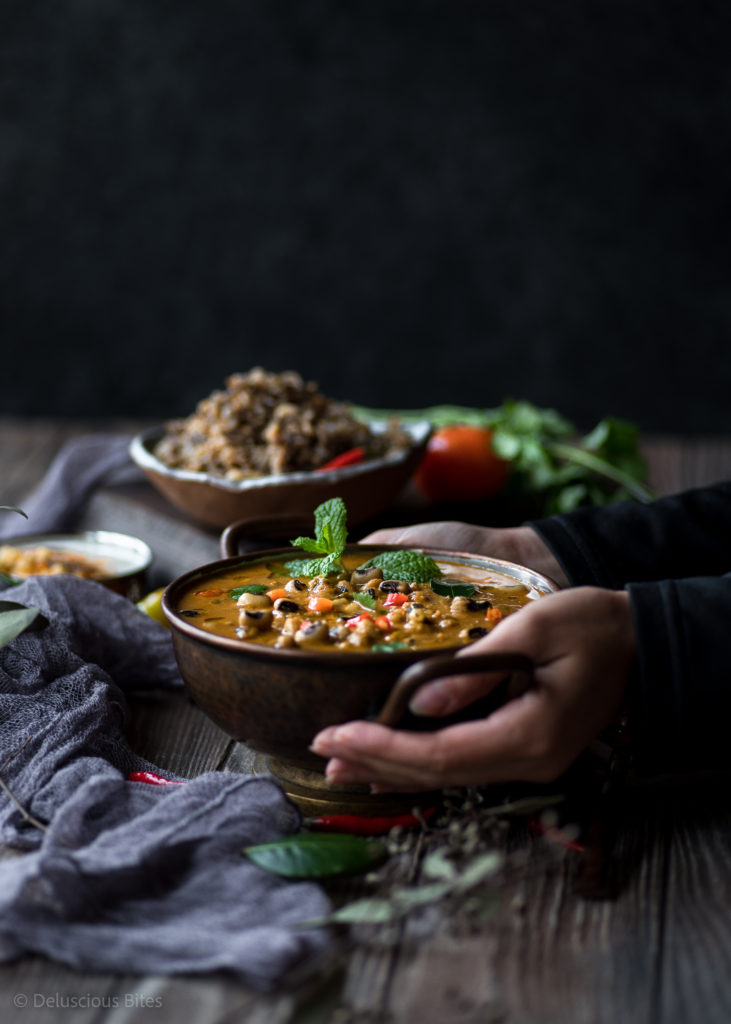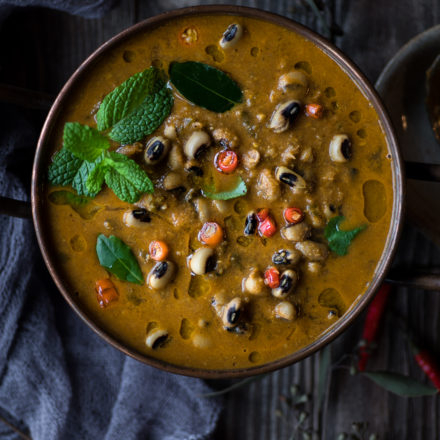 Black Eyed Peas (Lobhia)
2018-01-08 14:55:08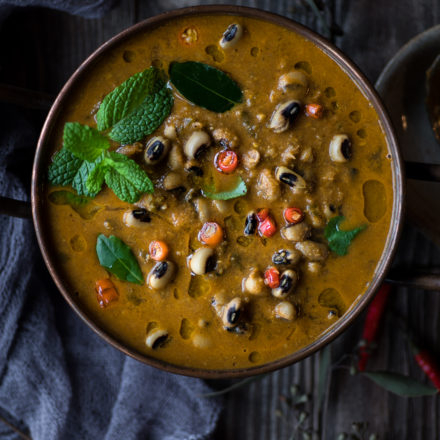 A perfect soulful and comfort meal
Ingredients
300 grams dried black eyed peas (1.5 - 2 cups approximately)
250 grams onion, pureed
500 grams tomatoes
3-4 bay leaf
green chili (2-3)
40 grams garlic, pureed (10 cloves approximately)
20 grams ginger, grated
8-10 green cardamom
1 black cardamom
2 tsp coriander powder
2 tsp cumin powder
1/2 tsp turmeric powder
1.5 tsp garam masala
1 tsp harissa (optional)
1 tsp cumin seeds
1 cinnamon stick
Fresh chopped cilantro
3 tsp oil
5-6 cups water if using pressure cooker
Instructions
Soak beans for 3-4 hours.
Pressure cooker Method
In pressure cooker add the drained soaked beans, water, black cardamom, half of the green cardamom, half cinnamon stick, 1 green chili and salt.
Cook on high heat till 1 whistle then lower the heat and cook for 10 minutes.
Turn off the heat and let the steam come out on its own. Do not take out the steam forcefully.
Meanwhile prepare the sauce.
For the sauce
Make tomato concasse by blanching the tomatoes to take off the skin. Make a smooth puree.
Puree onions and keep it aside.
Heat oil in a pan, add cumin seeds, green chili, garlic and ginger.
Saute for few seconds.
Add the onion puree and cook on medium heat for 7-8 minutes.
Add tomato puree and cook for 2-3 minutes.
Add coriander powder, cumin powder, turmeric powder, bay leaf, half cinnamon stick, and green cardamom. Let it cook on medium heat for another 7-8 minutes until the oil starts to separate.
Add harissa (if using), beans along with the water and adjust for the seasoning and consistency. You could add more water if you need a thinner consistency.
Cover and cook on low heat for 15 minutes.
Add Garam Masala and fresh cilantro.
Serve hot with rice.
For Slow Cooker
Make the onion tomato sauce.
Add the soaked beans with 3-4 cups of water and the onion tomato sauce.
Cook on high for 3 hours.
Switch off, and add the bay leaf, half of the cinnamon stick, black cardamom, green cardamom and adjust for seasoning.
Cook on high for another 1-2 hours until the beans are soft.
Add garam masala and fresh cilantro.
Deluscious Bites ™ http://delusciousbites.com/