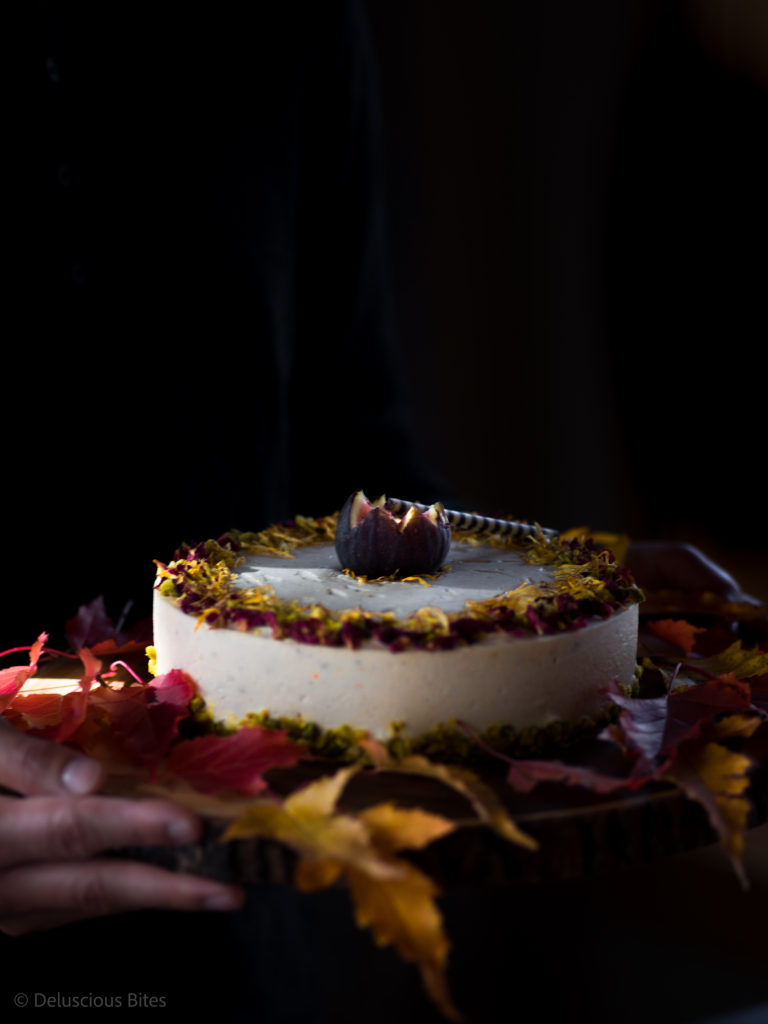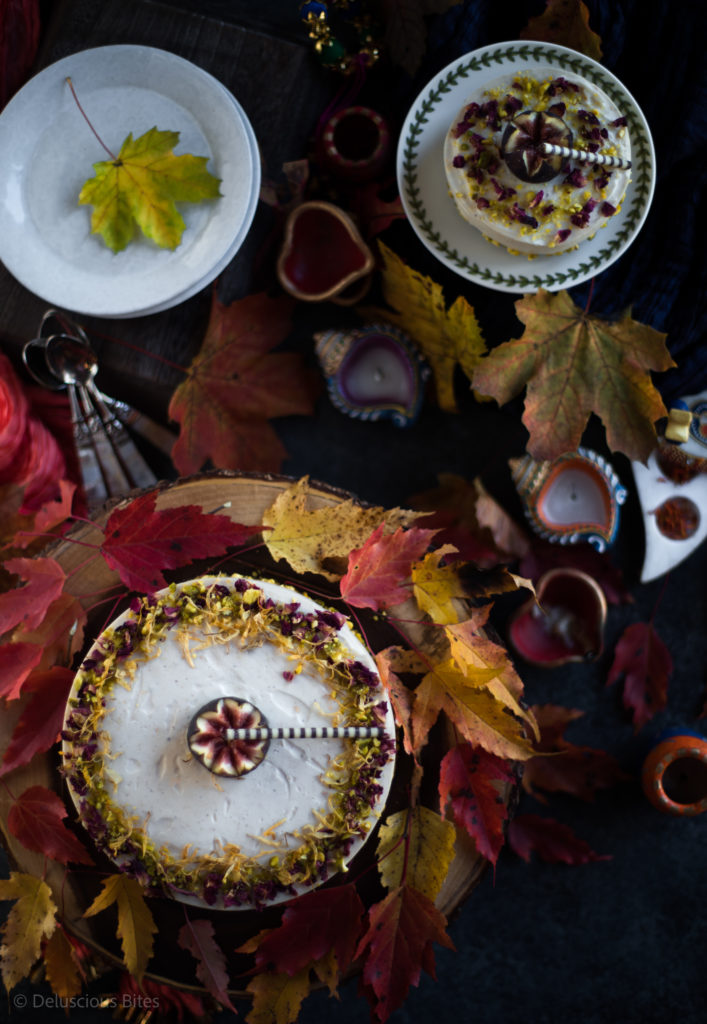 A vibrantly colored cake is what I have for October as it ends. Meanwhile Minnesota is screaming fall and rich fall colors which is absolutely magical! You know life is good, when you still have your cultural Diwali festival decorations along with Halloween decorations, and already planning for Thanks Giving. Oh wait! Than there will be Christmas and New Years! So much fun! In October we have all the beautiful festivals, the gorgeous fall weather and planning for the seasonal change. Its one of the busiest and most exciting months for me. We have a few Indian festivals during this month along with so many family birthdays and we end it with Halloween.
The festive season, like the upcoming Diwali, is the most awaited season of the year. I don't really understand the traditional concept behind certain Indian festivals, but one thing I do know is that its full of color, delicious desserts and meeting and greeting people. In short spreading love! India in general is a very colorful country, so festivals ought to be bright and vibrant right! The changing colors of leaves are simply breath taking and make the festivals even better. Just before the winters when all the trees will die off, and life gets too depressing and cold, October month gets the brightest of colors culturally and nature wise. And not to forget, any holiday or festival, there has to be multiple desserts.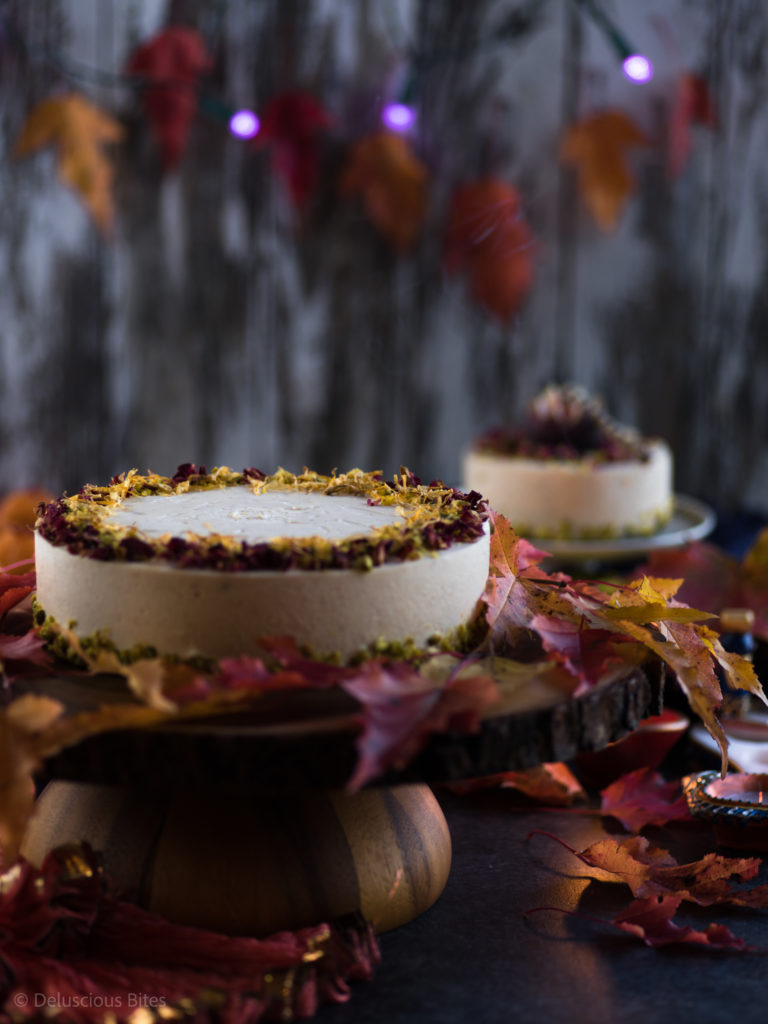 Birthday cake;
When the two most special people (my mom and my husband) share a birthday month, that month automatically becomes extra special and the dessert of course has to be even more special. Every year I make a mango cake or tart for hubby's birthday, but this year Diwali and his birthday were on the same day so I had to think hard outside the box. I wanted to create something that represents both my mom and my husband, as I feel they are similar in so many ways. May be its the October thing. It had to be seasonal with Indian flavors and different components/textures. Apples and carrots were my seasonal ingredients, Motichoor ladoo and Rabri were my Indian flavors, nuts were there to give a nice texture and lastly Chai Spice was there to give tea flavors that totally represents my mom and my husband. So the final cake I came up with was-Apple Carrot Chai Spice Rose Cake with Motichoor Ladoo and Rabri Mousse. It couldn't have gotten more special and festive than this.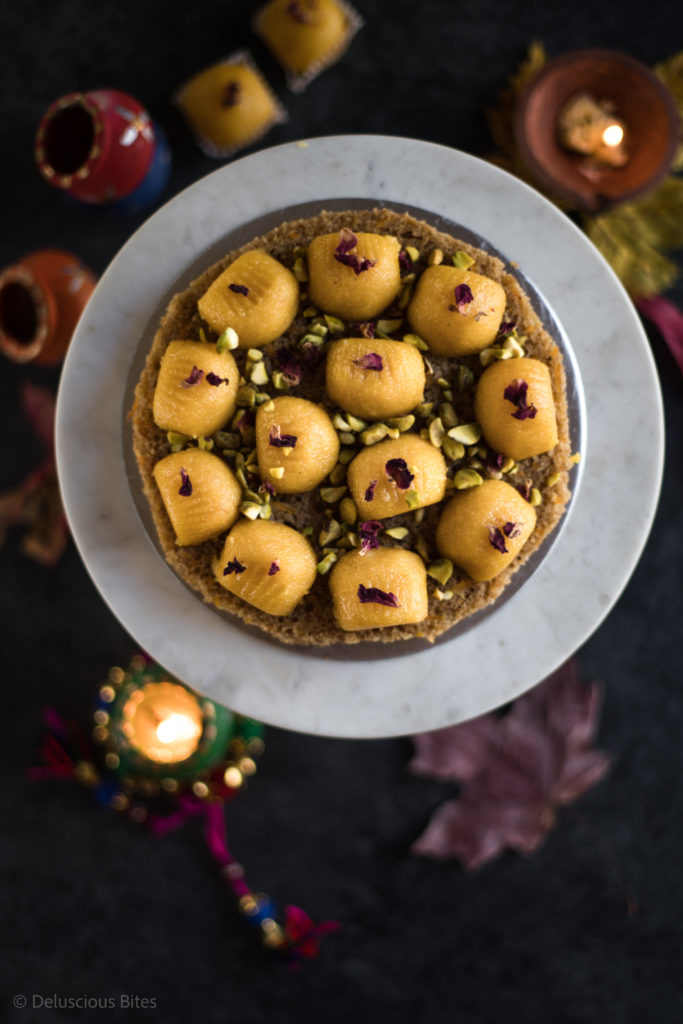 This cake has everything you could ask for in a fall dessert. It was an unusual combination but it worked very well together, in fact, this will be my next year's Diwali cake again. Motichoor Ladoo is a traditional Indian sweet that is made out of chick pea flour and slowly simmered in sugar syrup. I had bought these from an Indian store for my dessert cravings and used them for the cake. Rabri is basically made from cooking the whole milk on very slow flame until it becomes thick and grainy. It takes a while to make but you could always make a more than you need and freeze the extra.This way you will always have it in handy. It's commonly used to top off the indian sweets to add a creamy texture. To make it faster, I added khoya in it, which is nothing but milk solids. I also added some orange zest to give a nice citrus flavor and to balance out the sweetness, because ladoo can be very sweet. I topped off the cake with dried marigold and rose petals, and to be honest, it looked absolutely gorgeous and super festive.
Hope you all enjoy this Indian Fusion Cake recipe. This would be perfect for any holiday and would sure win people's hearts with its vibrant comforting flavors and rich colors. Make sure to tag #delusciousbites to show off your cooking/baking.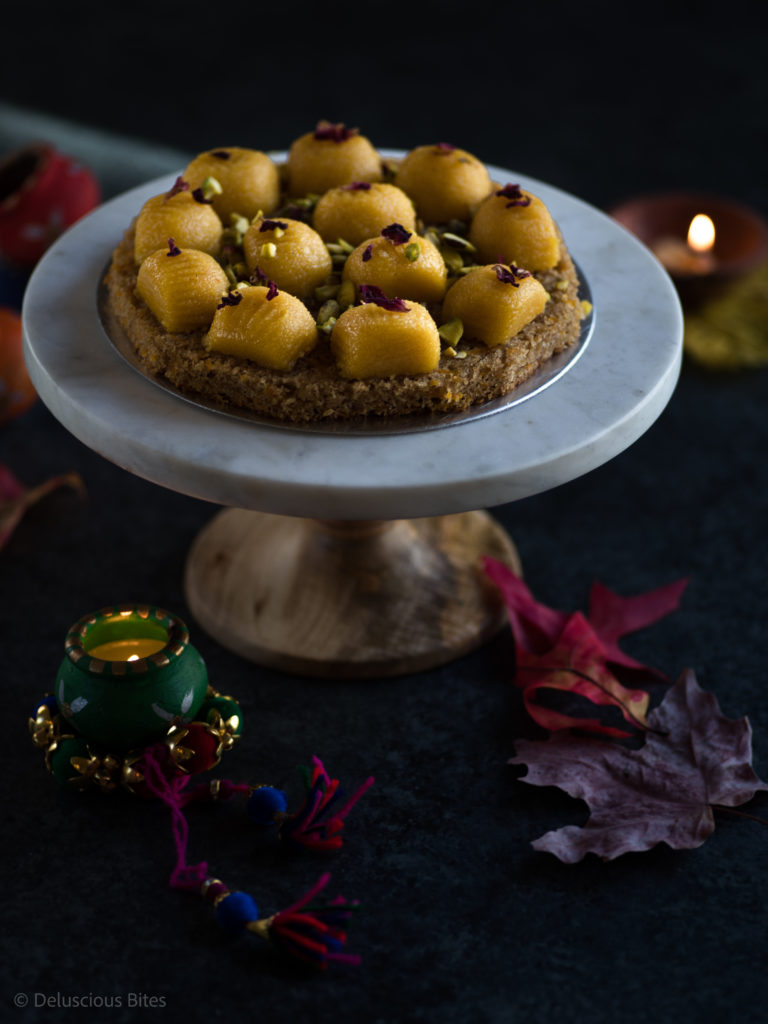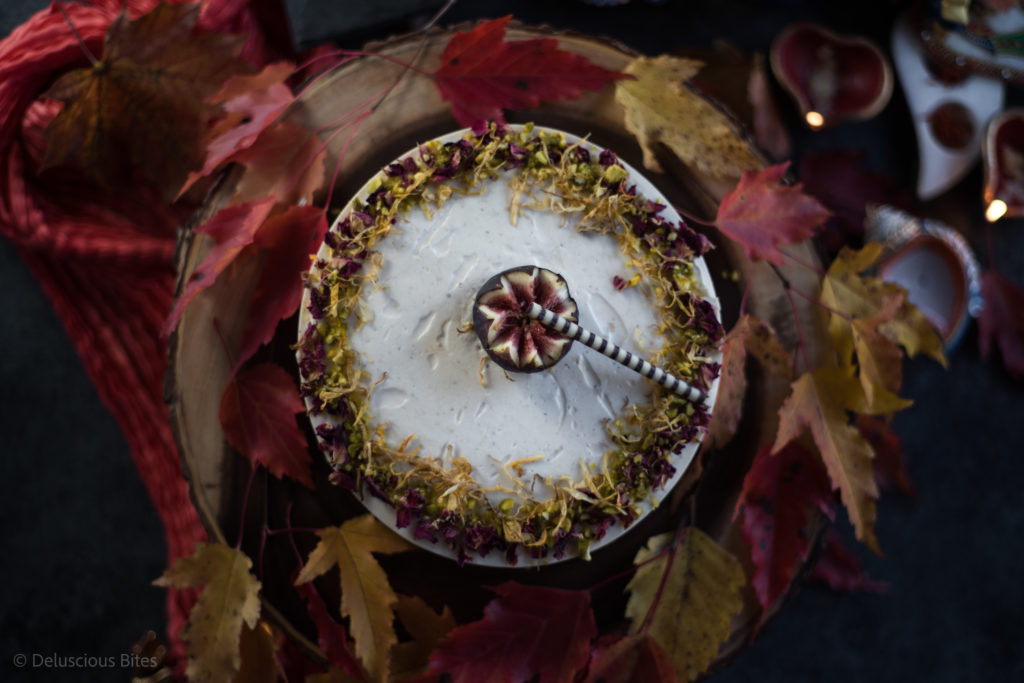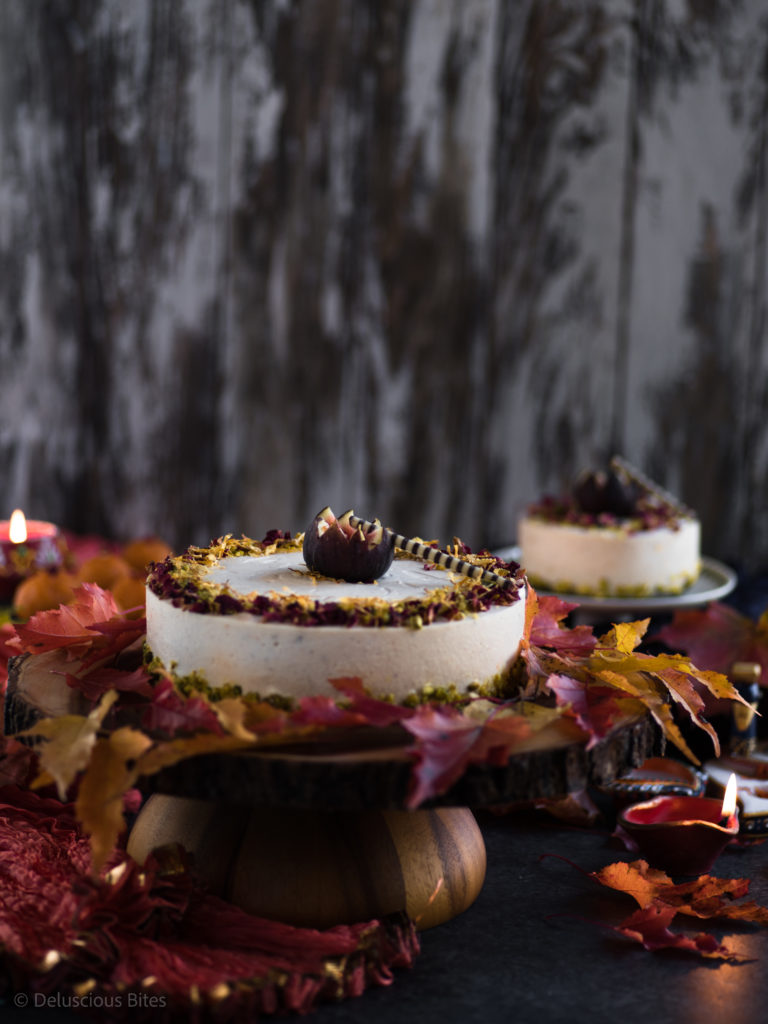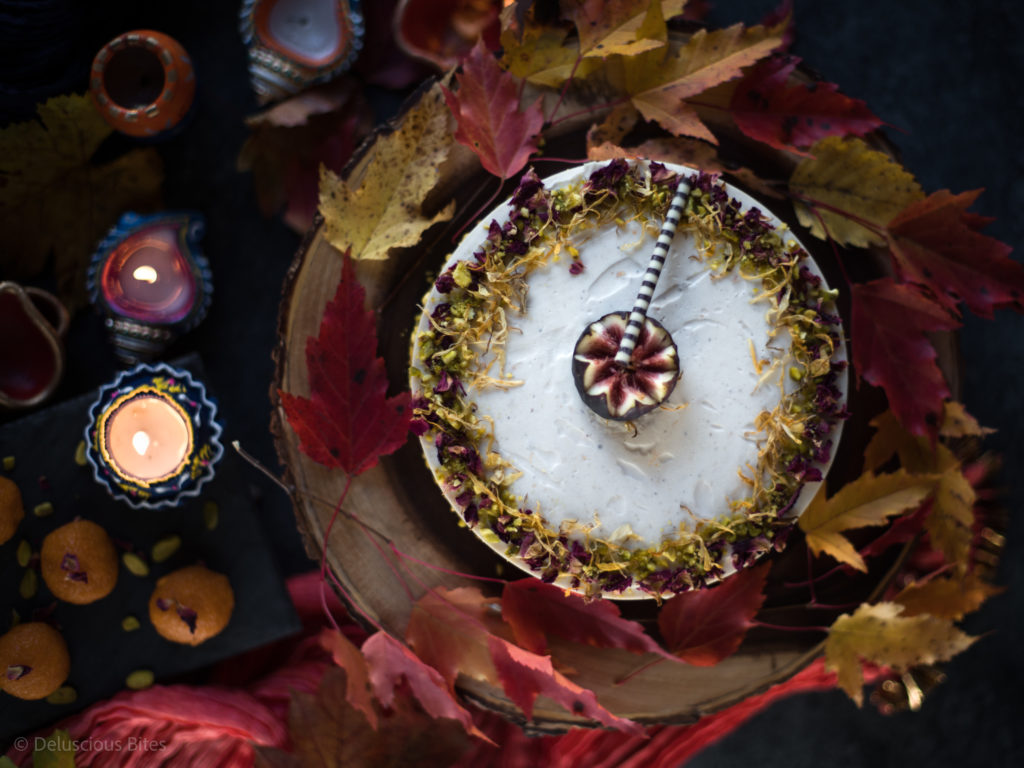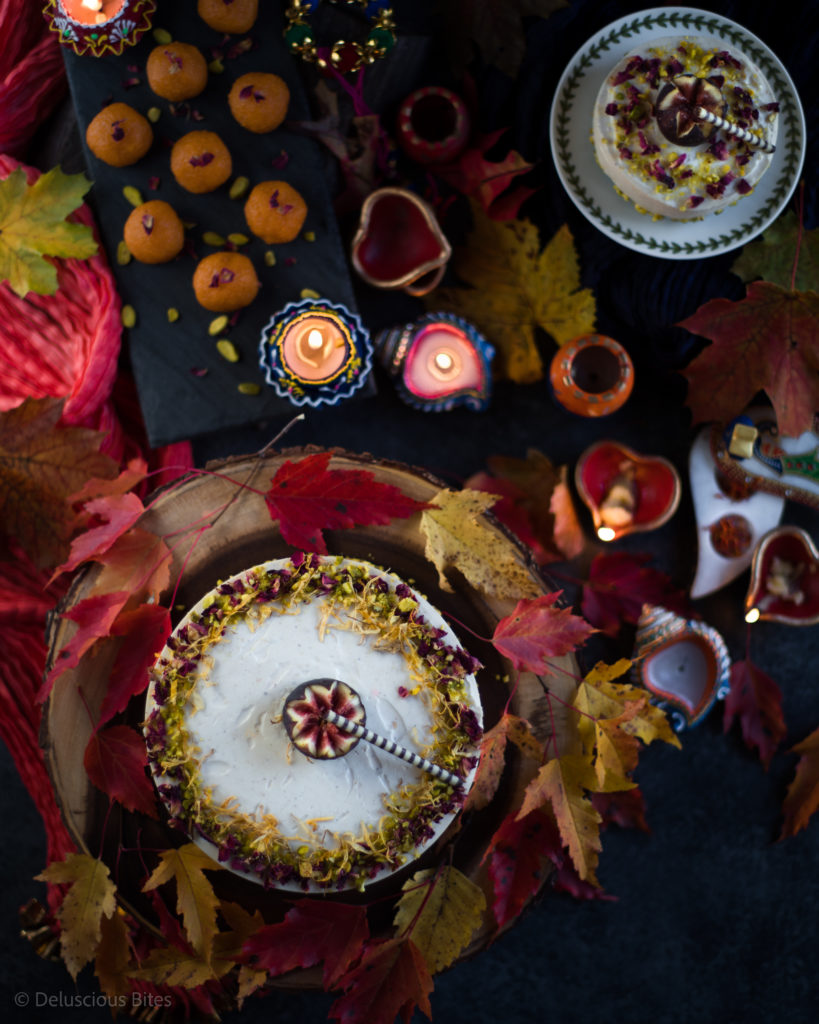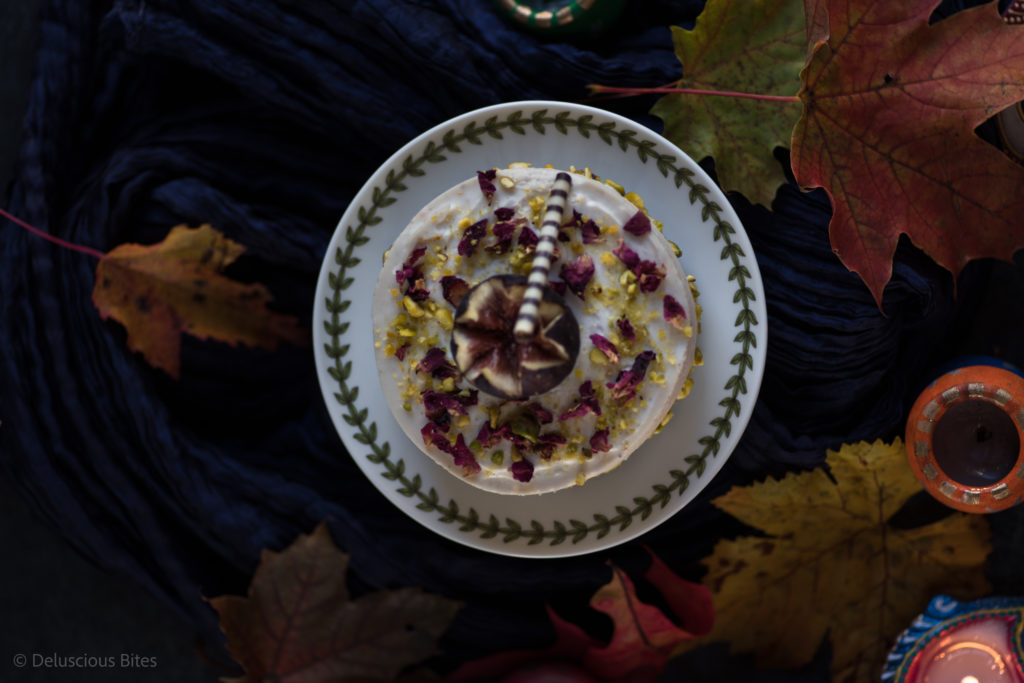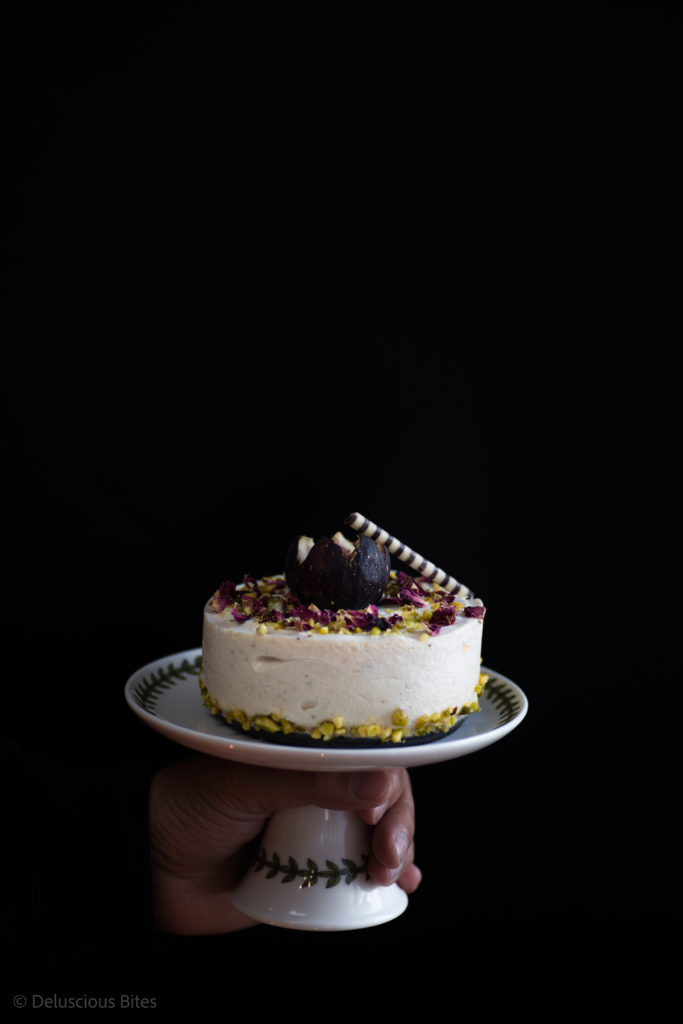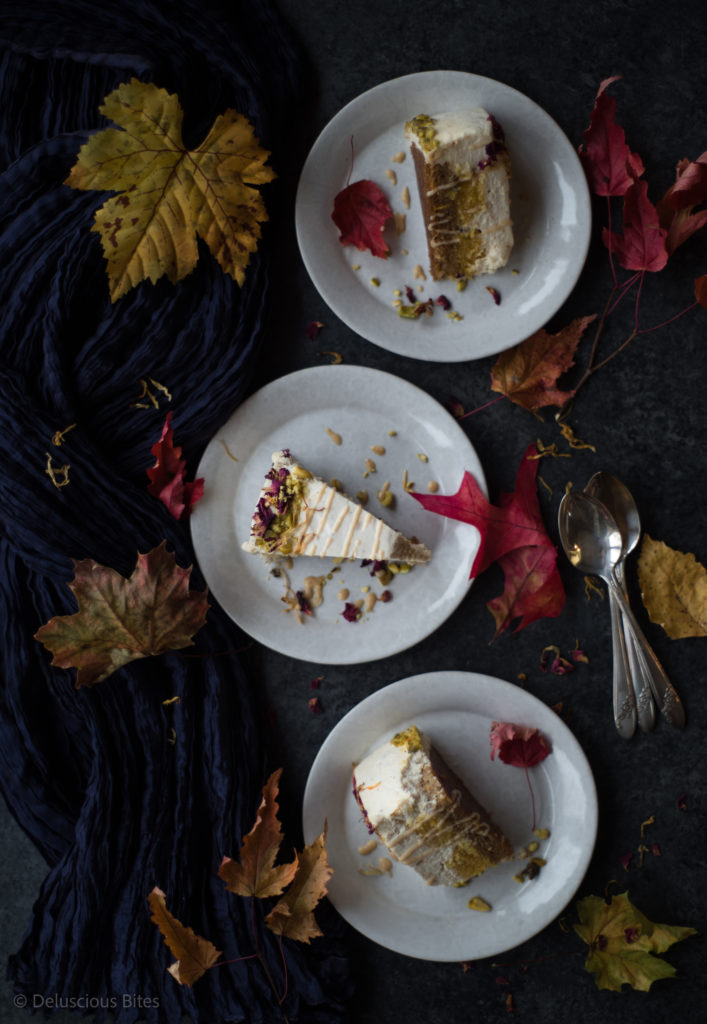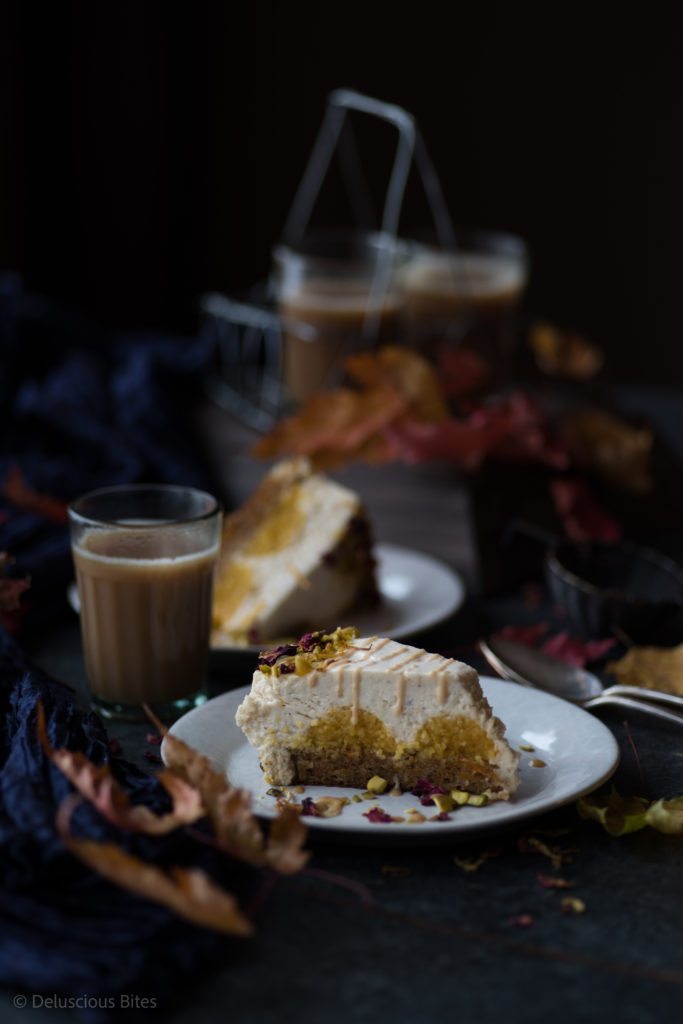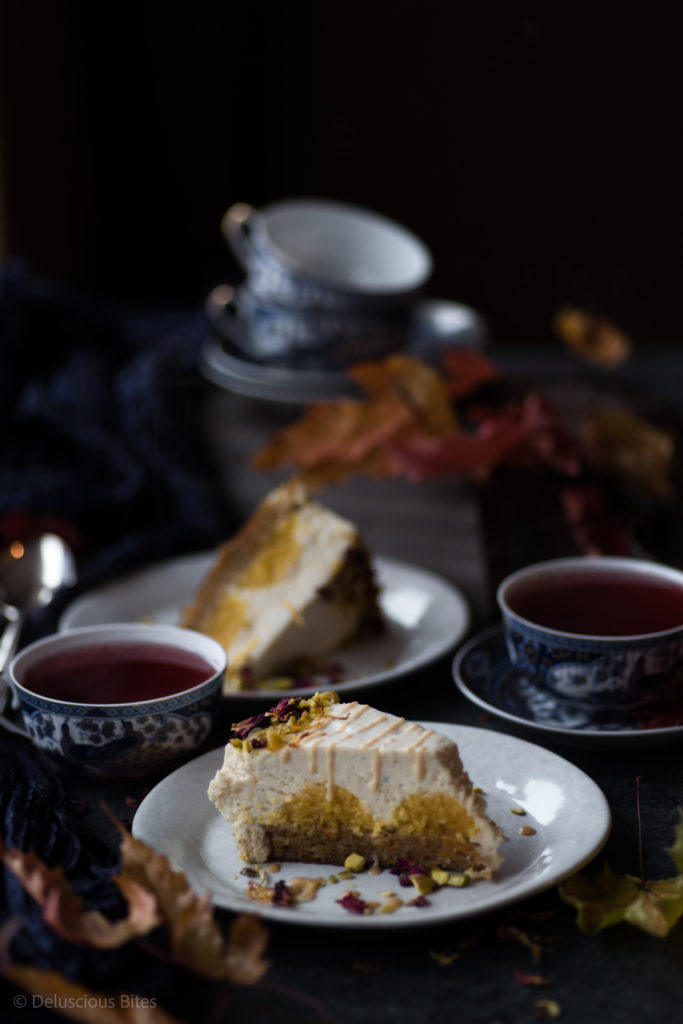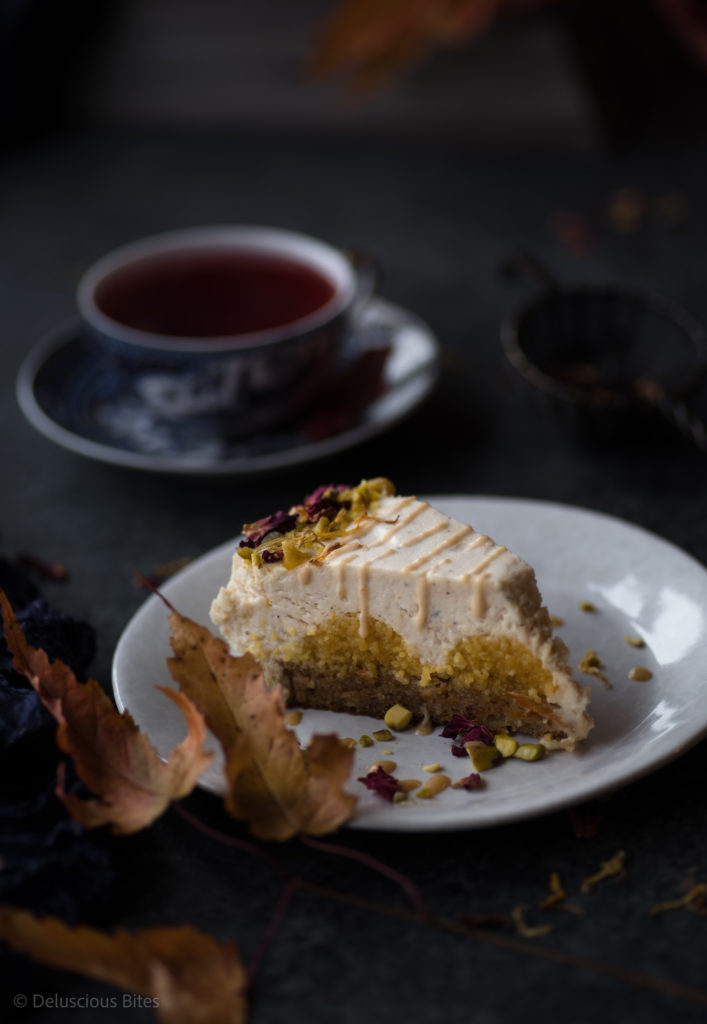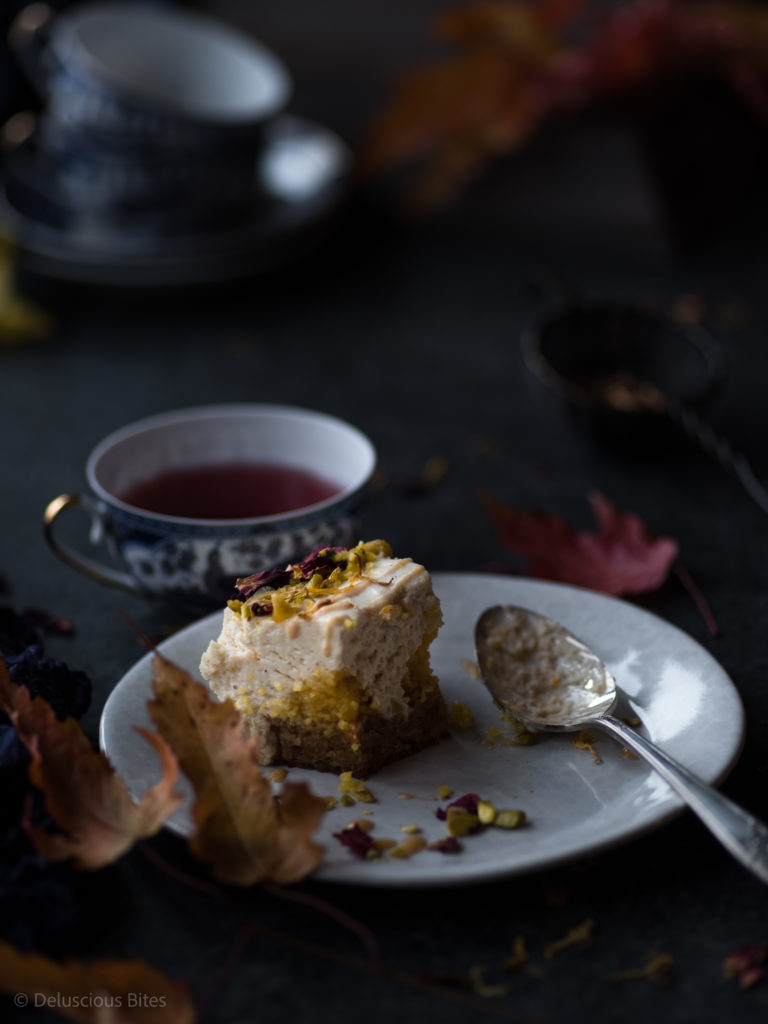 Apple Carrot Chai Spice Rose Cake with Motichoor Ladoo and Rabri Mousse
2017-10-26 13:29:49
For Rabri (Yields approximately 650 grams of rabri)
1.5 L milk
150g khoya
2 tsp sugar
1 tsp cardamom powder
Few saffron sprigs steeped in 1-2 tsp water/milk
For Apple Chai Spice Rose Cake
225g flour
220g sugar
1 tsp baking soda
1/2 tsp baking powder
1/2 tsp salt
1 tsp cinnamon
2 tsp chai spice
1 tsp cardamom
125 ml oil
2 eggs, room temperature
100g sour cream
225g carrots, grated
225g apples, grated
zest of 1 orange
1 tbsp rose petals
For Filling
8-10 motichoor ladoo
1/4 cup pistachios, roughly chopped
For Rabri Mousse
300g rabri
225g (8oz) mascarpone cheese, room temperature
250g heavy whipping cream
3 tsp maple syrup
1 tbsp powdered sugar
2 tsp cardamom powder
1/2 tsp orange zest
1 tsp gelatin powder
3 tsp water
1 tsp rose petals
1 tsp vanilla extract
For Rabri
Boil milk.
Reduce the heat and let it simmer for about an hour, stirring every 15 minutes to avoid scorching.
Once the milk is reduced 1/3rd, add khoya and sugar.
Keep stirring till it gets thick and creamy. This might take 15-20 minutes.
Add cardamom powder and saffron water and mix well.
Turn off the heat and let it cool before transferring into a storage container.
At this point, rabbi can be stored in the fridge for few days or it can be frozen for much longer time.
For Apple Carrot Chai Spice Rose Cake
Preheat the oven at 350 degrees.
Oil and flour the baking pan and line them with parchment paper.
Sift all the dry ingredients.
Whisk oil and sugar till combined well.
Add eggs one at a time while whisking.
Add dry ingredients and sour cream in stages, while whisking.
Fold in the rose petals, grated carrots and apples.
Pour the batter in the baking pan and bake for 25-30 minutes until done, and the toothpick inserted in the center of the cake comes out clean.
For Mousse
Steap the rose petals in the water.
Cream the Rabri in food processor so its not chuncky.
Add mascarpone, maple syrum, orange zest, cinnamon and cardamom. Pulse for about a minute at 10 second interval to incorporate well and make it smooth.
Strain the water and throw away the petal. Bloom the gelatin in this water.
Meanwhile whip the heavy cream with sugar. to medium peak.
Warm the gelatin just enough to melt it. Do not heat it up.
Add the gelatin in rabbi mix.
Gently fold the whipped cream in the rabbi mix.
Assembly
Cut the cake into half.
Cut 1 inch edges along the side so when the mousse is poured its nice and smooth all around.
Put that half back into the pan.
Cut the ladies into halves and arrange them in such a way that it covers the circular cake.
Sprinkle pistachios on top.
Pour in the mousse and put it in freezer for atlas 4-5 hours until set and frozen
Take it out and set the pan on a glass or back end of turn table.
Using the blow torch, warm up the sides of the pan just enough so the side ring of the pan slides down and the cake is nice and smooth.
Decorate with dried floral petals and pistachios.
Thaw it in the fridge before enjoying it.
Notes
I only used 1 half of the cake. You could use the other half just to eat as is with your tea or coffee. If you would like to use both the halves then cut the edges of other half as well. Pour half the mousse into the pan. Place this other half of the cake on top and pour rest of the mousse into the pan.
If you do not have a blow torch, then wet the paper towel with hot water and squeeze it tight. Rub that warm paper towel along the ring of the pan just enough so the side of the pan slides.
Khoya is easily available in any Indian or international grocery store in the freezer section.
Deluscious Bites ™ http://delusciousbites.com/