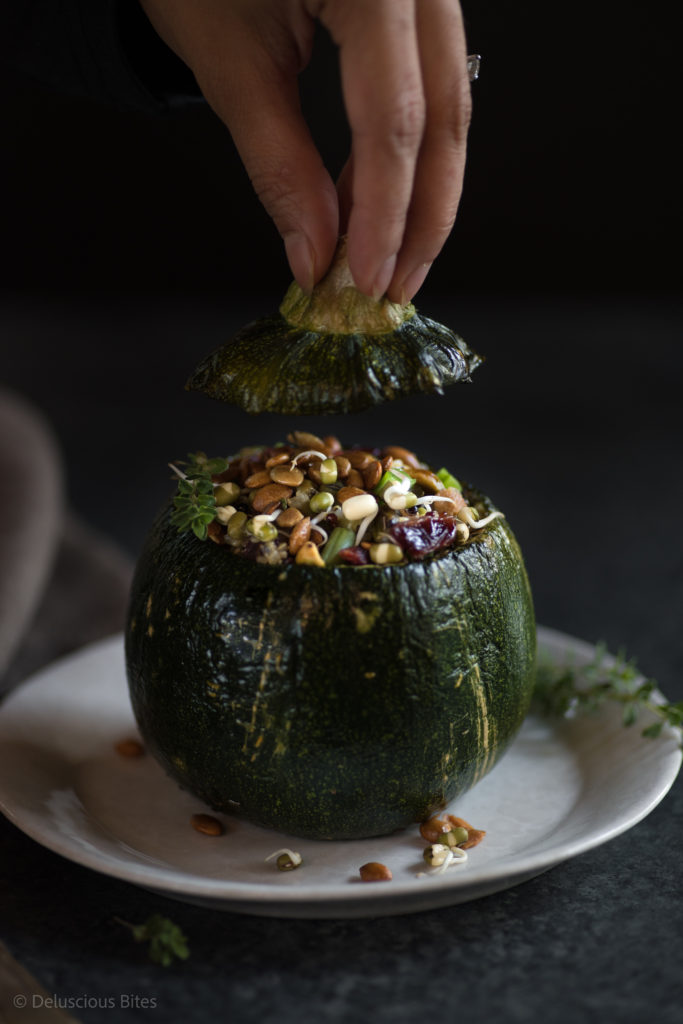 Summer is about to be over in this part of the world; but I can't let go off the warm, sunny and simply gorgeous weather so easily! Who's with me on this one? The colors of the leaves might be changing, but in my head I still feel its summer. There has been unusual weather this past week though. But wait, its not just me, even my last trip to farmers market this weekend reminded me that summer is still not yet over. Walking down the stalls, admiring all the local gorgeous produce; a round green thing that I had never seen before, just hit me and I just stood there looking amazed by it. "It looks like a zucchini, but shaped like a pumpkin! What the hell is this?" I asked myself. For a second I thought it could have been a new Pre-Autumn vegetable in the northern mid-west. Nope! I was wrong, it was actually a round zucchini. "Wow! Seriously a round zucchini?" I thought to myself. My first question to the vendor was "Can we stuff them?" Haha of course, if I can stuff a regular zucchini, why can't I stuff pumpkin shaped zucchini. At this time, I already pictured using Quinoa, so now I have stuffed Zucchini Quinoa Pilaf! I simply just had to make it with these cute little guys.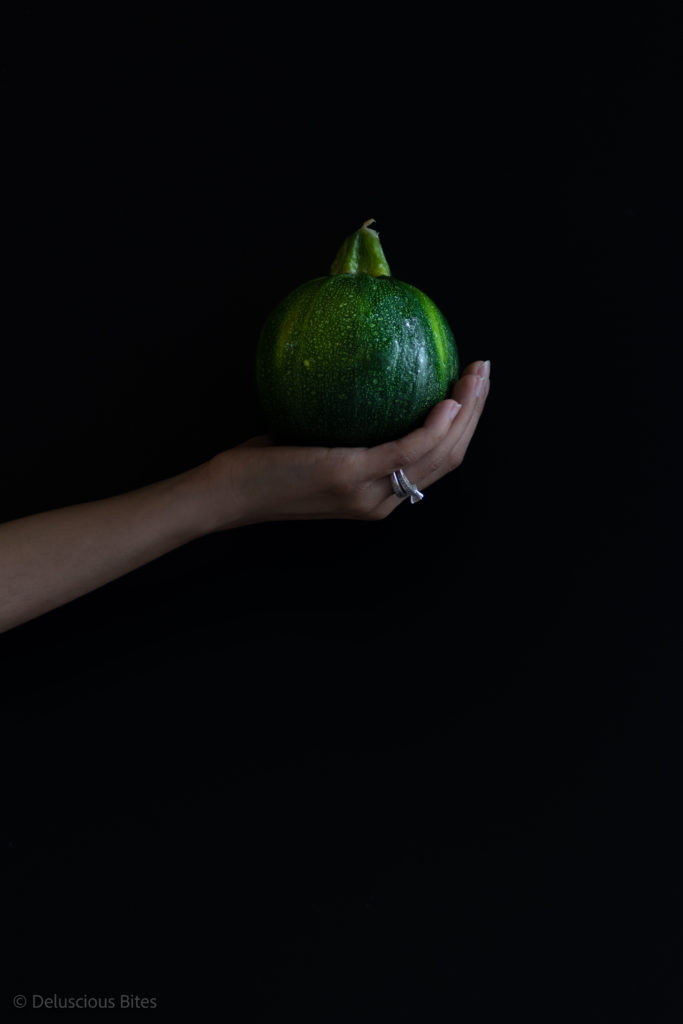 It's been a while since I cooked in my kitchen. I also have not been updating much, but long story short, I am getting back in my routine and starting to cook and work. If you have been following me on Instagram and watching all my stories, you'll have some idea of my happenings and small travels. Will have my travel update soon on the blog.
But now lets get back to this stuffed Zucchini Quinoa Pilaf action. I love going to weekend farmers market. My absolute favorite that is also closer to me is Saint Paul Farmers Market. I think its so important to support local farmers and know your local seasonal produce. There is always something new and interesting to try and you also learn so much about the produce and how it changes with the season. The regular produce from the conventional grocery stores can't beat the flavors of the fresh seasonal produce. The market last weekend was full of vibrant rich colors. There were pumpkins and apples all over that were screaming Autumn but there were also zucchinis and tomatoes that were screaming summer. I think this is the way to remind me that the season is about to change. Winter is about to come and its gonna come real fast. But before that I want to grab everything fresh and savor every bit of summer that's left.
Since we are in the middle of seasonal change, I decided to turn this zucchini into my last bit of summer and early fall deliciousness. A yummy way of saying good bye to one season and welcome to another season. I had two words, Quinoa Pilaf. This is crazy good stuffing and makes one wholesome meal. Pilaf is a very popular dish in Indian, middle eastern, Persian and many other cultures. Its basically rice cooked in broth with some vegetables or meat. Since I am avoiding white Basmati rice, I make my pilaf with quinoa. And trust me you are going to love this pilaf. It's very forgiving and you can add your own vegetables or nuts that you have in hand. I added tons of Moong sprouts in it for extra nutritional value since I wanted to make this vegetarian. It's very simple to make your own sprouts. I soak my lentils over night and then strain it in a muslin cloth. Keep it covered for 2-3 days in that cloth, making sure that the cloth is damp and the lentils are able to breath. And once it sprouts, keep it in air tight container in the fridge for few days. I keep using them in all my stir fries, salads and now even in my pilaf. I also added lots of dried fruits like pistachios, almonds, apricots, cranberries, and pumpkin seeds. Its a very rich, flavorful dish that is gluten free, vegetarian, spicy, tangy, sweet and very nutritive. Perfect healthy combination of summer and fall on your plate.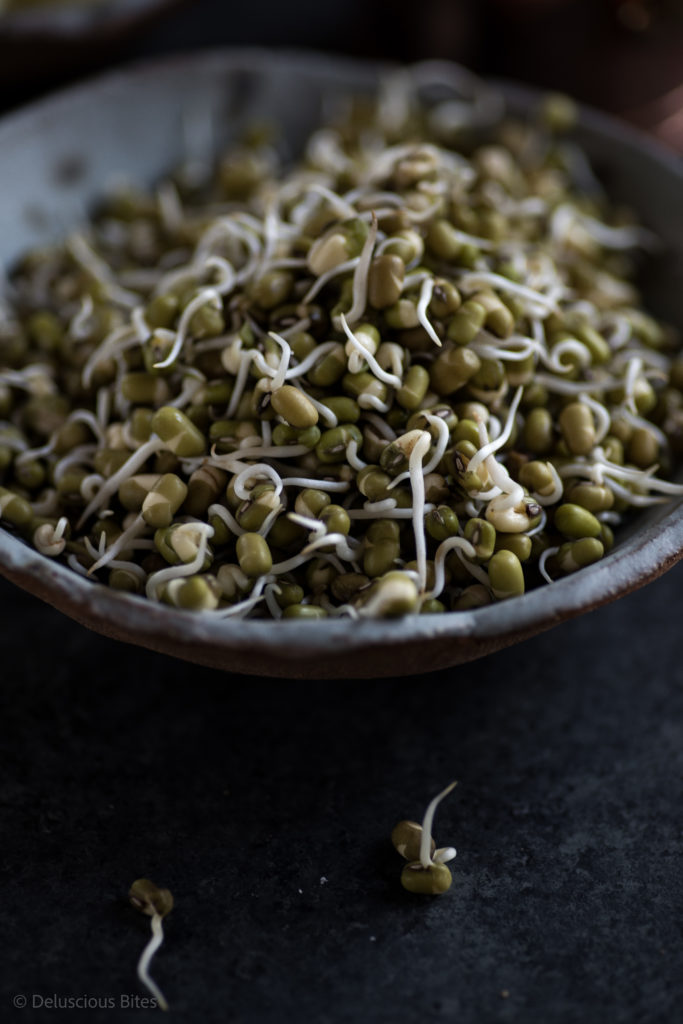 Hope you all enjoy rest of the season what ever is there in your part of the world and welcome the upcoming season with a big smile:) Follow along on Instagram and Facebook for my everyday deluscious journey.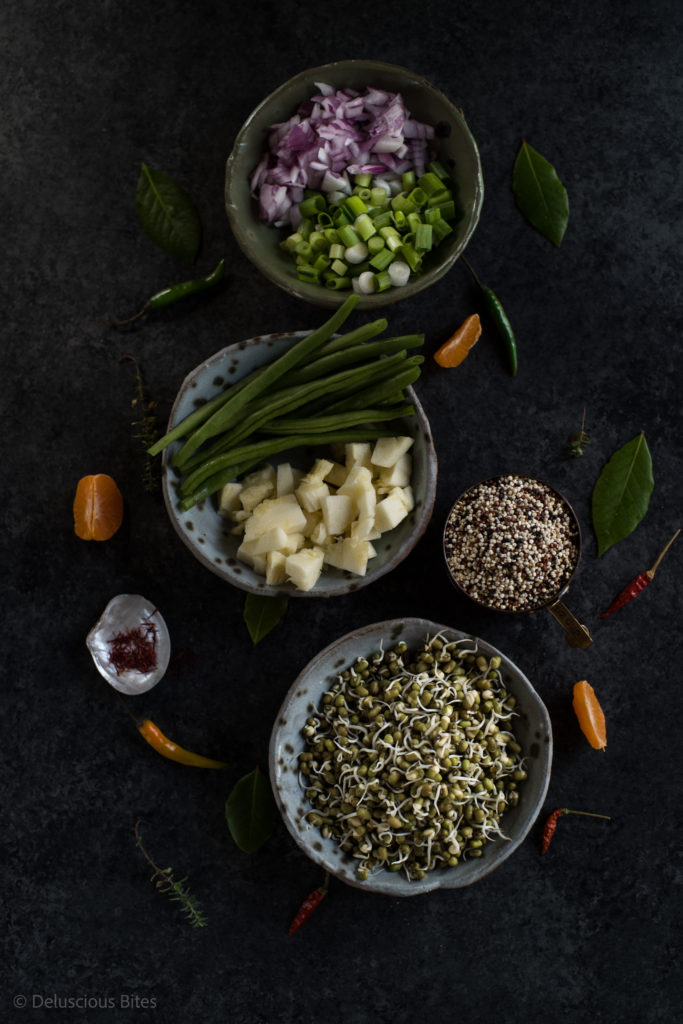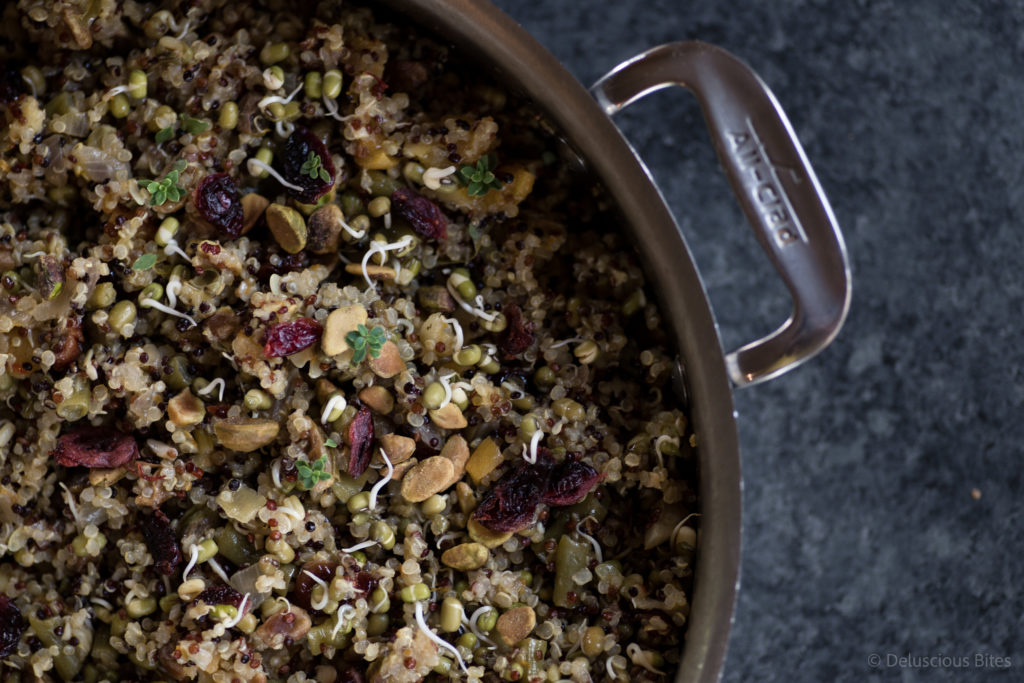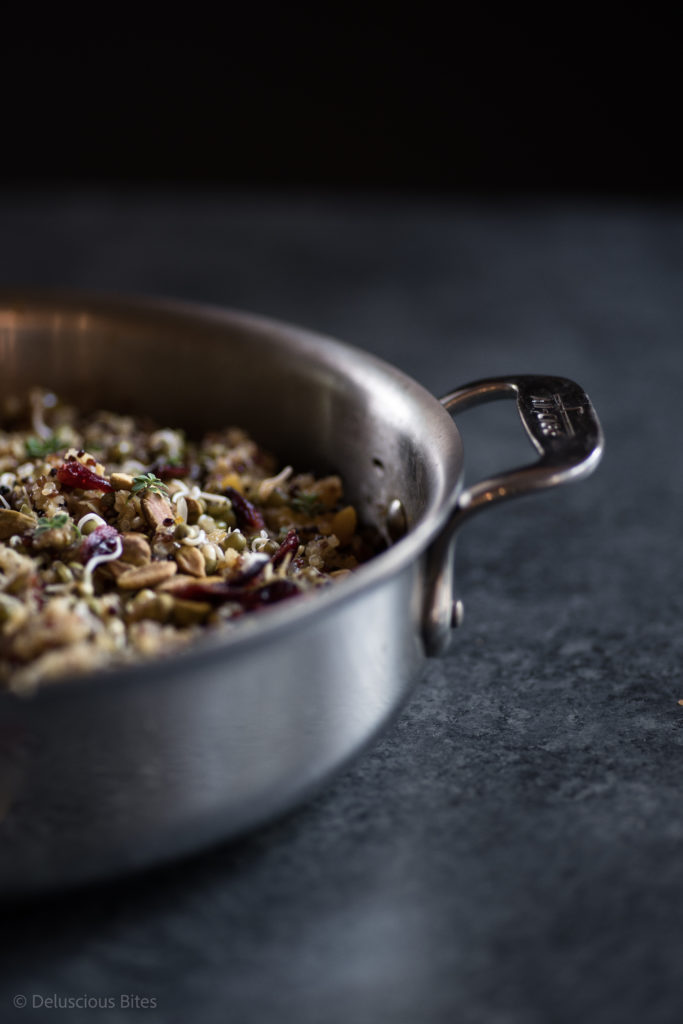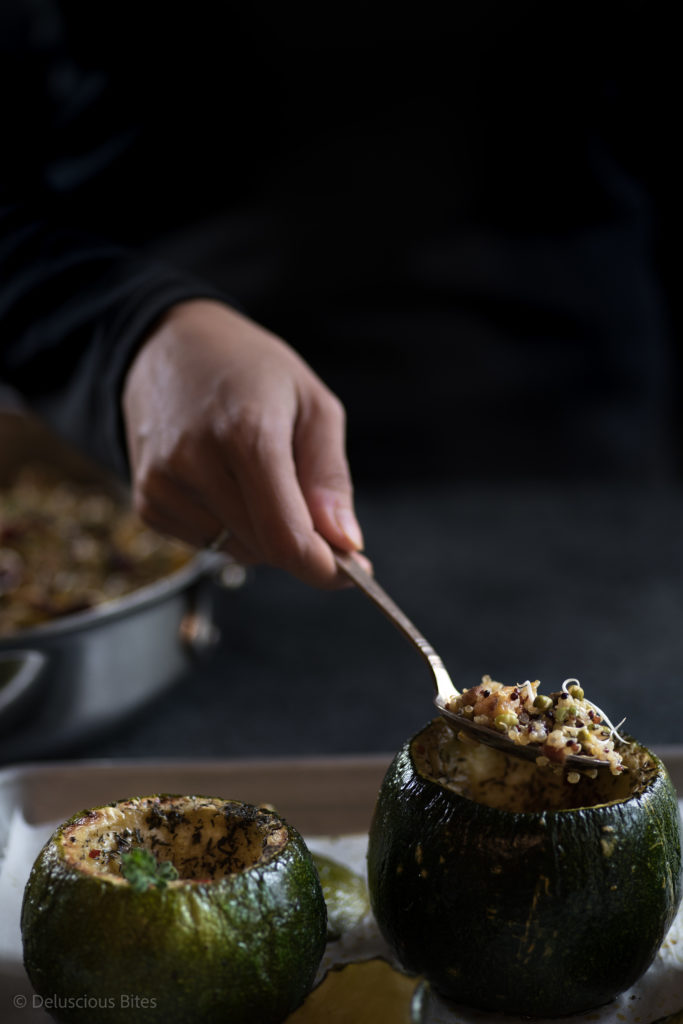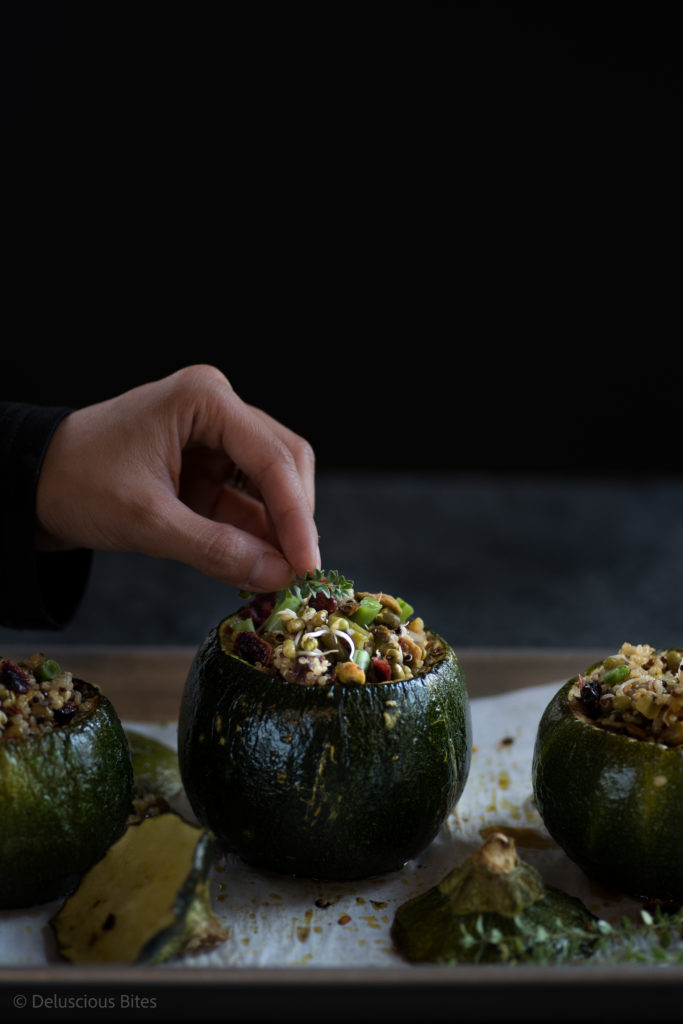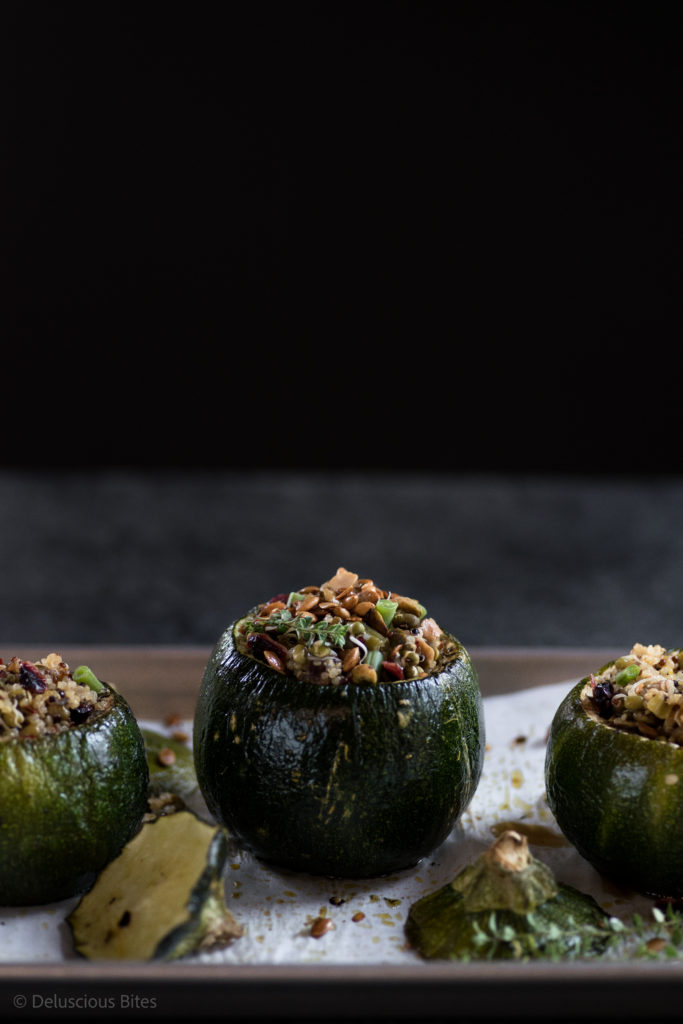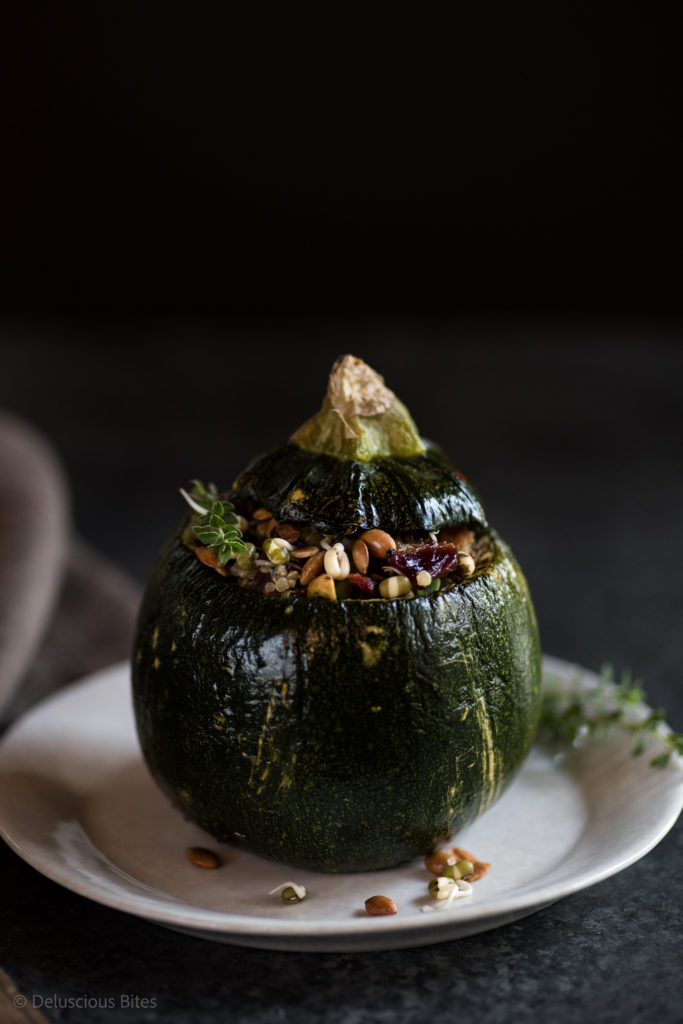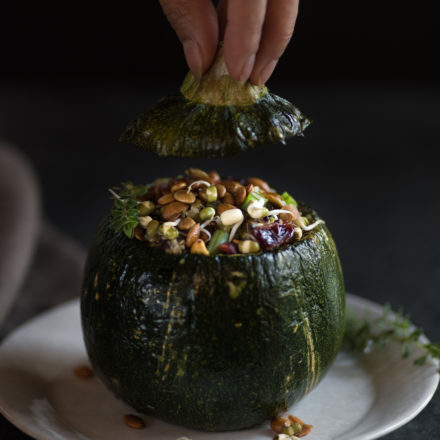 Stuffed zucchini quinoa pilaf
2017-09-15 13:52:09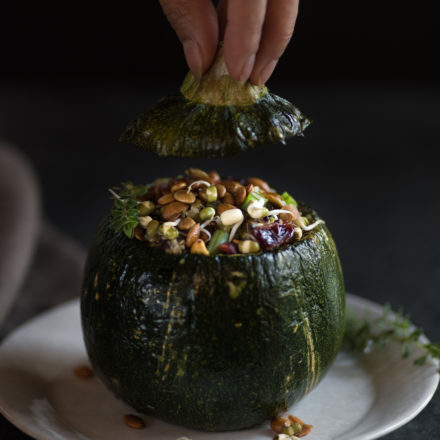 Ingredients
5-6 round Zucchini
quinoa
1 tsp grated Garlic
1/3 cup onion, chopped
1/3 green onion, chopped
1/3 cup green beans, chopped
zucchini
1-2 green chilli (optional)
4-5 bay leaves
1/2 tbsp dried thyme
1/3 cup pistachios
1/3 cup almonds
1/3 cup dried apricots
1.3 cup dried cranberries
1 tbsp orange zest
1/3 cup fresh orange juice
saffron, soaked in 1 tbsp water
chili flakes
black pepper crushed
salt
vegetable stock
Instructions
Preheat the oven at 375 degrees.
Cut the top off the zucchini and carefully scoop out the flesh.
Brush inside out the hollow zucchini with oil and season with salt, pepper and chili flakes. Sprinkle dried thyme or you could throw in fresh thyme sprigs in it.
Bake it for 20 minutes until tender but still firm.
Meanwhile make the Pilaf.
Rinse the quinoa well and strain the water. keep it aside.
Heat oil in a pan.
Add garlic, green chili, chopped red onions and beans. Saute for 4-5 minutes until onions start to get translucent.
Add green onions, bay leaves, apricots, cranberries, and nuts.
Saute for 2-3 minutes and season with salt, pepper and chili flakes.
Add the rinsed quinoa, orange zest and saute for 1 minute on medium.
Add the orange juice and vegetable stock. Mix everything and bring to boil.
Cover and cook on low for 15-20 minutes until the water is absorbed.
Add the saffron strands along with its water. Mix well and cook for 30 more seconds till water is all absorbed.
Take off the heat and add the sprouts.
Cover and let sit for 10-12 minutes. The sprouts will get tender in the steam.
Mix well and fill the baked Zucchini with this Pilaf. Sprinkle roasted pumpkin seeds and some thyme. Serve Hot.
Notes
To roast pumpkin seeds - Preheat the oven at 375 degrees and spread the seeds on a parchement lined baking pan. Drizzle oil and roast in the oven for 5-7 minutes, checking every 2 minutes to avoid over roasting. Sprinkle salt and any herb you like when its still very hot.
Deluscious Bites ™ http://delusciousbites.com/