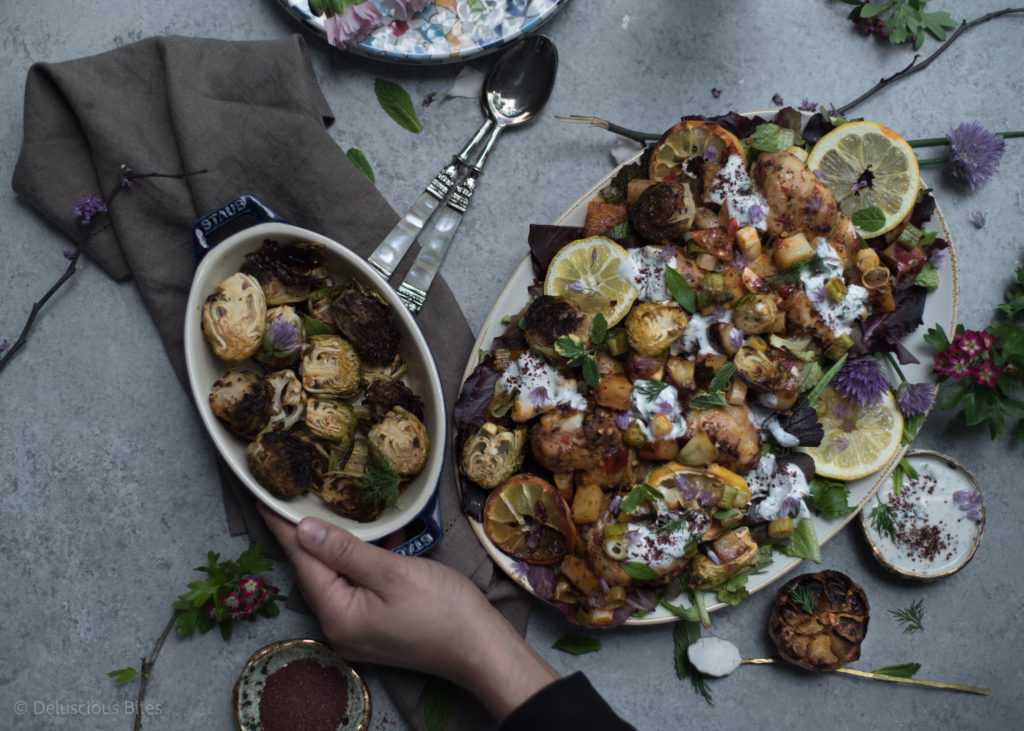 Summer is here, everyone! I think June is the best part of summer, when everything magical starts to happen: the bright yellow rays of sun create a beautiful gold effect on the lush, green grass; the world suddenly starts to smell of sweet florals and freshly cut lawns; the birds' chirping almost never stops; and it feels like there is new life giving birth to bright and beautiful colors. It just feels so perfect. It seems like it went from winter to summer in the blink of an eye, and I am loving this fresh, new world! Now that the days are long, I love to serve dinner outdoors and dine amongst nature. I like a bit of heat and spice in my summer meals – spicy food actually helps cool you down! One of my favorite summertime spices is harissa: a flavorful pepper paste that comes from North Africa. It amps up the flavor of any meal, and is perfect with chicken.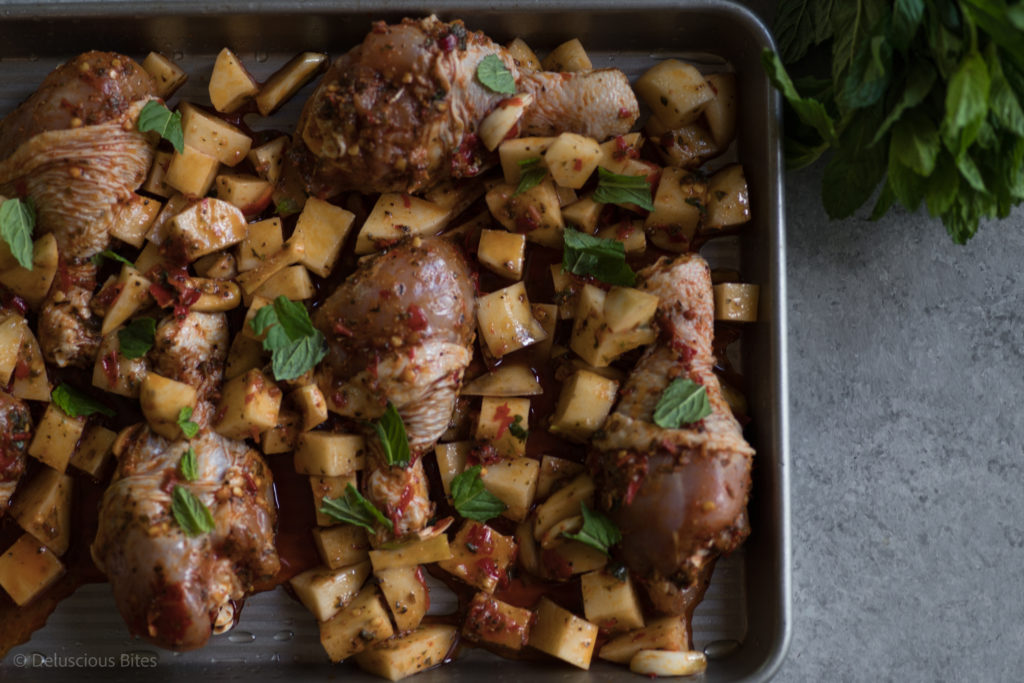 I don't love the rain much, but the plants sure do! With all the rain and sunshine, my garden has never looked better. I've been really working on the yard and learning about plants lately. It's been fun so far, and it's always a pleasure to start plants from seeds and watch them grow. I never expected summer could be so busy, but it feels like it's almost flying by! I'm glad, though, that at last the days are longer. I must confess: with all the busy days so far, I have not been cooking much. Instead, I have been cooking big batches or prep cooking ahead of time, and enjoying some new summer projects which I haven't ever done before!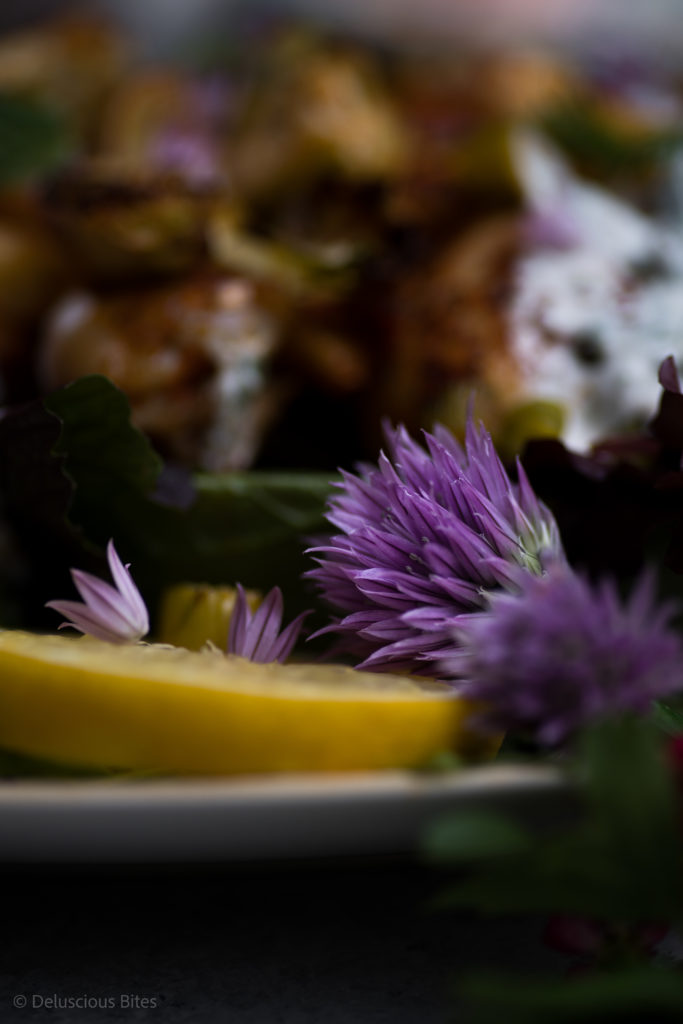 A few weeks ago I got a new cookbook: "Dinner: Changing the Game" by Melissa Clark. I decided to experiment with some dishes from that – it's such a wonderful book with amazing recipes. The Harissa Chicken is adapted from that book… of course, with a few tweaks and variations. 😉 If you know me, you probably know that Harissa is an all time favorite for me and hubby. The recipe didn't call for brussel sprouts, but let me tell you: brussel sprouts cooked in harissa with chicken is an *amazing* combination, so why not! The spices give incredible depth to this meal: smoky flavor from roasted cumin powder, earthy and robust tones from oregano, and refreshing flavor from lemon mint, lemon zest, and lemon slices. This dish is served with yogurt, but instead of grating raw garlic in the yogurt, I prefer roasting the garlic head separately to serve it with the chicken. The soft, caramelized garlic with yogurt sauce and chicken is super delicious. This is the perfect one-pan meal for big gatherings or weeknight dinners. It's so yummy, and all the fresh herbs make it so summer-y. It has become one of my favorites, and I hope you enjoy this dish too!
With the smokey, bold flavors, this would also be a great meal to impress dad for Father's Day! Have a great and wonderful summer, everyone!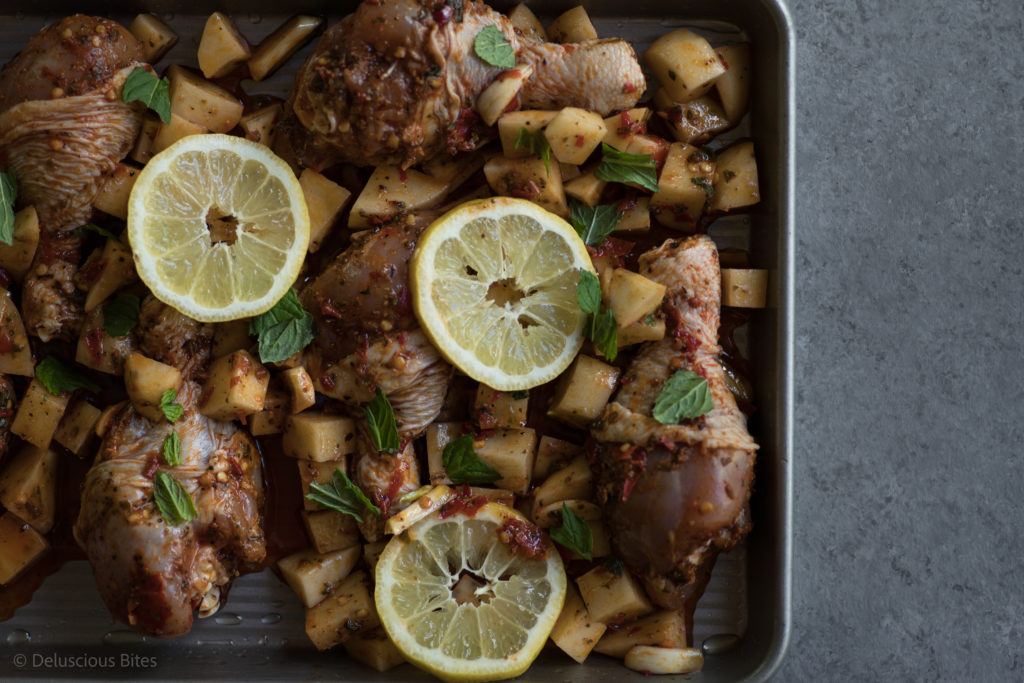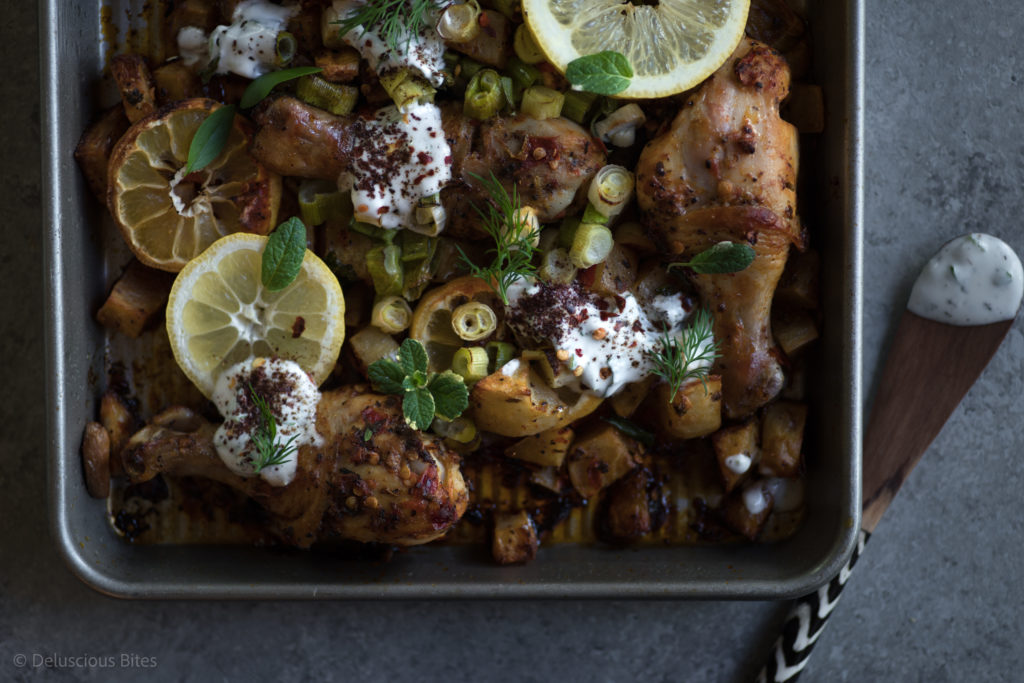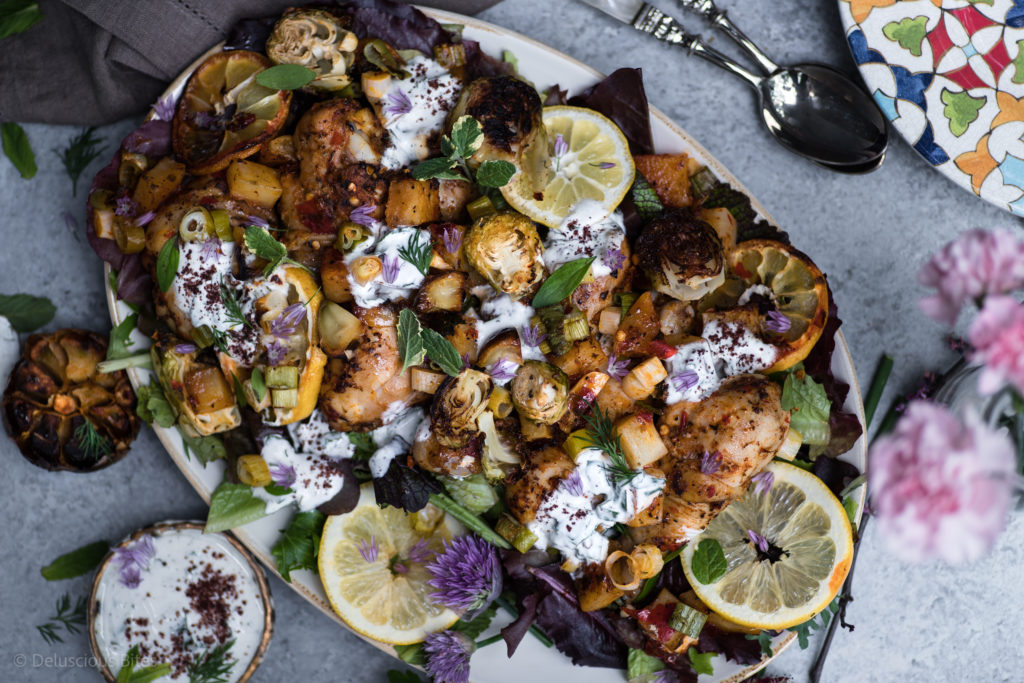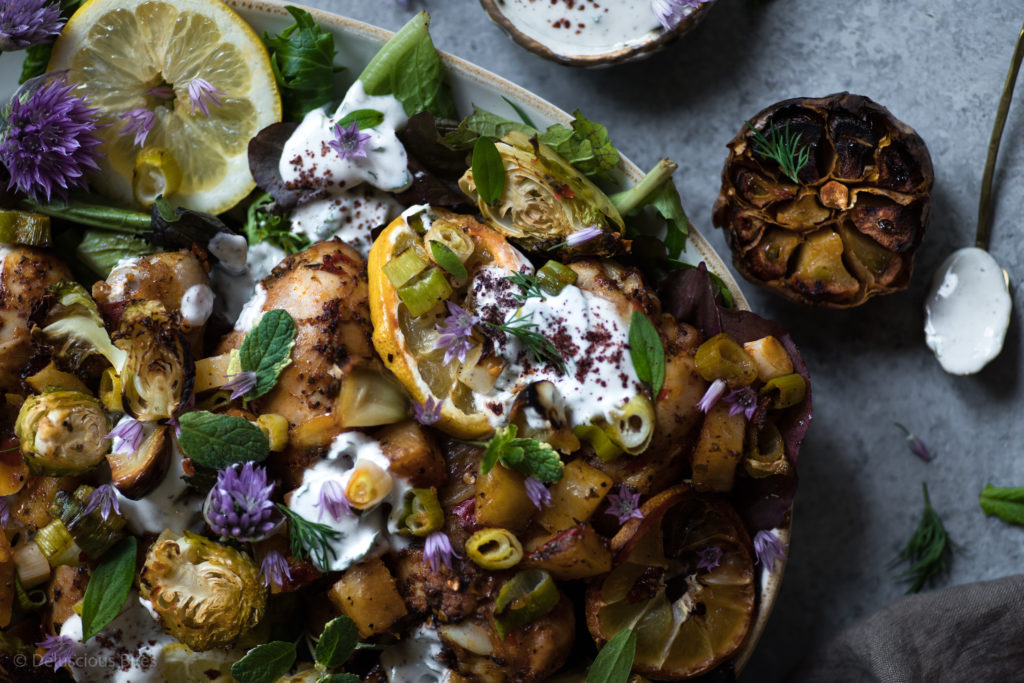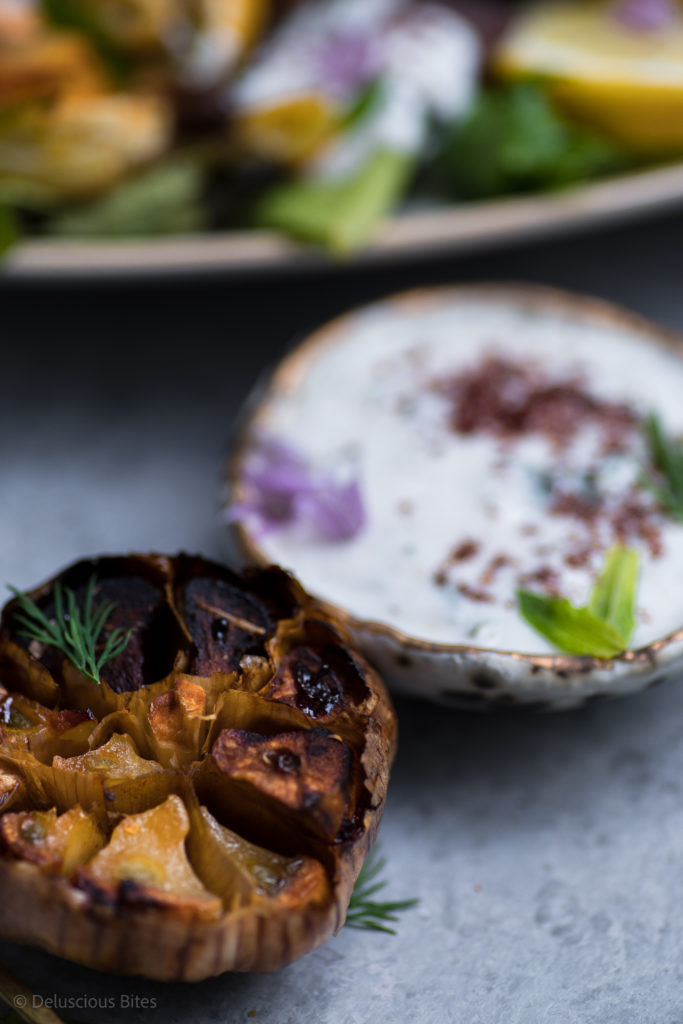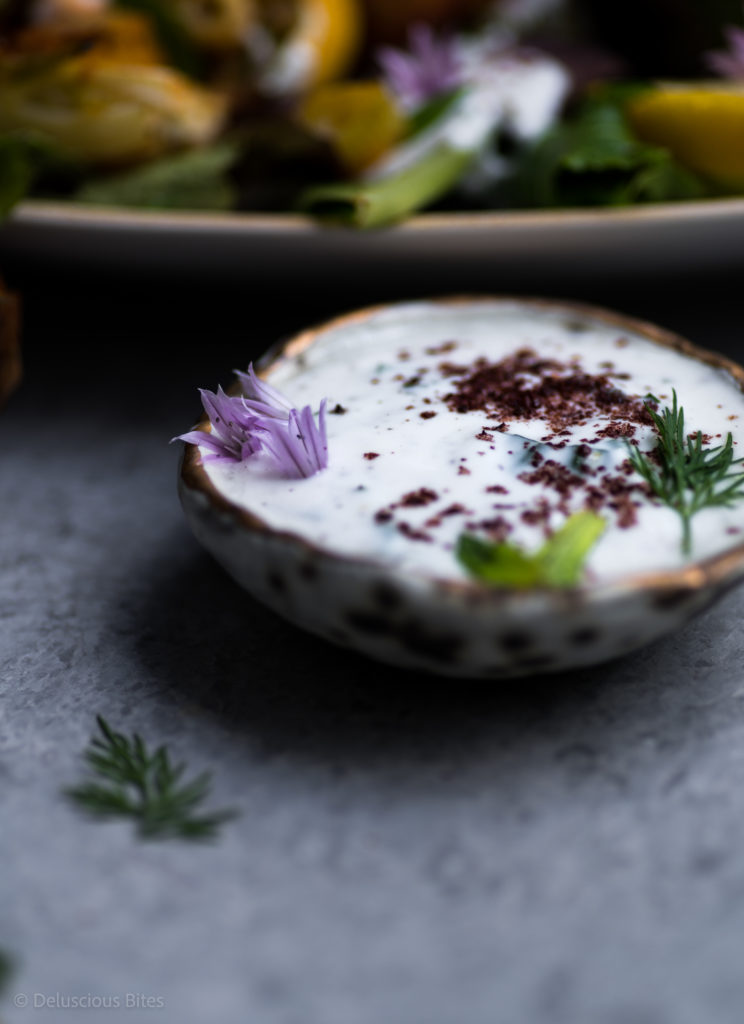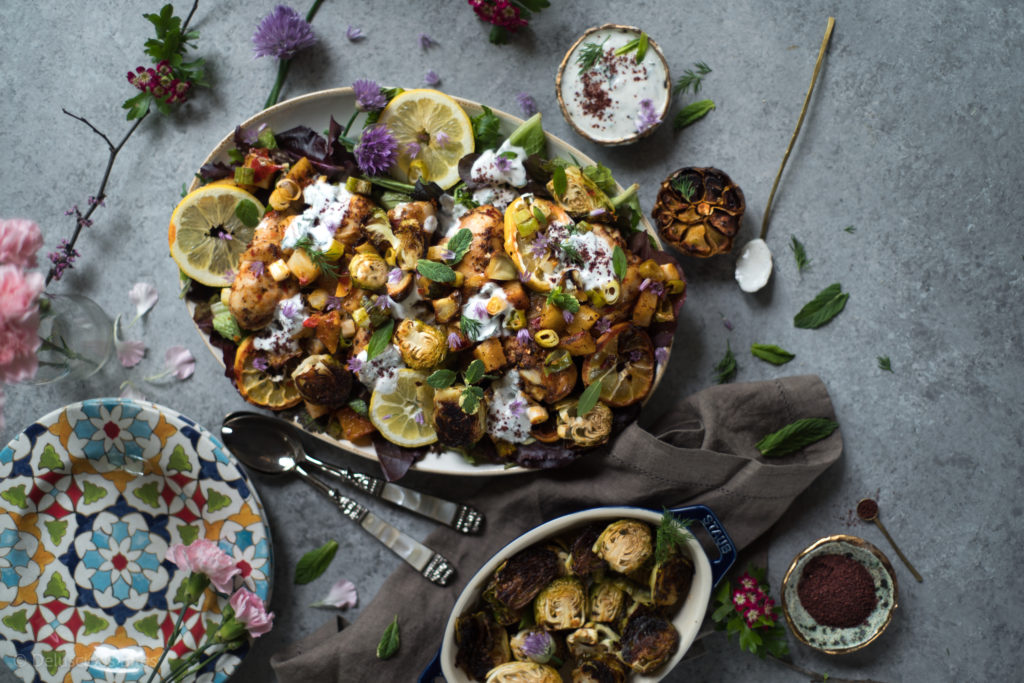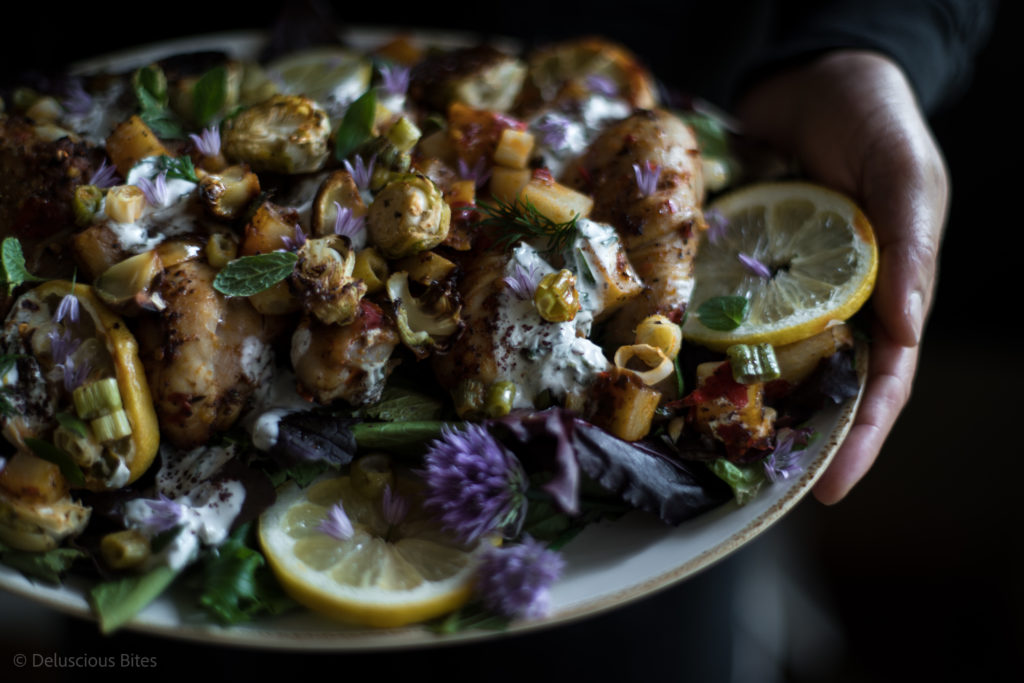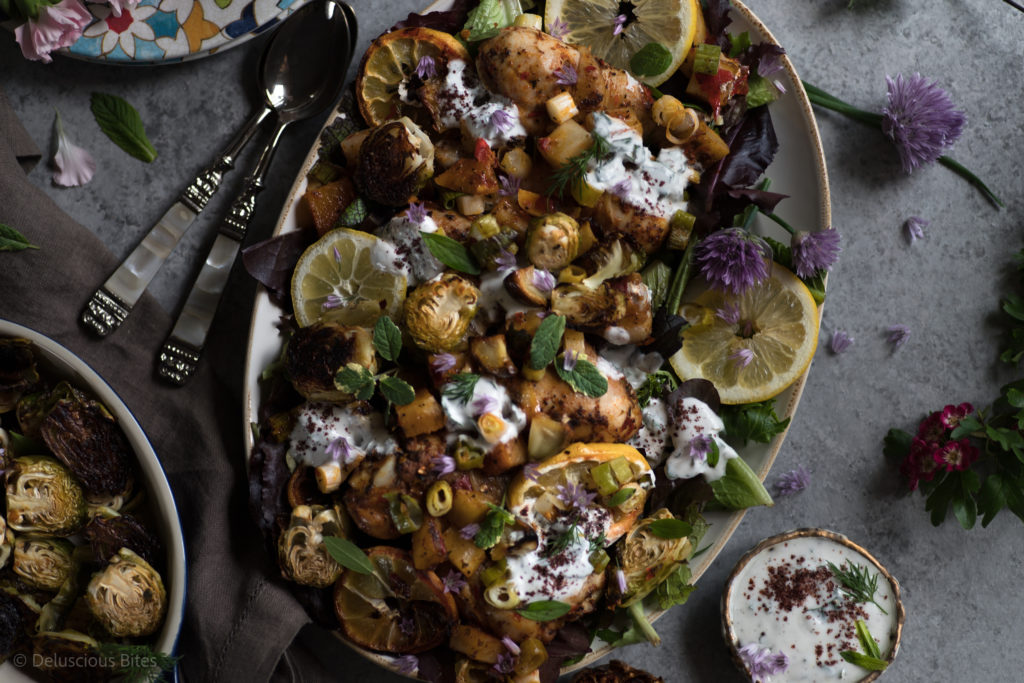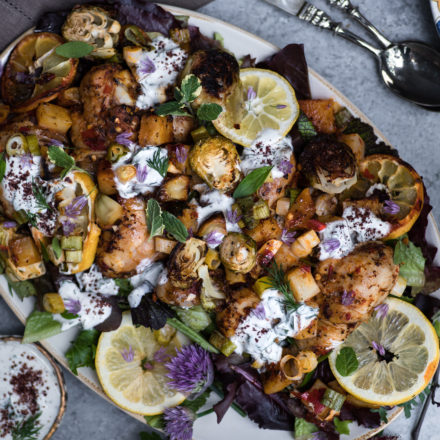 Harissa Chicken with Potatoes and Brussel Sprouts
2017-06-07 16:36:45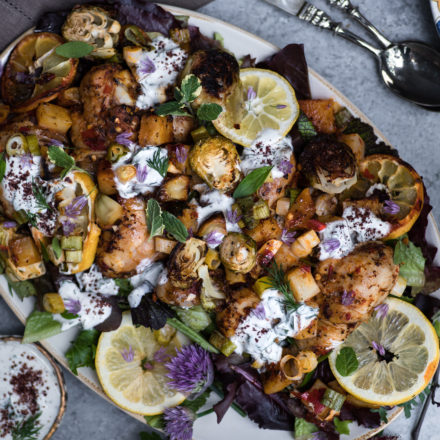 For Harissa Chicken
1 1/2 lb skin-on chicken drumsticks
1 1/4 lb potatoes, cubed (could use fingerling)
brussel sprouts
3-4 garlic cloves, sliced
2 1/2 tbsp harissa
1/2 tsp ground cumin
1/2 tsp roasted cumin powder
2-3 leeks
2 zest of lemon
1 lemon, thinly sliced
4 1/2 tbsp oil
2 tbsp fresh lemon mint, chopped (could use regular mint)
1 tbsp fresh oregano, chopped
1 tsp black pepper powder
salt to taste
1/3 - 1/2 cup greek yogurt (could use regular yogurt)
1 cup mixed fresh herbs (dill, mint, parsley)
roasted cumin powder for seasoning
lemon juice to taste
pink Himalayan salt to taste
sumac powder for seasoning
For Roasted Garlic
half cut garlic head
1/2 tbsp oil
For Harissa chicken
In a small bowl, whisk Harissa, 1/2 of the oil, lemon mint, oregano, zest of 1 lemon, cumin powder, salt, and pepper.
Combine chicken, potatoes, and brussel sprouts, and pour into the marinade.
Let stand for at least 30-40 minutes (I prefer overnight)
Meanwhile, in a separate bowl, combine leeks, rest of the zest, salt, and pepper.
Heat the oven to 425°F.
Arrange chicken, potatoes, garlic cloves, and brussel sprouts in a single layer on a half sheet pan. Add the lemon slices.
Bake for 25-30 minutes.
Toss the potatoes slightly, turn the chicken and scatter the leeks over the baking sheet.
Bake for another 20-25 minutes until the chicken is done.
Meanwhile, prepare the yogurt sauce by combining yogurt, herbs, pink salt, roasted cumin, pepper powder, and lemon juice. Whisk to make a sauce.
Spoon the yogurt sauce on top of the chicken, sprinkle sumac, and drizzle some lemon juice.
Serve hot either on the sheet pan or on a serving dish over green salad mix along with the roasted garlic head.
Roasted Garlic
Drizzle oil on the garlic head and cover it tightly with aluminum foil.
Place it in the oven along with the chicken pan and bake at 425°F for 30-40 minutes until the garlic softens.
Notes
You can use any herbs you like.
Instead of roasting the garlic, you can also grate raw garlic in the yogurt.
Deluscious Bites ™ http://delusciousbites.com/