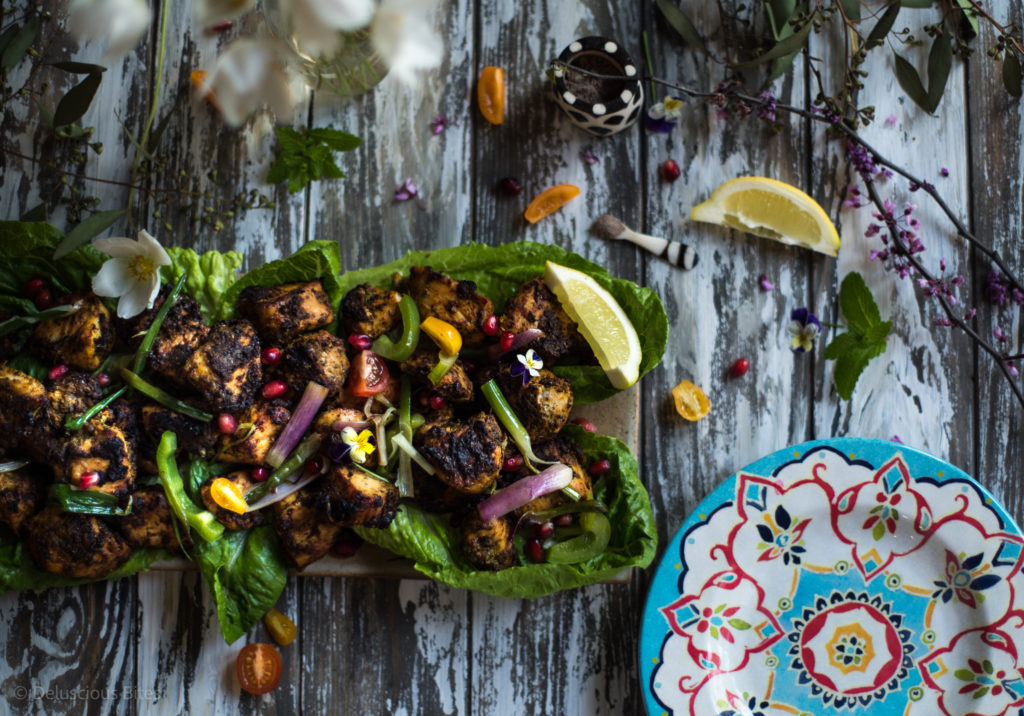 I know the days are getting longer as we get closer to summer, but sometimes I wish they would actually get longer… I need at least 36 hours in a day, lol! I have been so behind in writing posts and publishing them, even after I have the recipe all done. It feels like I can't catch up! If you have been following me on Instagram, you probably know about my travels and the house stuff I have going on! First, the fun part: I went to Chicago few weeks ago on vacation, and then traveled again for my husband's work (which, okay, was not quite as much fun). I am in love with Chicago! Super windy, but amazing food. I think after Southern California, Chicago is my next favorite city in the country. It has everything I need: amazing food and awesome shopping! (Did I say shopping? 😀 Shhhhh!!! Don't tell my husband!) When I got back home, I was so happy to be able to pull chicken tikka from my freezer so that I didn't have to cook that night!
When I travel this much and come back home, I don't usually feel like doing much for a few days – I don't even unpack. Yep, you heard me – I need a few days to unwind once I get home, and I take a break even from cooking. ? That's why I'm such a big fan of freezing food: for those lazy, tired days. Chicken tikka is one of my favorite meals to freeze. Even though I come from a vegetarian family, I loved eating chicken tikka whenever we went out. I mean who doesn't like tikkas in India? Its one of the most popular appetizers back home, especially in the northern part, where I'm from.My mom was not always vegetarian. She turned vegetarian after a few years of marriage because my paternal grandparents were strictly vegetarian. So I always only ever ate meats/poultry outside the home. My mom likes to tease me and share funny childhood stories about me, and she loves to tell the story that the first word I ever spoke was: chicken! ? NO KIDDING!!! Also, apparently I loved to chew and suck on chicken drumstick bones. ? She will also tell you that even though she fed me vegetarian meals, as a young kid I would always say it tasted like chicken! ? So clearly I loved chicken! Even though I've always loved chicken, I still usually prefer cooking and eating vegetarian meals – but this chicken tikka is an exception!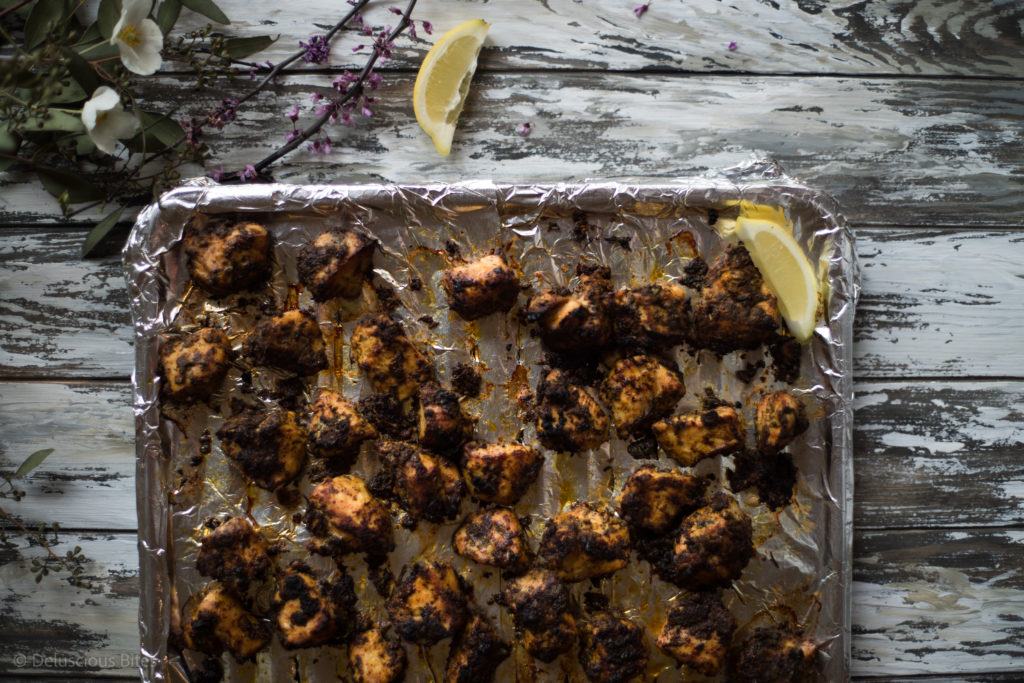 I started cooking with meats and poultry – in fact, all non-vegetarian meals – only after moving to the States. Initially, I used store-bought spice blends to marinate chicken and other meats; it worked great and some of them are really good. But the freshness that comes out from home made marinades is something that store-bought marinade mixes cannot replace. I am so comfortable when it comes to pastries and all baking stuff, but with savory cooking – and especially non-vegetarian cooking – I have to really take my time. Sometimes I wish I had taken a butchering class along with my pastry classes! All the different cuts just confuse me. Maybe someday, when the days are 36hrs instead of 24hrs…! 😉
I have been working for a long time on the proportions for this chicken tikka marinade, and finally I'm spot on with the flavors! My husband, who has a very strong Indian palate, likes bold flavors and has very high expectations knowing that his wife went to pastry school. 😉 He can be a serious critic (not that I'm bitter or anything…?). So when he said that he loved this chicken tikka, it really made my day! Ah! Finally the proportions of the marinade worked just perfectly! I used greek yogurt to marinate just because it's a little more tart than usual yogurt, and way thicker. I have tried with 3 different kinds of yogurt, and below is the brief explanation with each kind:
Regular Yogurt: Regular yogurt leaves lot of water, so the marinade doesn't really stick on the chicken. Especially if making tikkas in the oven, the tikka end up feeling like they have been cooked in too much liquid.
Hung Yogurt: Hung yogurt works great and is very close to the greek yogurt texture. You can leave it on the counter for few hours so it gets little tart like greek yogurt. The only disadvantage is that you have to plan ahead of time to use this yogurt.
Greek yogurt: Greek yogurt is by far my favorite for marinating: it's thick and tart and works perfectly.
You can really use any yogurt depending on what you prefer and what you have. These tikkas can be served with green mint chutney as an appetizer, or you could slice them up and add in your salads for protein. I sometimes just like it with sautéed onions on top of rice/quinoa for a quick and easy meal. These tikkas are perfect if you grill them, but since I dont have an outside grill yet in my new home, I cook them in oven and they're still perfectly done. These would also be great for BBQ parties – people really enjoy tikkas with beer! ?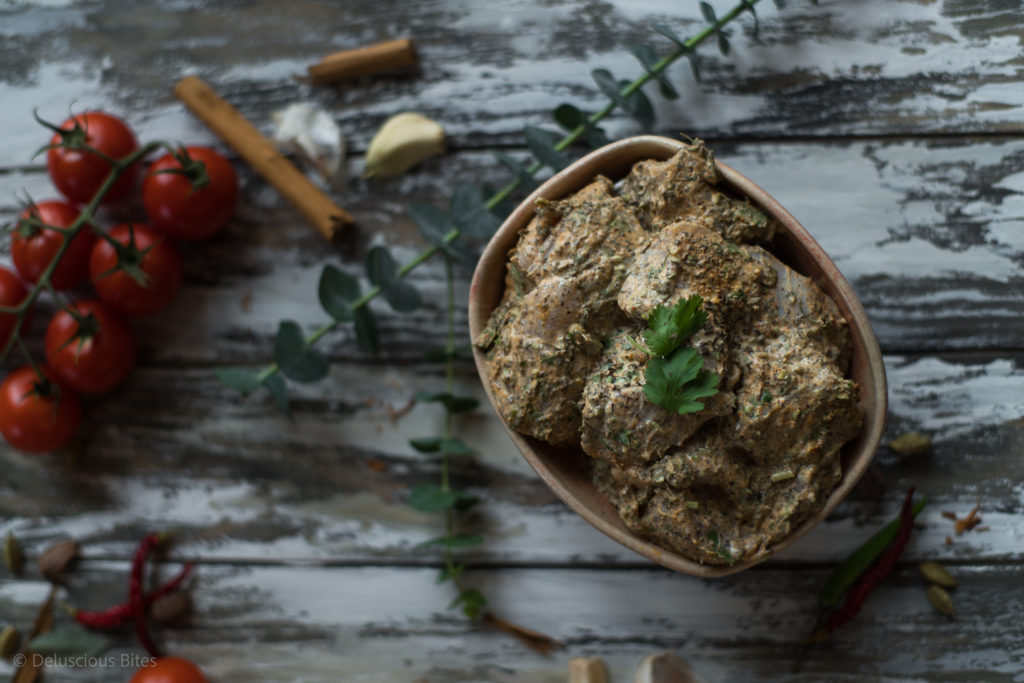 I hope you all enjoy this dish and do let me know when you make them! Don't forget to tag #delusciousbites to show off your creations. Have an amazing weekend and enjoy!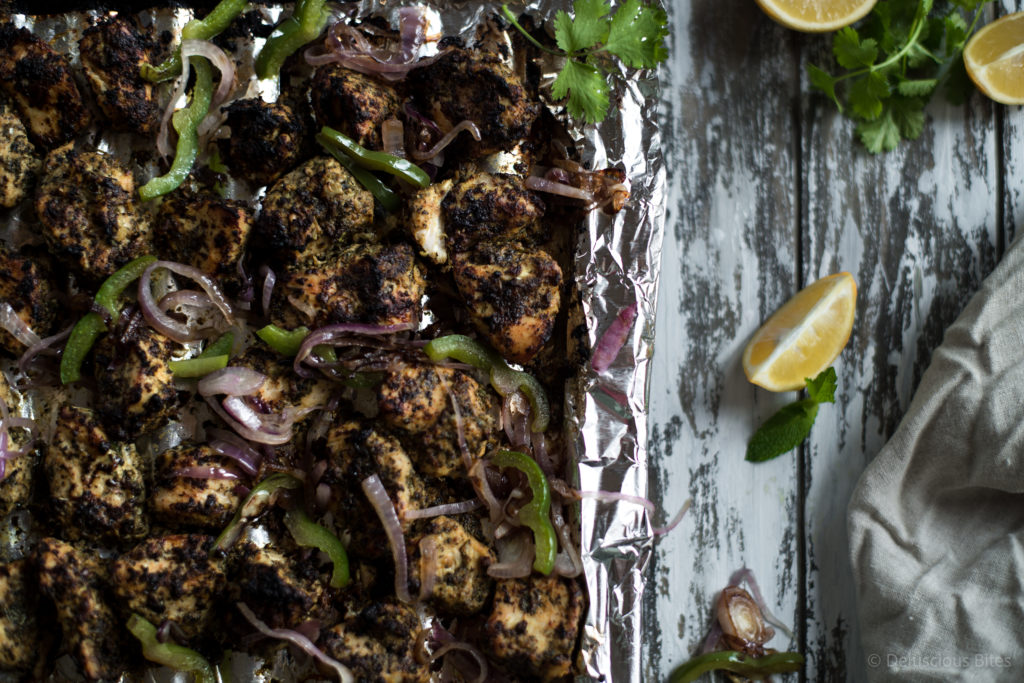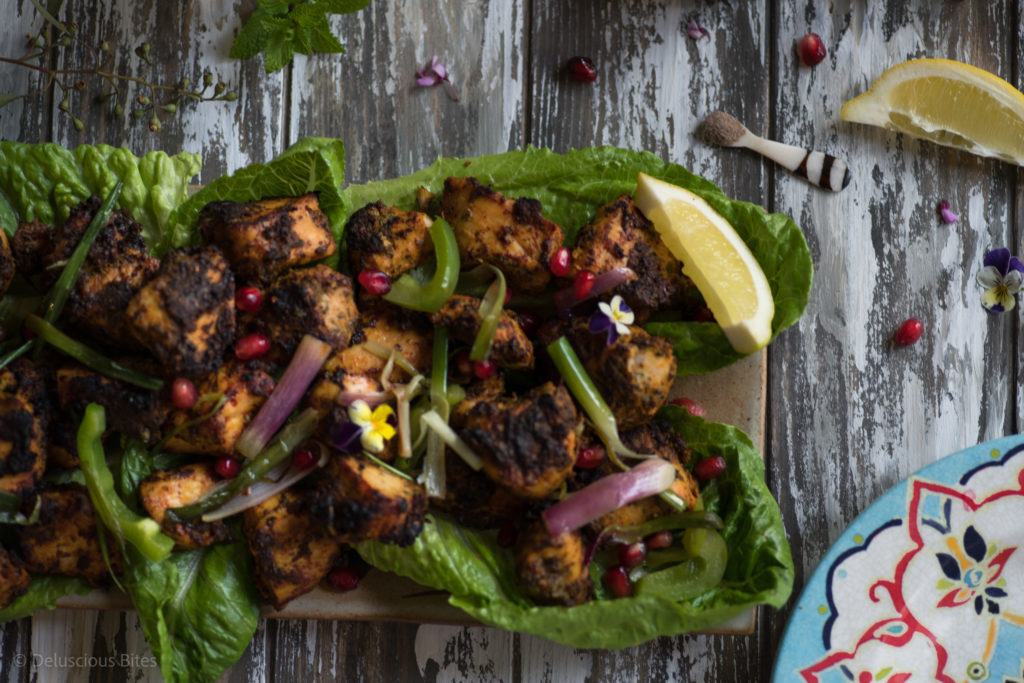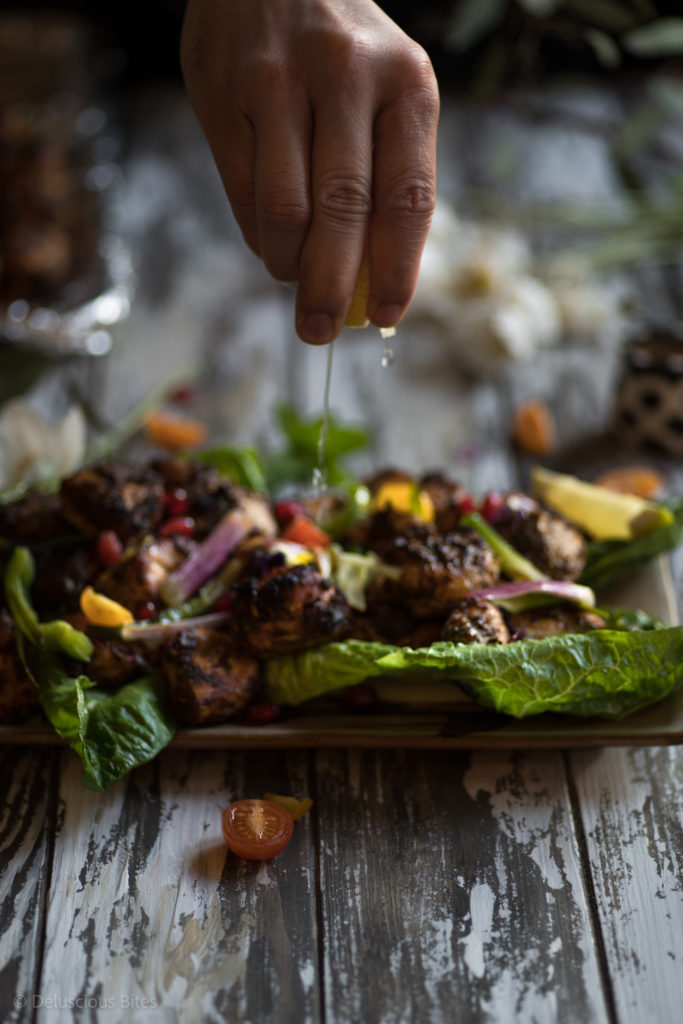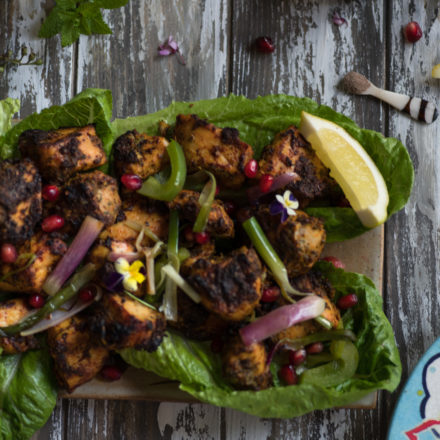 Chicken Tikka
2017-05-20 12:10:07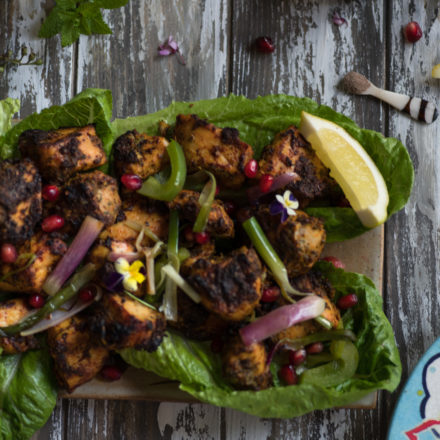 Ingredients
1 kg (approx. 2.5lbs) chicken breast, cut into cubes
150 grams yogurt
1 tbsp garlic puree
1 tbsp ginger puree/grated
2 tsp garam masala
2 tsp coriander powder
2 tsp cayenne pepper
1.5 tsp turmeric powder
1 tsp ginger powder
1 tsp cardamom powder
2 tbsp dry mint
2 tbsp dry fenugreek leaves
1/2 cup freshly chopped cilantro
1 tbsp lemon juice
1/8 cup oil + some extra for brushing
Chaat masala to sprinkle at the end
Instructions
In a large bowl, mix all ingredients except chicken, and whisk so that the spices blend well with the yogurt and there are no lumps.
Add the chicken in the marinade and mix well so the marinade is coasted well on the chicken pieces.
Refrigerate and let marinate for at least 3 hours (ideally overnight).
Heat the oven to 350 degrees.
On a wire rack, place a piece of lightly greased aluminum foil. Make a few holes in the foil for the liquid to escape, and put this rack over top of a pan to collect any liquid while cooking in the oven.
Place the chicken in a single layer on the prepared rack.
Place it the in oven and cook for 30-35 minutes, turning half way through and brushing with a little oil.
Broil for 2-3 minutes, turning halfway through, to get that charred smoky look.
Sprinkle on some chaat masala, add a squeeze of lemon juice, and serve hot with your favorite dip or chutney.
Deluscious Bites ™ http://delusciousbites.com/