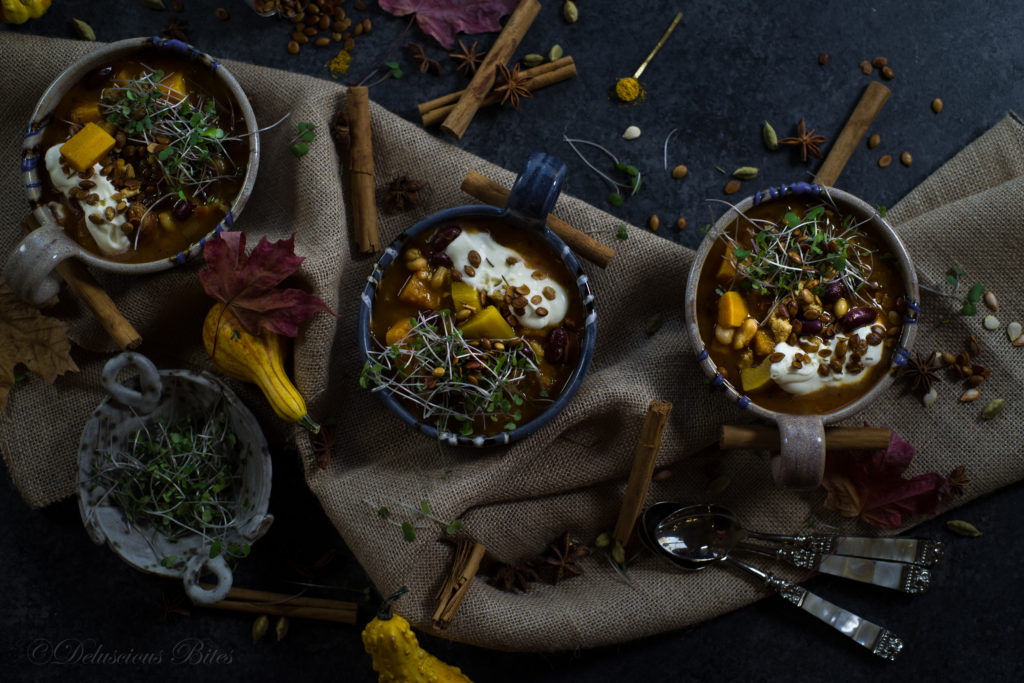 Hope you all had a wonderful Thanksgiving! It went by so quickly, at least for me! I am in the midst of remodelling our home, which is both a never-ending project and a huge emotional roller coaster! On top of that, I have been accompanying my husband as he travels for work – which is fantastic, but even a vacation is stressful when you know you'll be coming back to a mountain of work! Sometimes I feel overwhelmed, and there are days when I feel life has taken over and I'm trying to get caught up on everything. I have been so behind in editing photos, and with the holiday season coming up, things are only going to get busier! 🙂 But, I shouldn't complain – this is the season I wait for every year! Amidst chaos and deadlines and the year coming to an end, the absolute best part about autumn and winter is all the festivities!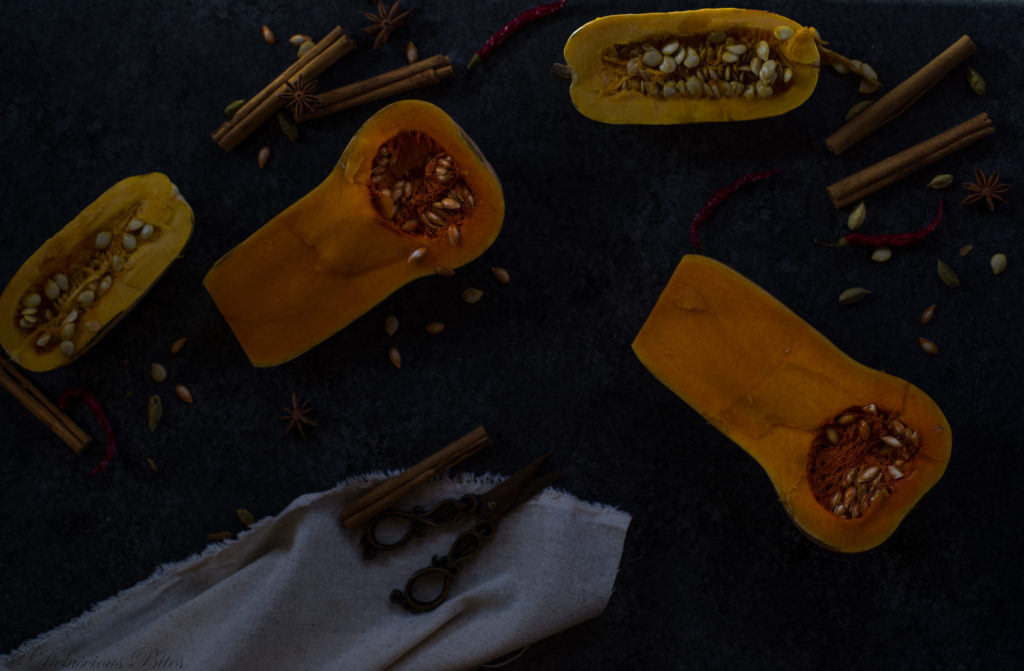 I can't believe it's going to be my first winter here in Minnesota – I am already so cold, and it's only December! I am hoping and praying it's a milder winter for us but, well, I know it's just not gonna happen. 😉 I miss the warm weather at times, even though autumn is one of my favorite seasons (until it starts to get cold and all the holidays are over!). We already had our first snowfall of the season, which has since melted and the ground has thawed again. That's the best way for it to snow… to look pretty for a day, and then go away!! A few days ago someone asked me how I felt about the snow. Well, my very obvious answer was: "Oh, snow is amazing, wonderful, and so magical… as long as I am watching it from my window. But it suddenly becomes awful and downright evil when I have to clean my driveway and car." 🙂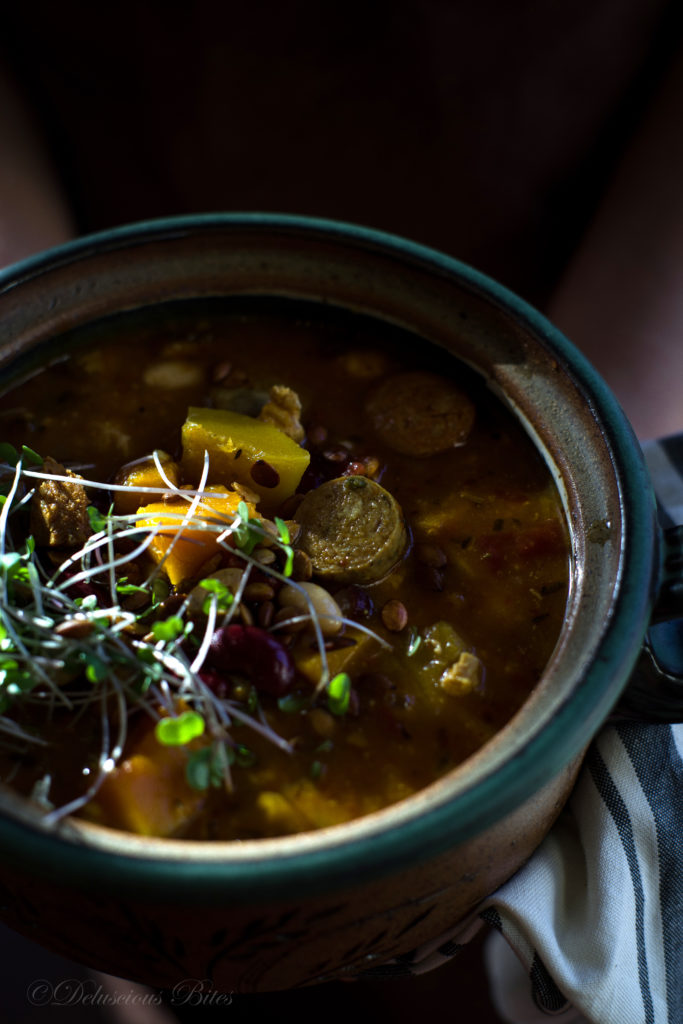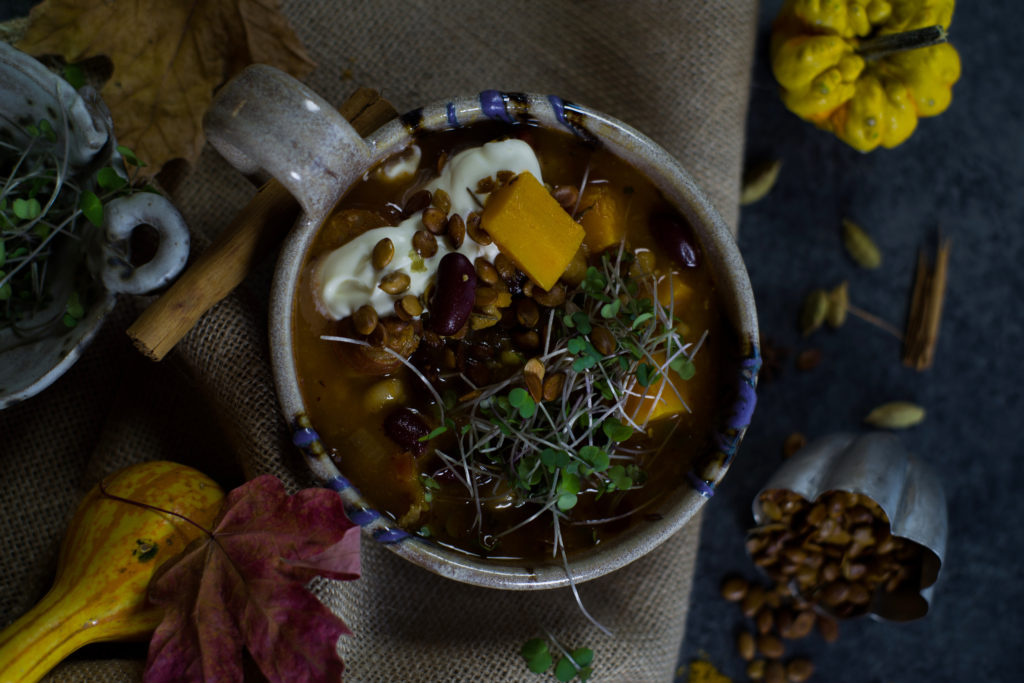 This is the season when I simply want to snuggle up in a blanket next to the fire, watching a nice movie, and drinking my favorite hot teas. 🙂 On the other hand, this is also the season to bake delicious treats and make quick, simple, and easy stews and soups for cold nights. I love all the colors and flavors this season has to offer. The grocery stores are filled with beautiful, brightly colored autumn vegetables – it's squash season, which means it's also stew season! When I start seeing nice green and orange squash in the stores, I know we're in the midst of autumn, and it's time to hunker down and get ready for winter.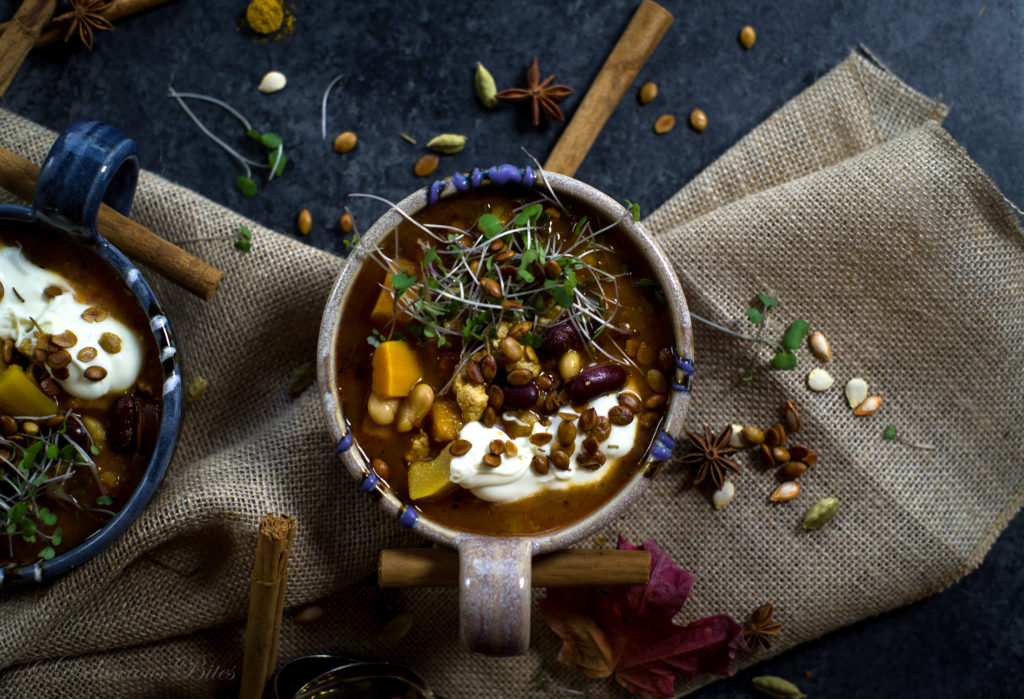 In October, I had the chance to go to New York for a food blogger retreat and food photography workshop. (Of course, I'm still working on editing the photos – remember how I said I was behind on everything? 😉 My write-up about it will be on the blog soon!) What an inspirational retreat! It completely motivated me to cook some comforting autumn dishes using the best this season has to offer, from sweet potatoes to squash. This autumn chili is inspired by the first meal we had at the retreat: a beautiful butternut squash chili. It's so creamy and delicious, and super easy to make. I had no idea about the recipe they used; all I knew was it had butternut squash, beans, and some sausage. With little flavor experimentation, it turned out amazing, and is currently my favorite autumn dinner! You cannot go wrong with this chili. To give a nice earthy and comforting flavor, I added my homemade curry powder – just a teaspoon goes a long way! The combination of delicata squash and butternut squash is so creamy and rich, and the perfect thing to keep you warm as these autumn nights transition into winter. I have always been a fan of butternut squash, but never cooked with delicata before. I was surprised by how creamy and sweet delicata squash is, and you could even bake it with the skin on! To make it even more festive for autumn, I roasted some pumpkin seeds with rosemary and olive oil to top the chili. Of course, you also have to add a dollop of crème fraîche (which is a type of French sour cream) before serving. If you haven't had crème fraîche before, you've gotta try it! You'll completely forget traditional sour cream – its that good. 😀 My favorite is from Vermont Creamery, but you can get it anywhere.
So, it's finally time for boots, scarves, gloves, and holiday treats. While you get busy with holiday preparations, make a big batch of this chili and freeze it to pull out on long, lazy, cold nights, or for your holiday party. Your guests are going to love it and so will you! 🙂 Have a wonderful holiday season, everyone!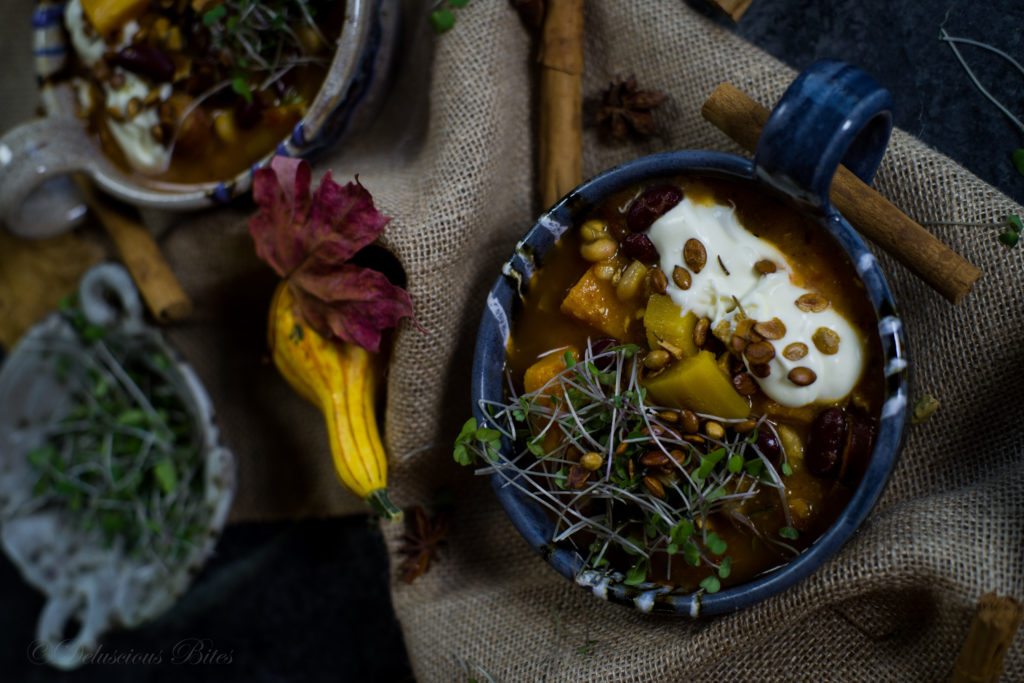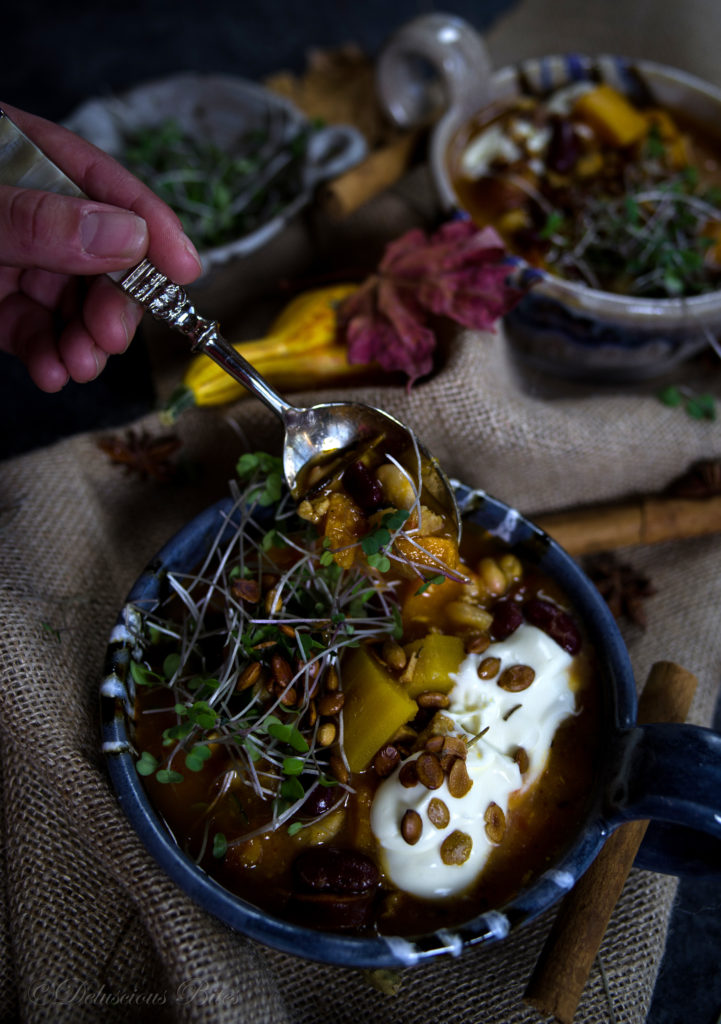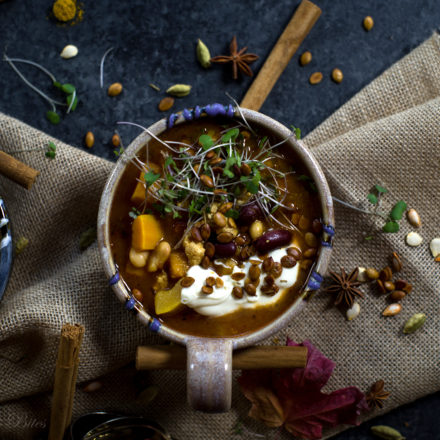 Festive Autumn Chili
2016-11-29 08:18:00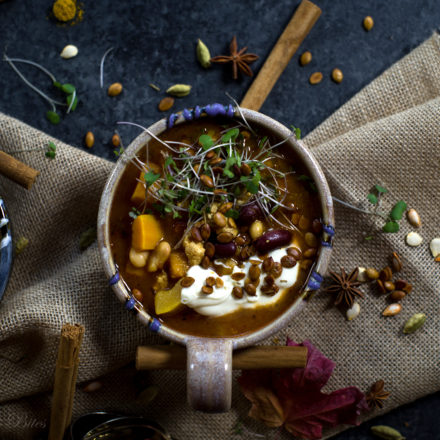 Serves 8
Ingredients
3 chicken andouille sausages (or any chicken sausage)
225 grams (1/2 lb) ground turkey or chicken
450 grams (1 lb) butternut squash, cubed
450 grams (1 lb) delicata squash, cubed
1350 ml (3 lb) chicken stock
2 shallots, chopped
2-3 garlic cloves, minced
1/4 cup pumpkin puree
2 tbsp tomato paste
1 1/2 tsp curry powder
1 1/2 tsp cumin powder
1 tsp chilli flakes
1/4 tsp cinnamon powder
1 inch cinnamon stick
2-3 bay leaf
2 cans cannellini beans
1 can kidney beans
Instructions
Cut the sausages into cubes.
Place the ground meat and sausage in the pan and cook until no longer pink. Add squash, shallots, garlic, tomato paste, spices and salt and cook for 2-3 minutes.
Add the pumpkin puree, bay leaf and cinnamon stick, along with chicken stock. After it starts to boil, cover and let simmer for 20-30 minutes until the squash starts to get tender.
Add the beans and cook for another 30-40 minutes. Remove from heat and let sit for 10 minutes before serving.
Serve with crème fraîche or sour cream and top with toasted pumpkin seeds.
Notes
Adjust the quantity accordingly. This can serve 6-10 people depending on if its a meal or just a side bowl.
Deluscious Bites ™ http://delusciousbites.com/