It was time to submit my final project after my internship in culinary school. I'd been getting straight A's, and I was confident this assignment would be no different. The result left me shocked, heartbroken, and confused. I had to talk to the chef about it and learn where things went wrong. Standing there in his office with my eyes wide open, I learned that food photography abilities were not enough to earn me an A. The discussion became an argument. Chef said I needed this skill – what if I became a food photographer and wanted to write about it? Really, food photography? Why the heck on earth will I do that? I thought. I answered him: I joined culinary school to learn to cook; not take photos.
Now, after these many years now when I look back, I understand what chef meant. What irony – I argued for almost 40 minutes in his office over photos, and here I am today blogging and writing about food – and trying my hand at food photography, trying to capture the cooking action to tell my story.
I waited almost 7 months for this table-sharing workshop hosted by Betty Liu and Meg Dubina. And it was worth the wait. The experience was beyond my wildest expectations and better than anything I could have asked for. I have been following Betty for over a year, and she has inspired me so much. It was an honor to have met her and Meg, and I feel so lucky. Their previous workshops looked so amazing that I had to do this one. And now I can't believe it's been almost four weeks already since I returned from the beautiful New England, the place I always call home.
Nervous, anxious, excited – all the mixed emotions were there before I arrived. Who would my roommate be and what would it be like? (And how would we share the bathrooms?) But all the worry and anxiety faded away as soon as I got there and met this amazing group of people. It was truly wonderful to see how different people from all over could have one thing in common – the love of food.
We were all so pampered there, with all the delicious meals prepared by Chef Patrick and his wife, as well as Betty, Meg and Alana. The food was so fresh and so flavorful. I could literally go on and on writing about my experience, but I will use the food photography skills I never thought I needed to tell the story. Hope you all enjoy!
We were welcomed with amazing gift bags and were served a delicious fresh fruit and cheese platter.
I fell in love with Chemex,waking up to delicious tea and pour-over coffee and ordered one for myself 🙂
I have never liked yogurt and granola with maple syrup for breakfast. You could say that I'm more of a savory breakfast person. But there was something about this perfect granola made by Meg, with fresh and not-so-sweet maple syrup by Phoebe – I enjoyed a sweet breakfast.
We all went to the beach to shoot in the harsh lighting – the whole set up was beautifully styled by Betty, Meg and Alana.
Fresh rhubarb and ramps were bought by Phoebe from her farm – Dirt Road farm. Everything we shot and ate was so fresh 🙂
They gave us tips on lighting and styling. Is there anything better than a cake to style and photograph? Below Betty modeled styling the cardamom hibiscus cake made by Meg.
Betty made the best miso soba noodles I had there. And these eggs were to die for.
We went to an oyster farm on one of the beautiful sunny afternoons and Jeremy from Searpoint Oysters fFrm (http://mvspearpoints.com/) showed us different stages of oyster harvesting. It was such a fun and informative trip. From seeding to caging to harvesting, I got to see it all. And of course, we got to bring a bag full of oysters with us. (Thanks to Betty, who actually kept shucking while we ate non-stop!) I also got a great lesson at the workshop – I can finally shuck oysters. Thanks to Chef Patrick, who taught me so beautifully. These oysters were super delicious. I also held a live lobster for the first time – I never would have thought I could do that. Just before we left, Chef Patrick spotted fresh wakame seaweed, which, of course, he collected for our seaweed salad. All the food was so fresh there.


Below is the seafood bucket with 25-pound striped bass, which was our dinner one night. Seeing this again makes me hungry. 😉
One of the mornings we were teamed in pairs and were to create our own breakfast vignettes. I thought that was the most fun way to test our skills. The most interesting thing was that everyone took similar shots but the outcome was so different. The angle and the light changes the whole interpretation and makes the photo completely different.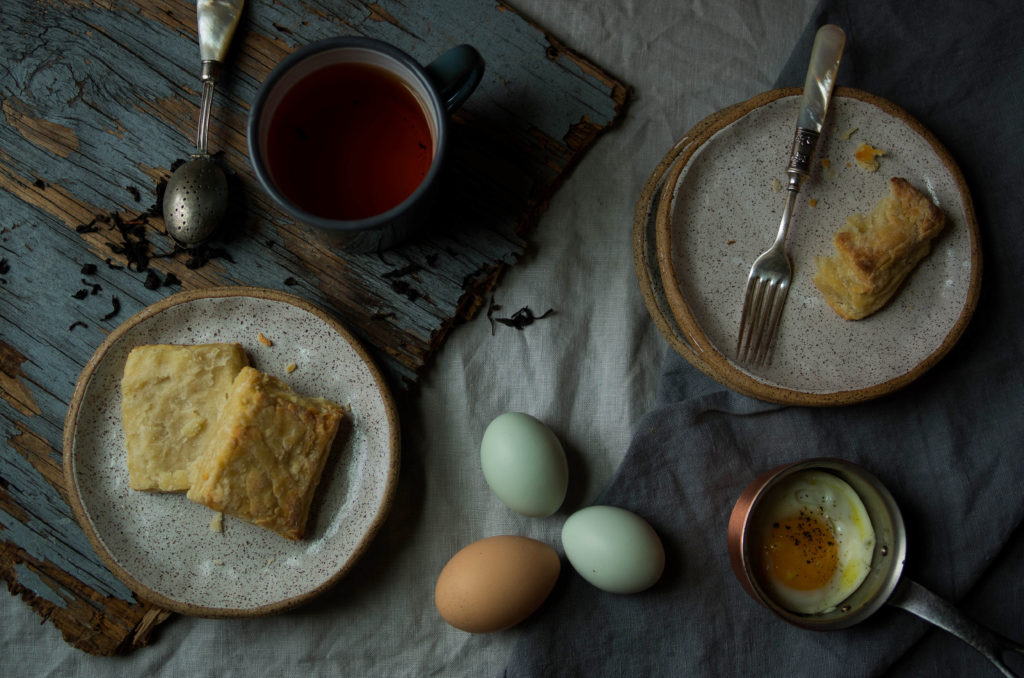 While everyone was busy with their breakfast vignette shoot, Alana made delicious baked eggs and chef Patrick made amazing lobster and conk civeche.
And ofcourse we all started with cheese and had to end with cheese 🙂
We shot, we ate, we drank, we laughed and even had tarot cards read by Paola. Most importantly had so much fun. I am so glad I did this workshop. Spending time with such amazing and talented people whom I only followed, inspired me so much. One thing I realized is to do workshops like these at-least once a year and be connected with blogging world and also keep doing what I really enjoy and love is to cook, capture and share the stories with the world.