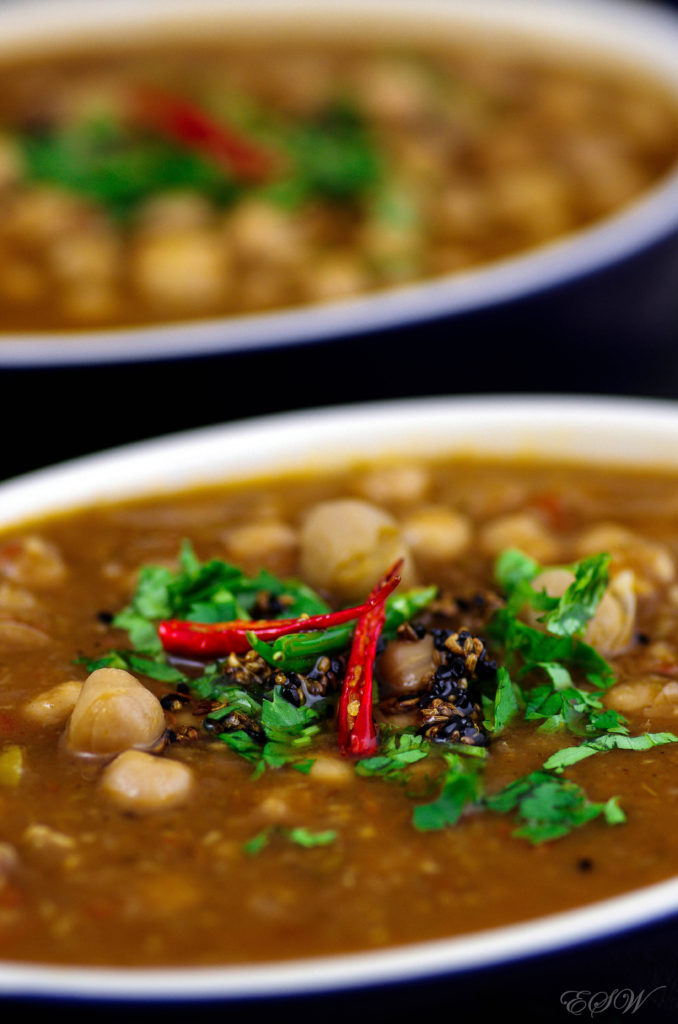 I think everyone has times when they feel lonely or down or homesick and just crave a simple homecooked meal of their mother's cooking. Lately, I've been missing my mom's cooking. My mouth has been watering for one of my all time favourites from her repertoire – her garbanzo/chickpea curry, called Cholle at home. A hearty bowl of legumes cooked with love by my mother can always comfort me, no matter what is going on.
Living in the U.S., I hear from a lot of people that Indian dishes are intimidating to prepare because of the number of ingredients used. Even being Indian myself, I'm sometimes overwhelmed when I face a recipe calling for different ranges of spices depending on which part of India the recipe is from. But the reward for facing down long ingredients lists is the warm flavour and depth that all these spices create in Indian dishes.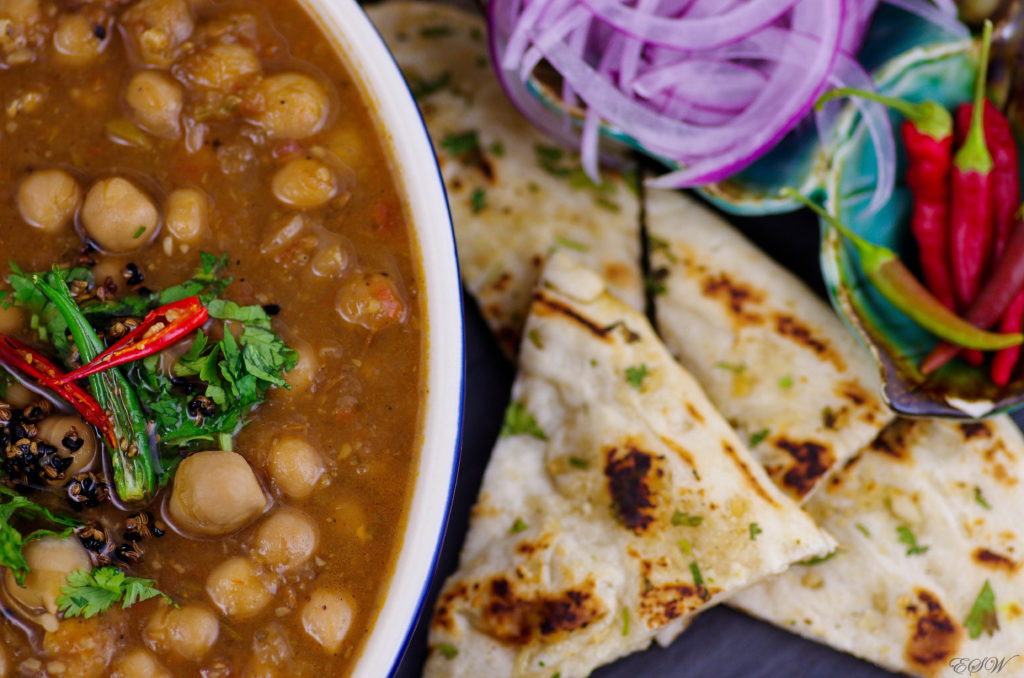 Since I've been craving my mother's chickpea curry, and I am too far away from her to ask her to make me some, I've been recreating her recipes myself. Chickpeas fascinate me. This simple legume goes by different names around the world, and is eaten in so many different forms – chickpeas, garbanzo beans, kabuli chana, cholle and Egyptian peas are all variations on this round little legumes. Growing up, we ate two different kinds of chickpea curry – a thin one over rice, and a thicker one that we ate with fried flat breads, or naans.
Cooking from my mom's recipes now brings back my childhood memories and lets me feel close to my family in India, even though I'm far from home. My mom also makes me spice blends at home and sends them to me, but most southeast Asian stores will stock a spice for chickpea curry called chana masala. The recipe that I'm sharing with you today can be made without that by adding different spices. Whether or not you're from India, you'll find this curry to be a comforting hug to help you through a tough day.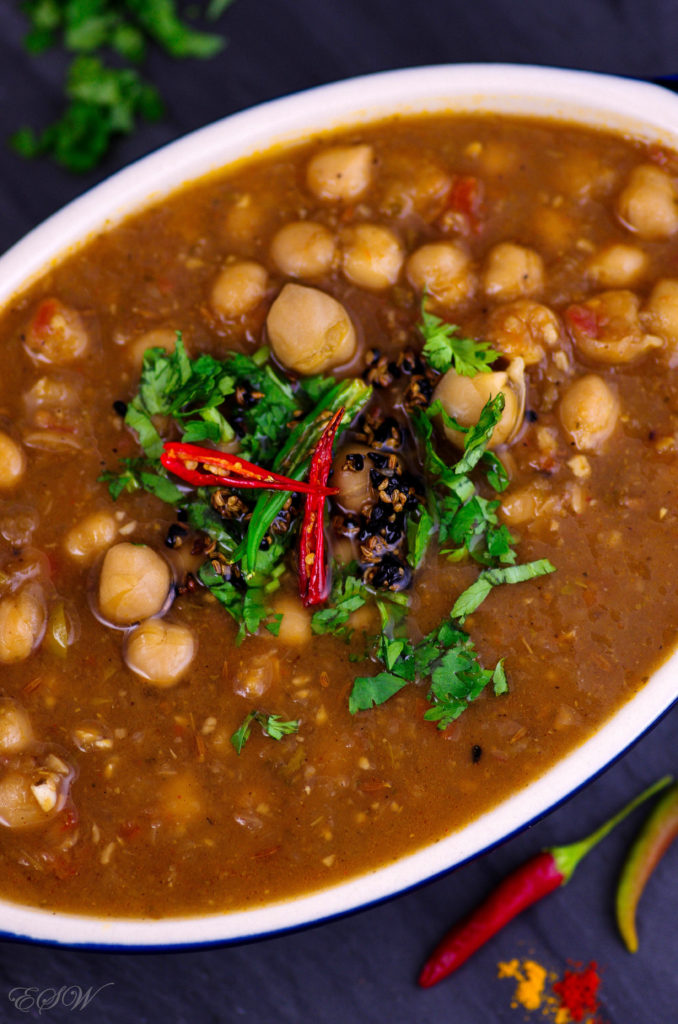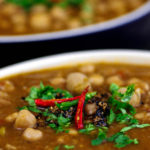 Chickpea Curry (Cholle)
2015-08-11 13:08:07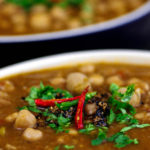 Serves 2
For pressure cooking
200 gm dried chickpeas
600 ml water (4 cups aprrox)
3-4 bay leaf
1 cinnamon stick
3-4 black cardamom
5 green cardamom
1/4 tsp cloves
1 tsp minced garlic
1 tsp grated ginger
2-3 slit green thai chilli
Salt
2 tsp coriander powder
2 tsp cumin powder
For the curry
2 Tbsp oil/ghee
1/2 tsp Cumin seeds
1/4 tsp Onion seeds
1/4 tsp Carom seeds
1/4 tsp Fennel seeds
a pinch of asafetida
1/2 cups boiled onion puree
1 cup fresh tomato puree
10 gm green cilantro with stem
1-2 chopped green chilli
2 tsp garlic puree
2 tsp ginger grated
Whole spices - Bay leaf, cinamon stick, cloves, black cardamom and green cardamom
2 tsp coriander powder
2 tsp cumin powder
2 heaping tsp chana masala/chaat masala
1/2 tsp garam masala
Garnish
1 1/2 tsp oil
1/4 tsp onion seeds
1/4 tsp carom seeds
1-2 Slit green/red chili
Fresh chopped cilantro
Directions
Soak chickpeas for at least 6 hours or overnight.
Drain the water. Put the chickpeas in pressure cooker along with water, salt, coriander powder, cumin powder, ginger garlic paste, green chilli, black cardamom, green cardamom, bay leaf, cinnamon stick and cloves. Pressure cook for 35-40 minutes (After 1 whistle simmer for 35-40 minutes). Take off the heat and let the steam come off on its own.
Meanwhile heat oil/ghee in heavy bottomed dish and add cumin seeds, onion seeds, carom seeds, fennel seeds and asafetida.
Add onion puree and saute for 5-8 minutes.
Then add ginger garlic paste, green chilli, all the whole spices and saute on medium for 10 minutes or so.
Puree the tomatoes with the fresh cilatro in a blender
Add tomato puree, coriander powder, cumin powder, chana masala and give it a nice stir.
Cover and let it simmer for 10-15 minutes stirring in between till the oil starts to separate.
Mean time drain the chickpeas and reserve the water.
Add these peas in the onion tomato mixture and cook for 5-7 minutes. Add salt.
Add the reserved water depending on the consistency you require.
Bring to a boil, then turn the heat down and let it simmer for 20 minutes or so stirring in between. Check for seasoning.
For garnish
Heat oil in a pan. Add carom seeds, onion seeds and slit chillies.
Pour this on top of the curry and sprinkle with chopped cilantro.
Serve hot with any flat bread (naan) or rice or just eat as it is.
Notes
Instead of dried chick peas, 15 oz can of cooked chickpeas/garbanzo can be used. If using cooked chickpeas then skip the step of pressure cooking.
To make boiled onion puree- simply cut onions into quarter and let it boil for few minutes till its tender. Drain and blend into puree.
I prefer to use just the stems of cilantro to puree it with tomatoes to give extra flavor instead of discarding it..
If you want to make it vegan, simply use oil instead of ghee.
Deluscious Bites ™ http://delusciousbites.com/
~Enjoy Your Meal~